With more than 1.6 billion visitors per month (as on April 2020) , YouTube is not only the biggest portal in the world, but also a major source of income to hundreds of thousands of content creators across the globe.
During the early 2010s, some of these content creators were literally minting money by uploading anything or anyone's video, getting them automatically monetized, earning anywhere between $100 to $1000 within a week, before the video gets taken down by the actual copyright holder.
This practice dented advertisers trust on Google as many porn, graphic and propaganda videos where monetized naturally.
As the advertisers shied away from Google, YouTube Red was born in 2015, to protect, encourage and reward those honest content creators.
YouTube Red promised to share it's revenue with the creators, irrespective of their video's monetization status.
Later in May 2018, YouTube Red was reborn as YouTube Premium, fully loaded with YouTube Music and Google Play Music's premium version.
Let us take a look at some of the pros and cons of YouTube Premium.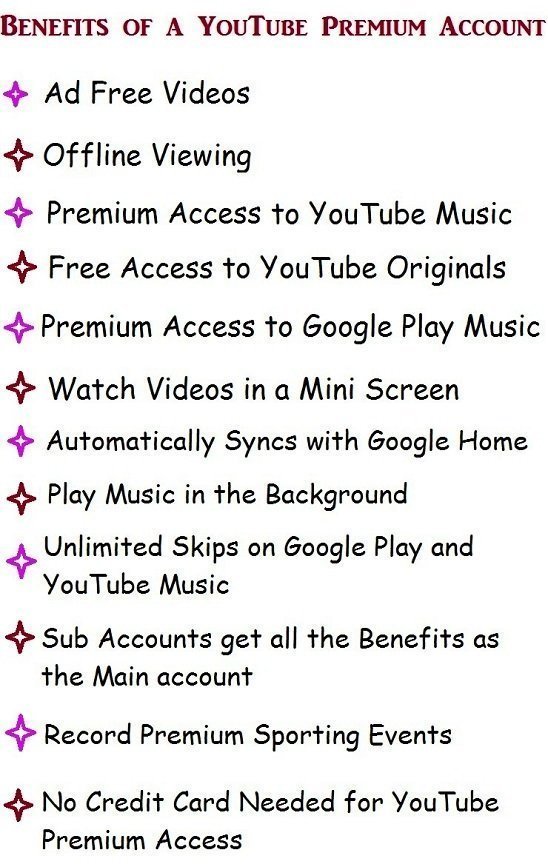 PROS
Ad Free Videos –
Only those people who had watched the YouTube free version, know the pain of waiting for an incredibly long 5 seconds, for the 'Skip Ad' button to appear at the bottom right corner of the YouTube player.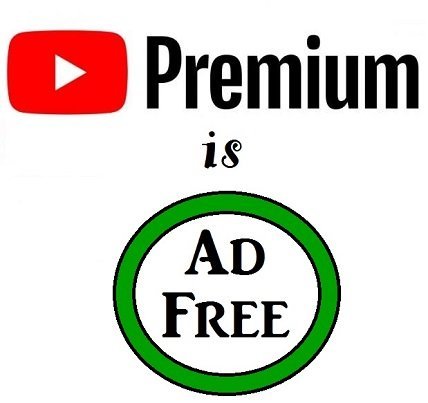 This is the very reason why YouTube Premium came into existence, getting rid of those annoying ads, that would not only increase your hypertension but would eventually make you insane, if you happen to use the free version for more than 10 years.
But if you are a YouTube premium subscriber, you don't have to wait for a fraction more of a second for your video to start playing.
Download and Watch Videos Offline –
There is no download limit for neither the free nor the premium versions, but a free user must be connected to the internet at least once in a 48 hour period, to keep his downloads active.
But for a Premium YouTube subscriber, his downloaded videos will stay intact, if he connects to the net and refreshes his YouTube Premium once every 30 days.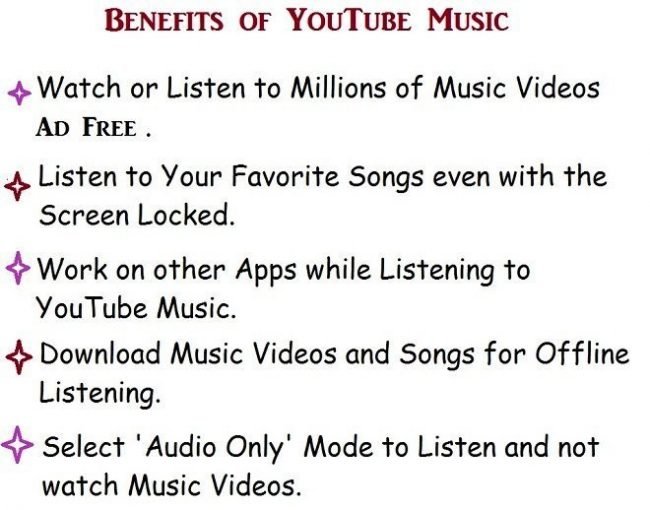 Free Access to YouTube Music –
Launched in November 2015, YouTube Music was a stand alone service similar to Amazon Music Unlimited, Apple Music or Spotify, which costs
around $9.99 per month.
Apart from having it's own dedicated mobile app capable of playing music in the background, lock screen or matching songs with similar lyrics, this was Google's best response to competitors Spotify and Apple Music and is more popular than Google Play Music.
YouTube Premium subscribers can access all of YouTube Music's special features and much more for just $11.99
Free Access to Original YouTube Shows –
If you are a big fan of YouTube originals such as Cobra Kai, Step Up: High Water, The Thinning, The Impulse or other hundreds of other originals from across the globe, then YouTube Premium is your new best friend.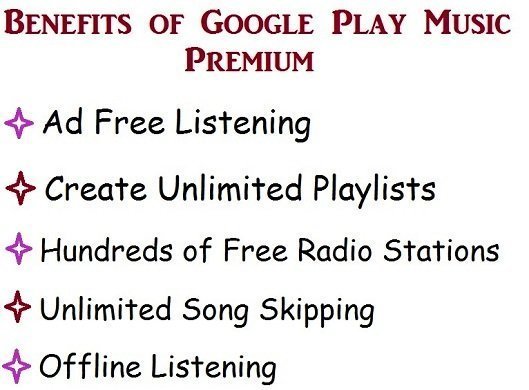 Free Access to Google Play Music –
YouTube Premium lets you access Google Play Music Premium for free, as long as you are subscribed to the Premium version, which means you can access more than 40 million songs, play them in high quality audio, skip unlimited no of songs and even download them for offline use.
Watch Videos in a Flexible Mini Screen –
Probably the biggest advantage of having a YouTube Premium account, you can watch videos in a mini screen, slide it to a corner of your mobile phone's display, watch Netflix or Amazon Prime and of course work on other important apps.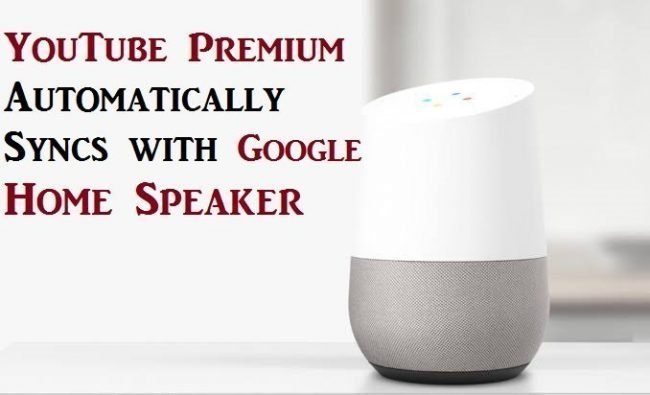 Automatically Syncs with Google Home –
Google automatically syncs your Google account with Google Home, YouTube Premium and Google Play Music, means if you say, "OK Google, skip the next 2 songs", Google Home speaker will play the 3rd song (from the current song) from your Google Play Music premium playlist.
Keeps Your Music Playing even when the Mobile Screen is Locked –
YouTube's Premium version is easily two years ahead of the free version, you can play your favorite song or music video in the background, even with your mobile's screen locked.
This unique feature gives you a feel' of listening to music on Spotify or Amazon Music Unlimited and is a major selling point of YouTube Premium.

Unlimited Skips on Google Play and YouTube Music App –
If you listen to a very fine niche of music or a fan of skipping songs, for which Apple Music and Spotify charge $9.99 per month, you can get them all free in both YouTube Music and Google Play Music, if you happen to subscribe to YouTube Premium.
Sub Accounts can access all Features of YouTube Premium –
If you have a family account with Spotify or Apple Music, upto 6 members in your family can access all the premium features for $14.99 per month.
With YouTube Premium, five members of a family can access all the extra features for just $17.99 per month and these include those that of Google Play Music as well as YouTube Music.
Record Premium Sporting Events –
From The Toronto Raptors winning the 2019 NBA championship to The Kansas City Chiefs winning the Super Bowl 2020, YouTube has always been the only source to relive these extraordinary sporting moments, anytime you want, as a highlights package, free of cost.
Even better you can even download these special sporting moments, without paying a penny by just downloading them in a jiffy.
Only that, with YouTube Premium your downloads stay active for a month, even if you don't connect to world wide web.
YouTube recently signed an exclusive streaming deal with e sporting events such as Overwatch and Call of Duty, which will be streamed only for
YouTube Premium subscribers, just like YouTube originals.
No Credit Card Needed for YouTube Premium Access –
If you are one of those, living on the edge because of the COVID-19 crisis, using your credit or debit card for leisure activities might leave some real
deep holes in your pocket.
Thankfully signing up for a YouTube Premium account can be done in many non-monetary means.
Like using your T mobile reward points, purchasing the latest Samsung Galaxy mobile, using your Student ID card or by simply signing up for a 90 day YouTube Premium free trial.
CONS
YouTube Movies is Not a Part of YouTube Premium –
Even though Amazon Prime Video and Netflix have taken over the 'streaming world of movies', YouTube Movies is still very much in the race, as many baby boomers prefer YT's simple platform to that of Netflix or Amazon Prime Video.
YouTube Movies has one of the biggest movie libraries, covering many eras, genres and languages.
Infact YouTube has silent movies dating back to 1910s to the most recent blockbuster Avengers:Endgame (2019).
Unfortunately you have to either buy or rent these movies, any recent Hollywood blockbuster would cost you anywhere between $2 to $4 for a 24 hour period of rent and $8 to $12, if you want to buy or download them to your hard disk.
Here comes the disappointing part, YouTube Premium will not let you access YouTube Movies for free even though YT Premium's set up is very similar to that of Amazon Prime Video or Netflix in terms of pricing, plans, original shows and the video quality (SD or HD).
Kids Videos cannot be Minimized in YouTube Premium –
You can minimize music videos, movies, even the YouTube Originals but never the kids videos. The reason is simple, kids might get their eyes hurt, if they watch videos is such small dimensions.
And you may wonder, why is this a CON instead of a PRO, well..that's because some adults seldom get old and would rather watch a 1980s Tom & Jerry classic instead of The Game of Thrones, but unfortunately they can't minimize the YT screen.
No Access to Paid Channel Subscriptions –
Back in June 2018, when YouTube introduced paid subscription service to those partners with more than 100,000 subscribers, YT's Premium subscribers assumed that they would be automatically added to exclusive live streams, behind the scenes look at viral videos, custom emojis, members only posts/videos, shout outs and of course 'super chat' with their favorite creators.
But, that was not the case, even if you are a YT Premium member, you still have to spend $4.99 per month to access members only exclusive content.
YouTube Music and Google Play Music does not offer Lyrics On Screen –
Anyone who has used Spotify, know how good the lyrics (courtesy genius.com) sync with the songs and when the instruments play , they offer quick tit bits on the (select) song and the artist.
Even Apple Music has a similar feature, where you can access lyrics for each and every song.Unfortunately neither YouTube Music nor Google Play Music have this feature, even in their premium version.
Conclusion –
Benefits of YouTube Premium easily outweighs it's shortcomings, which means even if you are sparse YouTube user, you still stand to gain a lot from the monthly Premium subscription of $11.99, and if you are one of those who spend more time on YouTube , than with humans, it's that perfect match made in heaven.