Being an attention seeker Miley Cyrus is no stranger to controversies and will do anything and everything to be the cynosure of all eyes.
She has been hogging the spotlight since her early teens, and when Hannah Montana ended in 2011, the inattention made her take drastic steps to get into the spotlight once again.
Miley was no longer the naïve blonde from the Disney sitcom of the 2000s, but a nymphomaniac with an unquenchable desire for lust.
With the voice of an angel and the body of a goddess, there is no stopping this girl.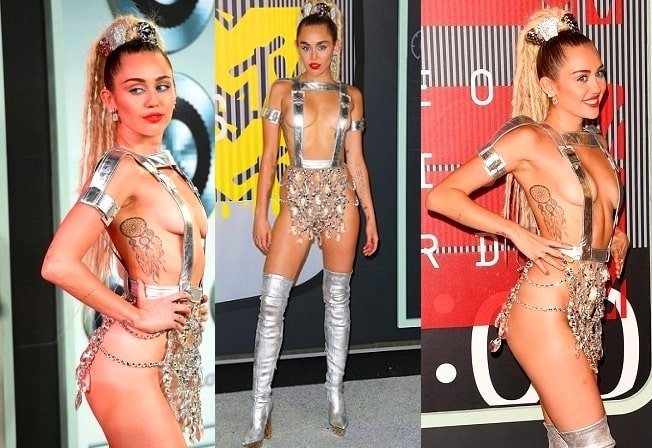 Anytime Miley is on that stage, she is expected by countless people to do something outrageous and she never disappoints her red blooded fans.
What has driven her to fame might have been her singing talent, but off late fans have come to realise that Miley is indeed a woman of many hidden talents.
When she started her stage antics, many people wondered if she would follow the path followed by most of the former Disney child stars who 'bared it all' to increase their bank balance.
Did Miley Cyrus feign innocence all these years in Hannah Montana just to keep her Disney producers and fan base happy?
Or did the record labels and producers forced Miley to perform lewd acts on stage, promising her lucrative record deals?
We have compiled a list of the many times Miley has crossed the line on stage, showcasing the dark side of showbiz and the limits certain artists go, to earn name and fame.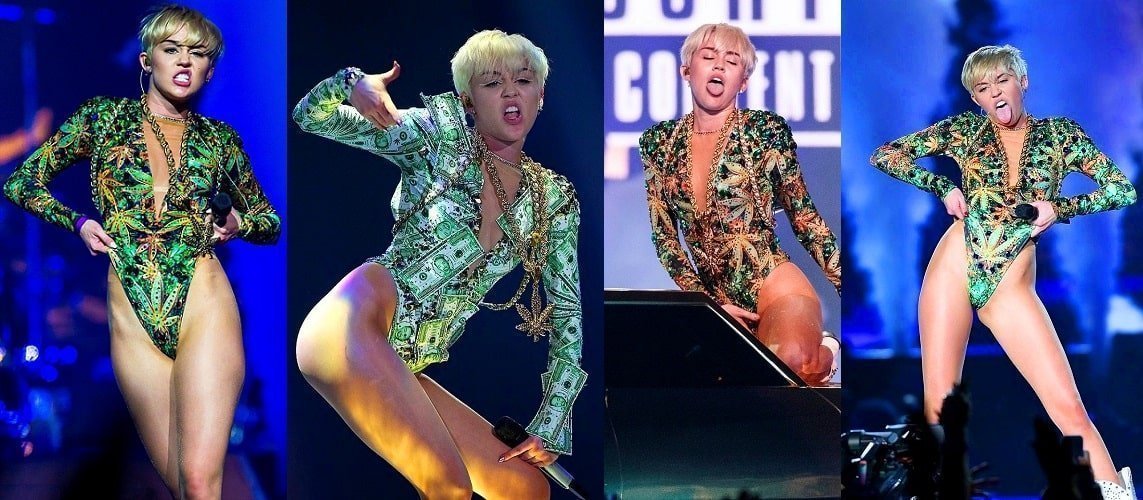 1. Masturbating on Stage
Maybe Miley Cyrus is now all grown up and it's clear she is no longer the Hannah Montana character, but this was truly extreme.
At the VMA awards in 2013, Miley Cyrus performed, and half of her performance was disgusting.
She was jumping around masturbating herself with a giant foam finger as well as her hand.
Most of the people at the awards were disgusted and shocked!
She dominated the stage with disgust and induced nausea to so many television viewers.
2. Twerking on Stage
Miley might not be the one that invented twerking, but she is the one who popularized it.
She twerked on stage during the 2013 performance that had so many people shocked and others disgusted.
This, however, had consequences as she was kicked off an upcoming Vogue cover by magazine editor Anna Wintour.
When asked, the editor said she wasn't impressed with what Miley did, and she decided to take the cover in a different direction which is a fashion thing of saying you are fired.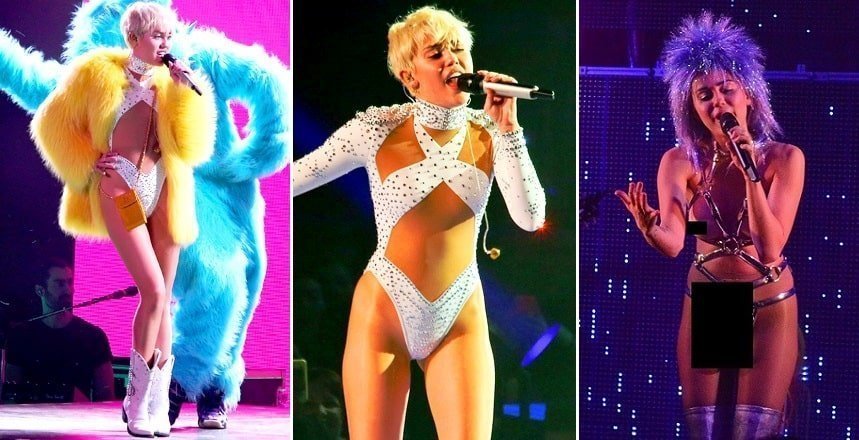 3. Dancing "Naked" on Stage
During one of her VMA awards performance, Miley came on stage in a teddy bear outfit and was surrounded by huge teddy bears.
She stripped off the teddy bear outfit and revealed a flesh-colored bikini which gave the impression she was naked.
4. The Bill Clinton's Blow-Job
During the "Bangerz" music tour on the Party in the USA finale on the first show, Miley simulated a blowjob on a person wearing a Bill Clinton mask.
She dared to indicate oral sex yet she was just six years old when the Lewinsky scandal came out.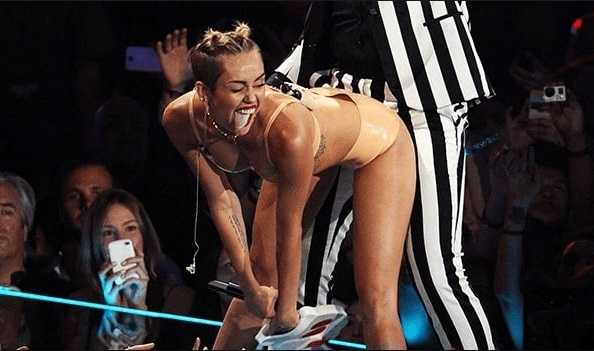 5. Twerking on a Married Man
Miley Cyrus doesn't recognize boundaries, or they don't make any sense to her.
On stage during a VMA performance, she had the audacity to twerk and as if that wasn't already bad, she was twerking on Robin Thicke, knowing all too well he is a married man.
His wife and family were probably present but seems like she didn't care and as expected Robin's wife, actress Paula Patton later filed for a divorce from Robin.
6. Smoking a Joint on Stage
Her song video Wrecking Ball was nominated at the MTV's European Music Awards in 2013,and she won.
While accepting the trophy, Miley pulled out what seemed to be a marijuana rolled cigarette, lit it and took a few puffs then bowed off stage.
7. Pole Dancing
The silent, innocent young girl who starred the Hannah Montana show showed her side right from the start.
When she was 16, she pole danced at the Teen Choice Awards after winning 6 awards.
She won after all her peers chose her, but she acted older than her age and naughtier than most people thought she would do.
8. Appearing Naked Throughout a Performance
Her 2013 hit "Wrecking Ball" literally did a lot of wrecking on stage.
During one of her performances, she seemed as if she was naked wearing a flesh-colored bikini all through the performance.
She was sitting on a wrecking ball and licking a sledgehammer suggestively.
9. Stuffing a Thong in Her Mouth
At a Washington show, one of her fans threw her thong on stage while Cyrus was performing.
She picked it wrapped it around her neck and stuffed it in her mouth without a second thought!
10. Grinding against the Liberty Bell
The Bangerz tour has shown the Bad Girl side on Miley Cyrus in a shocking way.
She twerked and grinded against the symbolic liberty bell. How else are the teenagers going to know about freedom?
11. Writhing and Touching Herself on Stage
It's now evident that Miley likes touching herself in front of many people.
During the Bangerz tour, she wore a leotard outfit,and she writhed, rubbed and slapped her crotch on stage.
12. Twerking on a Flag
Enough of twerking already.
Miley Cyrus had one of her dancers spank her with the Mexican flag while she twerked.
Mexican lawmakers weren't happy with that and they slapped her with a 1200 dollar fine or be detained for 36 hours.
13. Performed Dressed as a Almost Nude Butterfly
Cyrus performed at the Adult Swim Upfronts party at Terminal 5 in New York dressed as a butterfly.
Well, a naked butterfly because she was barely covered.
14. Passing out Blunts to the Audience
Typical Miley Cyrus dressed as a naked butterfly and also passed out blunts to the audience on the same performance.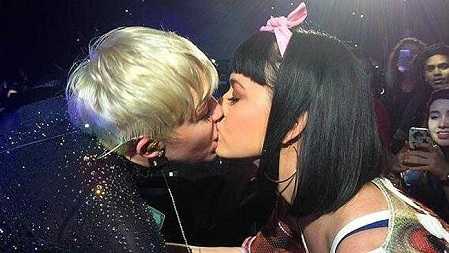 15. The Katy Perry Kiss
She indeed doesn't cease to amaze.
This happened at the Bangerz tour show at the Staples Center.
Miley Cyrus leaned and kissed Katy Perry and later on, she said, "I kissed a girl,and I really liked it."