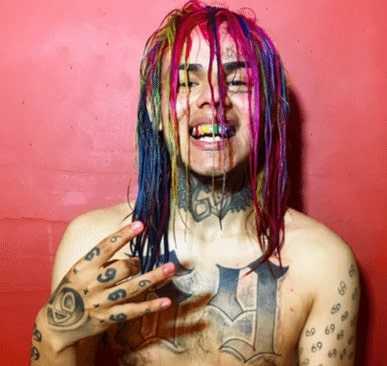 From recording sex tapes with 13 year olds to hiring hitmen to execute fellow rappers, Tekashi 6ix9ine is not your typical hymn singing, praise chanting artist next door.
Like many ghetto born artists, Daniel Hernandez had a childhood filled with poverty, violence and desperation.
With his biological father walking out, stepfather getting murdered, Daniel reached the lowest point of his life, when he got expelled from the school, for acting out in front of rich kids.
Born to a Mexican mother and a Puerto Rican father on the 8th of May 1996, Tekashi was raised as a God fearing Christian, whose Baseball skills were keenly watched by Major League lookouts.
His distinctive rainbow looks, psychedelic hair, aggressive rapping style and controversial persona made him the darling of YouTube in the late 2010s.
He rose to fame in 2017 when he released the song "Gummo" and it was certified platinum by the RIAA.
His debut album Day69 debuted at number four on the Billboard 200.
Let's dive straight in and take a look at some of the hidden secrets Tekashi has for us:
1. Slept Hungry Countless Times
His stepfather took better care of him than his real father.
But after he was murdered by the mafia, Tekashi's life changed upside down.
His mother didn't have a job at the time, being a devout Christian herself, she refused to make a living neither through flesh-money nor blood-money.
She tried her best but sometimes she would have nothing to feed him.
And would often go through the pain of listening to him make hungry noises at night.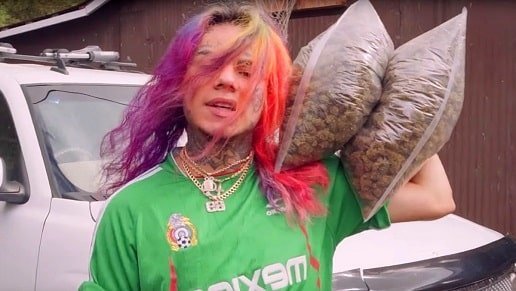 2. Drug Dealer
Tekashi had enough of his mother toil day and night, to earn mere pennies just to feed him and his brother, while she slept hungry.
One fine day, he went to school with a stash of cocaine, made good money and became the most famous bagman of Legacy High School in Brooklyn.
On a fateful day, he was caught red handed by the principal and was ruthlessly expelled from school without any second chances.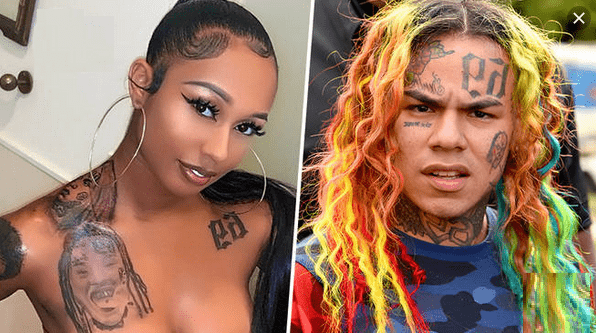 3. Ghost Girlfriend
Not a lot is known about his alleged girlfriend but a fact is, she exists.
The only people who might know her or have seen her physically are his close friends.
He has a girlfriend who he keeps under wraps and they have a daughter together.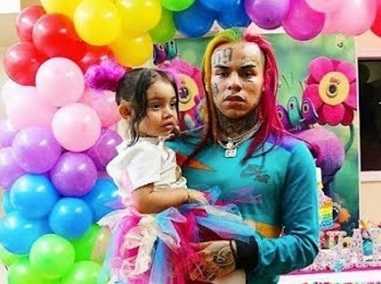 4. Secret Child
The baby girl has only been seen once when Tekashi uploaded a picture of her during her birthday.
No one knows where she lives or who is the mother. There only exists one picture of the girl.
5. Hitmen For Hire
Being a 'scream-rap' artist, it was the rage and rampage that propelled him to the top of Billboard charts and many a times, his fury scorched rival rappers and gangsters.
Apart from hiring a $20,000 Hitman to execute Chicagoan rapper Chief Keef outside a New York hotel, he humiliated Meek Mill with expletives inside a Atlanta nightclub.
Riding high on the success of "Fefe" which crossed a billion views on YouTube and reached the no.3 spot in the Hot 100 charts, karma finally caught up with 69, a few months after "Fefe" reached dizzy heights.
In July 2018, 69 was kidnapped from the sets of "Fefe" video production, brutally beaten up and robbed of his 24-carat gold Gangsta necklace, super expensive mobile among other things.
6. "Did it for My Image"
Tekashi was arrested after he was accused of having sexual intercourse with a minor.
He was 18 at that time and he uploaded a video on Instagram showing the girl naked sitting on his laps.
When asked by the police, he said he did it for his own image.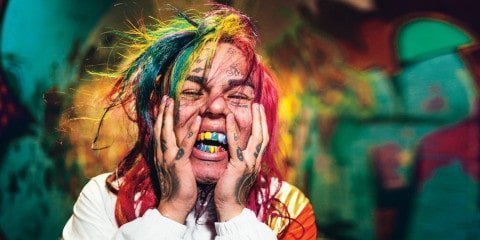 7. 47 Year Prison Sentence
Tekashi life of poverty turned into luxury a few months after he joined the dreaded Nine Trey Gangsta Bloods,  in his early teens.
But the moment he got arrested for the crimes he committed under Nine Trey and charged with a 47 year prison sentence, he switched sides like a chameleon.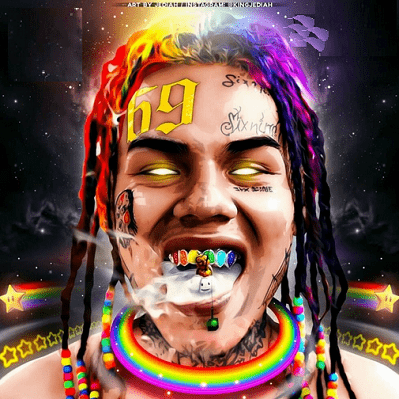 8. Pariah of the Rapping Fraternity
The moment he turned his back on the Nine Trey Gangsta hood, the entire rapping fraternity including Nicki Minaj deserted him.
His approver status drastically reduced his prison sentence to 2 years and he hardly served any jail time, because of his asthma and susceptibility to COVID-19.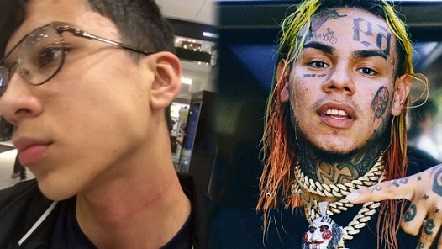 9. Strangled a 16-year-Old
Back in July 2018, he was involved in an altercation with a boy at Galleria Mall in Houston.
The boy had tried to record 6ix9ine and the rapper grabbed him by the neck which caused the boy pain and scratch marks on his neck.
10. He Has a Thing for Underage Girls
Another woman came out accusing Tekashi of knowingly engaging in sexual contact with her when she was underage.
She wasn't trying to put him in jail but she said he should stick to his lane.
11. Banned from the Barclays Center
He was involved in a shooting at the Barclays Center and his crew was involved in a similar incident at the same place.
After this, he was banned from performing at the Barclays Center.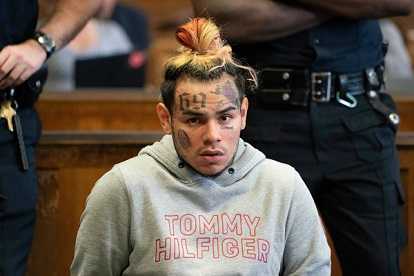 12. Arrested Again for Driving with a Suspended License
6ix9ine won't be getting on the good side of the law anytime soon.
He was arrested for driving with a suspended license and for parking in front of a fire hydrant.
13. Brutally Beaten Up, Again!
In March 2023, Tekashi was mercilessly thrashed by a group of very aggressive gang members, while working out in a South Florida gym.
No belongings were stolen and they let him to bleed to death. Fortunately, he was found alive, hospitalized and saved just in the he nick of time.
Rumor has it, that the Nine Trey Gangsta Bloods had finally taken their revenge on 6ix9ine, for becoming a witness against them.
14. Eroticism and Ying Yang
Tekashi 6ix9ine is a band name inspired by the most popular sexual position 69, which also signifies a Yin Yang in Chinese philosophy.
Daniel's love for Japanese anime not only inspired his psychedelic looks but also represents the Tekashi, in his band name.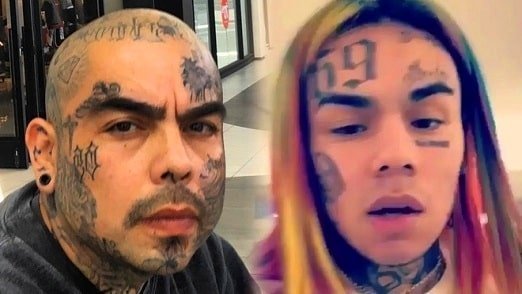 15. His Stepfather was Murdered
When he was young, his step dad was brutally murdered on the steps of his house by the Brooklyn mafia, leaving his distraught mother, to take care of him and his brother.
After 6ix9ine got expelled from the high school, he never applied for any other school but decided to help his struggling mother, in raising money for the house rent.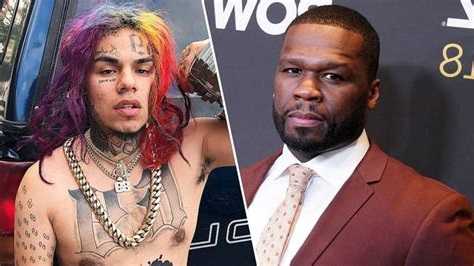 16. Is he 50 Cent's Son?
This is a daunting one to prove.
He was pictured with 50 Cent and 50 mentioned 'son' in a social media post then the internet went on a frenzy claiming Tekashi was 50 Cent's son.
They both however denied those claims.