Apart from the fact that her middle name is 'Pirate' and she humiliated Shawn Mendes on Twitter for texting her, here are some lesser known facts on the new teen pop sensation, Billie Eilish.
1, While her dressing style is so early 90s, with over sized tops/t shirts and really big baggy pants/shorts.
Billie says she would wear anything to make people stop, stare and judge her, by her looks.She also doesn't care a damn about her looks, even if it looks a bit (a lot) odd.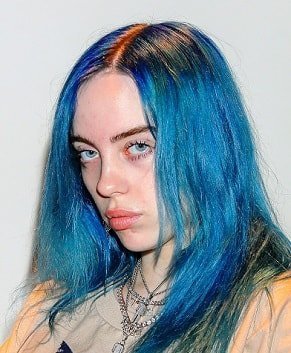 2, She absolutely hates the color Blue, even though she had dyed her hair blue many times in the past.
3, Billie Eilish and her brother Finneas Baird O'Connell, were home schooled, which to an extent is responsible for the dark lyrics in many of her songs and her ever increasing stress.
4, She is a die hard fan of Justin Bieber, messaged him in 2014 (when she was a nobody) wanting to meet him in person desperately, which Justin obliged in 2018.
Justin not only followed Billie on Instagram,but sent her the screenshot of the 2014 message she sent him.
5, Billie had also confessed, that she had intimate feelings for Justin Bieber.
6, She uses the F word more often in her interviews, than any other celebrity of her stature, and she doesn't card a F about it.
7, Both her parents are actors and musicians (Maggie Baird and Patrick O'Connell) , but as a kid she used to hate musicals and every other form of theatrical act.
8, Born on the 18th of December 2001, her full name is Billie Eilish Pirate Baird O'Connell.
9, She suffers from Tourette Syndrome, a rare genetic disorder where a person makes an unrelated facial expression in relation to a situation.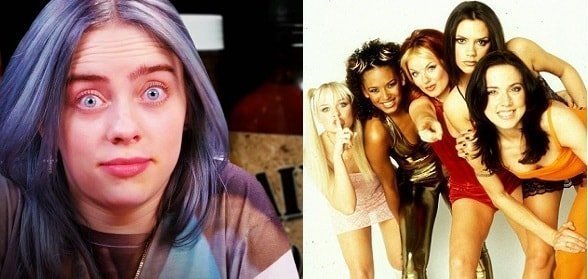 10, Billie thought the girl power band Spice Girls were actors put together for a movie called Spice World and not a real band.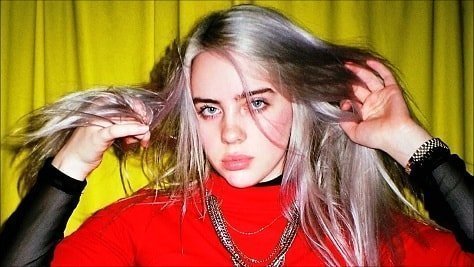 11, Billie Eilish hates smiling and asserts, smiling makes her nervous, weak and powerless.
12, Unlike the cotton candy pop songs for someone of her age, in most of her songs, she portrays herself as a sick murdering psychopath killing her friends ("Bury a Friend") ,setting things on fire ( "Watch") or a collector of souls ("Hostage").
13, Unlike many other celebrities who use Twitter to communicate with their fans, Billie Eilish uses Instagram to communicate, promote and express her thoughts/feelings to her fans.
She has more than 36.7 million followers on Instagram as on September 2019.
14, She is self confessed rebel, who will do just the opposite of what she is told and warns people not to advise her.
15, As a kid ,she used to shoplift or steal toys from her friends.Billie confessed this during a live interview and regretted her actions.
16, She was never supposed to sing "Ocean Eyes" , she found her brother Finneas struggling with the song's lyrics, tempo and she just offered her help.
17, The video for the song "When the party is over", is probably Billie's most disturbing video to date , with blood running through her eyes, instead of tears.
Billie spent hours rehearsing for the song's video, with the help for her mother, where she would sing with black ink coming from her eyes.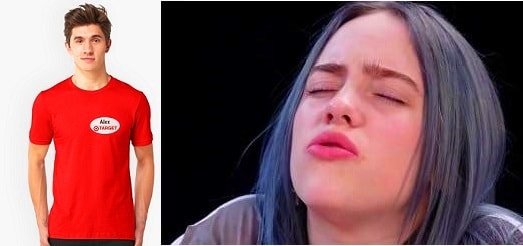 18, She is crazy about the Target guy, 'Alex from Target' and collects everything related to him (T shirts, mugs etc).
19, When Shawn Mendes sent a private text message to Billie, she did not only respond, but posted it on her Twitter page, laughed about it in her interviews and made Shawn feel like a total loser.
Inspite of the open embarrassment, Mendes texts or calls Billie, once or twice in a month, while Billie continues to ignore him and he confessed this, himself.
As long as Camila Cabello doesn't mind Shawn's misadventures, then it's all good.
20, Some critics argue, that Billie Eilish is an industry plant and her total image (including her dressing style, rebellious attitude and her frequent use of the F word) is a part of the contract with the record label.
21, Fans are worried that Billie's state of mind is worsening day by day with the ever mounting pressure from the producers, record labels, live performances, countless interviews and of course, releasing new hit songs consistently.
22, Billie Eilish's brother Finneas is dating a hot chic, Claudia Suwelski, who looks like a carbon copy of Billie herself.