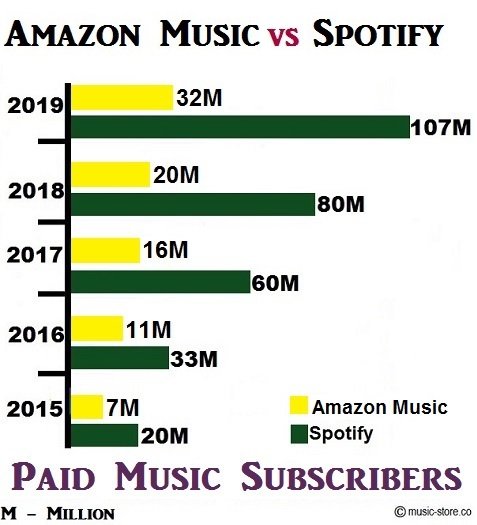 When Jeff Bezos' beloved Amazon Music over took Pandora to become America's second most preferred streaming platform in June 2022, it sure did send a shiver or two, down the spines of top Spotify executives, as they know, they are next.
Few years ago many of these executives, brushed aside Amazon Music, as a failed attempt to replicate Spotify.
But today many of these so-called experts have disappeared along with those streaming platforms, they had so vehemently promoted.
Thanks to Jeff Bezos, just like his Blue Origin project, he kept on pouring money into Music Unlimited, inspite of the huge losses it incurred, simply because he knew the hidden potential of this digital entity.
And today, he has indeed created a monster, a behemoth that ruthlessly crushes everything on its way to the top.
It all started way back in 2007, when Amazon MP3 was launched in the United States, to take on iTunes Music.
Back in those days, mobile apps were unheard of and there was no such thing as music streaming.
And iTunes ruled the digital music syndicate by selling high quality music downloads.
Spotify was a non entity in the United States and was content serving its motherland Sweden, where it was a household name, since 2006.
It will take Spotify another 5 years to cross the Atlantic and finally in July 2011, they set shop in the U.S.
Being the pioneers of online music streaming, Spotify revolutionized the digital music scenario, when they started paying artists for every stream instead of every download.
And their business model was an instant hit in the US, as they offered free streaming service for 6 months with no restrictions whatsoever and gained 500 million subscribers in a jiffy.
Amazon, which was locking horns with Apple's iTunes was caught pants down, when Spotify's pay per stream, hit the road running.
Poor Amazon, had no choice but to destroy it's billion dollar venture Amazon MP3 and start from scratch all over again.
Here are a few things that separates Amazon Music Unlimited from Spotify.
Cost
Now that Amazon is available in most parts of the globe, they have revealed a 90-day free trial for first time sign ups and an even better plan for the students.
After that, membership costs $ a month if you are not subscribed to Amazon Prime, but if you have a Prime account, you get to pay just $ a month or pay $$ for a whole year.
They also offer a monthly membership of $ only for streaming music via the Echo speaker or Echo Dot (on a single Echo device).
On multiple echo devices, you will need to register for the regular individual membership.
They have also released a family membership plan for $$ a month, implementing Spotify's highly successful marketing strategy by the book.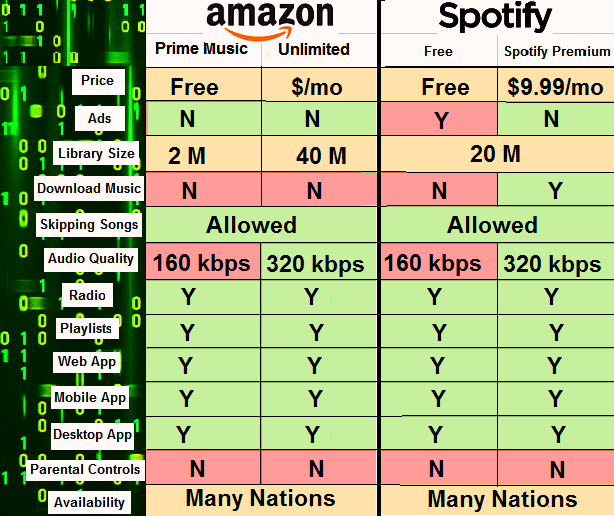 As for Spotify, the cost ranges from free, ad-supported to a premium one that goes for $9.99 a month.
Their family subscription membership costs $15.99 a month, where each member of your family can have their own personal account.
It supports you and up to five members of your family, similar to Amazon Music's family plan which benefits six members of a family.
Students can get special discounts from both Amazon Music and Spotify, if they email their college ID cards to Spotify or Amazon's verification centre.
Devices They Are On
For Amazon Music Unlimited, it's accessible via the Amazon Music app which is downloaded on iOS, Androids or PC.
Also, it is available through a web player as well as the company's Echo devices.
Top American EVs such as Tesla, Nissan Leaf and Chevrolet Bolt have a long standing partnership with Amazon and it's app is pre-installed in most of the modern American EVs and UVs.
Just like Amazon, Spotify can be accessed everywhere, their apps are pre installed on Roku, Apple TV , DIRECTV, Cox, HGTV and of course Fire TV.
Home and life-style products such as Naim, Sonos, Bose, Revo, etc. are also loaded with Spotify and Amazon Music.
Available in a wide range of cars, one can access these apps via Android Auto, Spotify Connect, or Apple Carplay, which are inbuilt.
Sound Quality
When it comes to the sound quality, Spotify has a 320 kbps streaming quality for Premium memberships, which is of high quality on a computer while on mobile, it's extreme.
For free mobile listeners, the average quality is anywhere between 96 kbps to 160 kbps for high quality.
When Amazon introduced Amazon Music HD in 2019, the expectation was so high, that many streaming pundits thought it was Amazon's checkmate to Spotify.
For the next few months, the CD quality lossless audio of 850 kbps did increase Music Unlimited's subscription but the onset of Covid-19 and the resultant economic disaster, swung the pendulum back in Spotify's favor.
Number of  Tracks
Even though Spotify keeps adding 40,000 tracks per year, it still is 5000 tracks behind Amazon, as of June 2022.
Amazon has more than 95 million tracks while Spotify is not far behind with 90 million tracks.
Both Amazon and Spotify keep adding cover songs, instrumentals, remixes and mash ups without properly verifying, neither the ownership nor the licensing agreement.
These streaming giants have a single objective on their minds, that is to increase their library size at any cost.
And this corrupt mindset of these corporate entities, has led to many deserving indie artists and DJ's, lose out on precious royalties.
As more often than not, someone rips out their tracks from SoundCloud or YouTube and uploads them to Spotify or Amazon using the service of music aggregators.
Features
Amazon is miles ahead when it comes to added features, as they have their own devices, such as Amazon Echo, Alexa and Fire TV , to promote Music Unlimited in anyway they want.
Despite it's shortcomings, Spotify has a very strong partnership with third party devices, which enables them to be played at most Uber, Lyft, Gett and Easy Taxi rides.
While Amazon's  Echo devices and entertainment systems sync perfectly with any external device.
Music discovery is easier with Amazon's redesigned music app, while Spotify has Discovery Weekly which forms a playlist automatically depending on your listening habits.
Also Amazon has the help of Alexa which plays you whatever you want while Spotify doesn't have an inbuilt assistant.
The free membership on Spotify allows you to listen to their entire music catalogue, but it has some limitations.
While Amazon Music Unlimited works on expanding it's user base, Spotify has gained a good reputation for it's sound quality, useful music discovery features, sleek & simple interface, unlimited playlists and  of course it's ease of use.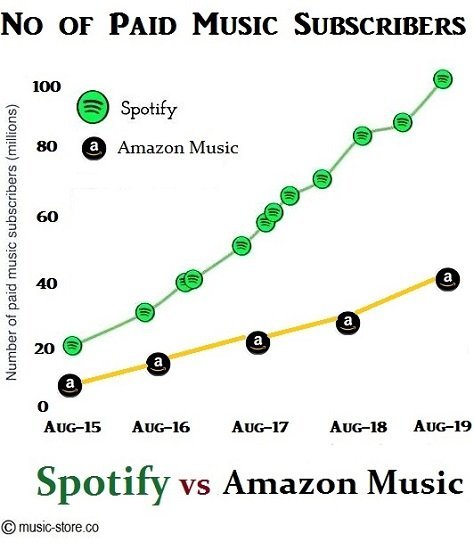 Paid Subscribers –  Amazon Music vs Spotify
Before the arrival of Spotify, there was no such thing as digital music subscribers.
You either have an account with Apple (iTunes Music) or Amazon.com (Amazon MP3) and that's just about it.
No following artists, playlists or hashtags, but Spotify redefined everything and that's why they grew at a phenomenal rate, beating Apple and Amazon at their own game.
Apart from the concept of Amazon Prime, they never really invented any dynamic business model, like Apple's pay per download or Spotify's subscription service.
Amazon Music Unlimited was one such product, created after hundreds of failed combinations and permutations.
Amazon was supposed to be a shopping portal, but they started chasing iTunes, failed miserably and are now chasing Spotify.
Atleast they are successful in this chase so far, as they have taken down the competition and only Spotify remains ahead of them.
In 2015, the difference between Spotify and Amazon Music's paid music subscribers was 13 million.
Even though Spotify's subscriber growth rate has slowed down in the last 2 years, even a 20% yearly growth rate per year is good enough to get it past 200 million paid listeners in less than 5 years or by 2024.
While Amazon Music grew at 69% this year (2022), reaching 50 million paid listeners, it is still a long way from catching up with Spotify.