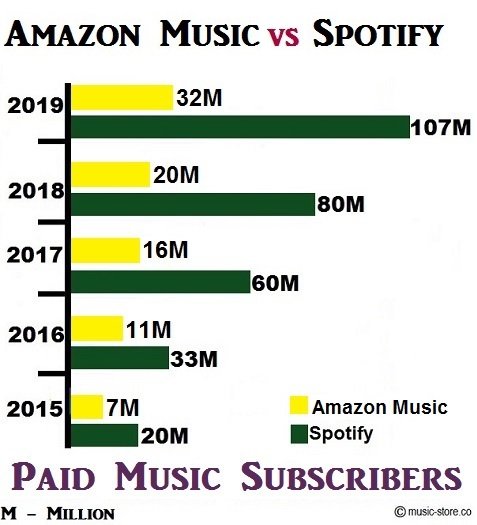 Music lovers in the UK and Europe celebrate the release of Amazon Music Unlimited, after it was launched on November 2016.
However, it was started way back in 2007 as Amazon Music in the United States.
The Unlimited version is open to everyone and comes with an extensive catalogue of music.
Spotify has been in the business since 2008, recording millions of users, even before the start of 2010s decade.
Both of these services have a mission, to be at the top in transforming the music industry, but Amazon is facing some competitive pricing options.
Even so, it is ready to enter the field.
You can bet your last dime that Spotify will not sit down and watch as Amazon gains domination in the music industry.
Here are a few things that set Amazon Music Unlimited and Spotify apart.
Cost
Now that Amazon is available in the US, UK and Europe, they have revealed a 30-day free trial to familiarize you with Amazon Music Unlimited.
After that, membership costs $ a month if you are not subscribed to Amazon Prime, but if you have a Prime account, you get to pay just $ a month or pay $$ for a whole year.
They also offer a monthly membership of $ only for streaming music via the Echo speaker or Echo Dot (on a single Echo device).
On multiple echo devices, you will need to register for the regular individual membership.
They have also released a family membership plan for $$ a month, implementing Spotify's highly successful marketing strategy by the book.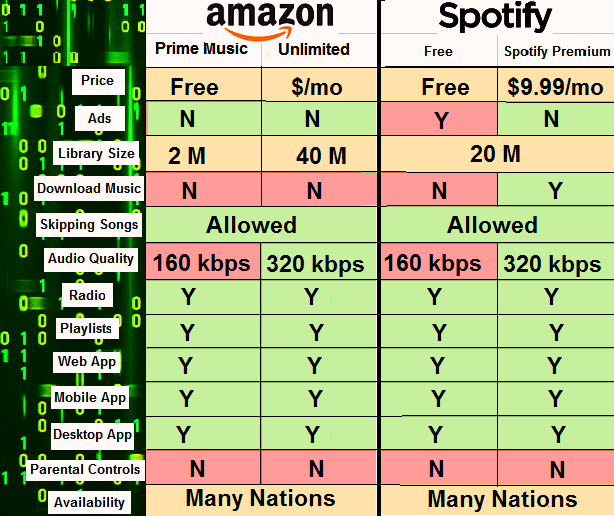 As for Spotify, the cost ranges from free, ad-supported to a premium one that goes for $9.99 a month.
Their family subscription membership costs $14.99 a month, where each member of your family has their personal account.
It supports you and up to five members of your family while Amazon Music's family plan benefits six members of a family.
By signing through UniDays/NUS Extra, students receive a discount on registering with $4.99.
Devices They Are On
For Amazon Music Unlimited, it's accessible via the Amazon Music app which is downloaded on iOS, Androids or PC.
Also, it is available through a web player as well as the company's Echo devices.
Some BMWs and Mini cars happen to be Amazon Music-enabled which has you accessing Amazon Music Unlimited when you connect a smartphone.
Unlike Amazon, Spotify can be accessed everywhere; the apps are on some TVs – Samsung, Philips, Yamaha,etc.
And some interesting home products like Naim, Sonos, Bose, Revo, etc.
Available in a wide range of cars, one can access it via Android Auto, Spotify connects, or Apple Carplay which are inbuilt.
Sound Quality
When it comes to the sound quality, Spotify has 320 kbps streaming quality for a Premium membership, which is of high quality on a computer while on mobile, it's extreme.
For free mobile listeners, you can pick the average quality of 96 kbps or 160 kbps for high quality.
As for Amazon Music Unlimited, it offers a SD audio at a bitrate of 320 kbps streaming quality.
And if you happen to subscribe to it's recently launched HD plan, you can stream songs at bitrates of 850kbps, second best in the industry after Tidal's 1411kbps.
Number of Tracks
Including hits from today's most famous artists, Amazon claims to have 40 million songs, while Spotify has around 50 million songs in it's catalogue.
Sometimes, accessibility of songs may vary from one place to another.
With Spotify, being able to listen to songs may differ depending on where you are, but it's not clear whether Amazon Music Unlimited is similar.
Features
Despite having similarities in some features, they change when it comes to connectivity, discovery, and assistant.
Under connectivity, you can use Spotify Connect and stream music to compatible speakers or Uber taxis if you are a premium member with Spotify.
With Amazon, Echo devices or entertainment systems connect perfectly.
Music discovery is easier with Amazon's redesigned music app, while Spotify has Discovery Weekly which forms a playlist automatically depending on your listening habits.
Amazon has the help of Alexa which plays you whatever you want while Spotify doesn't have an inbuilt assistant.
The difference in these two streaming services sets each apart from the other by a margin.
Now that Amazon Music is available in the UK, membership is cheap compared to Spotify especially, if you have a Prime account.
With just $ per month and an Echo device, music marathon becomes your new hobby.
The free membership on Spotify allows you to listen to their entire music catalogue, but it has some limitations.
You get to listen to any artist, but when it comes to a specific song, you have to depend on Spotify to shuffle their tracks.
On this point, Amazon gains an advantage since it plays whatever you are in the mood for.
Ask for Mariah Carey's greatest hits collection and that's exactly what, it will play.
While Amazon Music Unlimited works on expanding, Spotify has gained a good reputation for it's sound quality, useful music discovery features, and it's ease of use.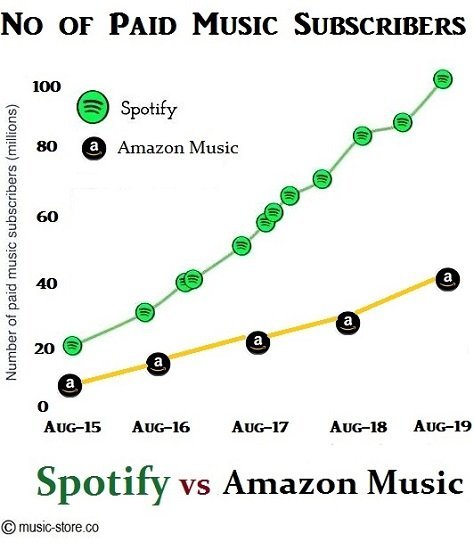 Paid Subscribers – Amazon Music vs Spotify
At the dawn of this millennium, the world was still very conservative, where venturing into unknown business verticals was considered a taboo.
In other word's if you do anything out of the ordinary, you were either branded a freak or a genius.
And if Businesses test new waters, their stocks would plummet overnight.
But then there were some freaky intelligent businessmen, who wouldn't stop experimenting with new ideas and combinations, even if it meant 'curtains' for their business.
Amazon Music Unlimited was one such product, created after hundreds of failed combinations and permutations.
Amazon was supposed to be a shopping portal, iTunes should strictly be a music downloading app and Spotify was destined to be a streaming website.
Generation X was still dominating the first decade of the new millennium, while Generation Y, the millennials were busy growing up.
Nothing much changed, at the dawn of this millennium, where Spotify had quietly established itself as a streaming giant, while Amazon and Google took care of online shopping and web search.
Amazon was the first non-music entity, to focus on music downloads, when it introduced Amazon Prime Music in September 2007, taking that small step or an emphatic giant leap for the decade ahead.
In 2015, the difference between Spotify and Amazon Music's paid music subscribers was 13 million.
But in 2019, the difference is 75 million.
Even though Spotify's subscriber growth rate has slowed down in the last 2 years, even a 20% yearly growth rate per year is good enough to get it past 200 million paid listeners in less than 5 years or by 2024.
While Amazon Music grew at 72% last year (2019), reaching 32 million paid listeners, it is still a long way from catching up with Spotify.