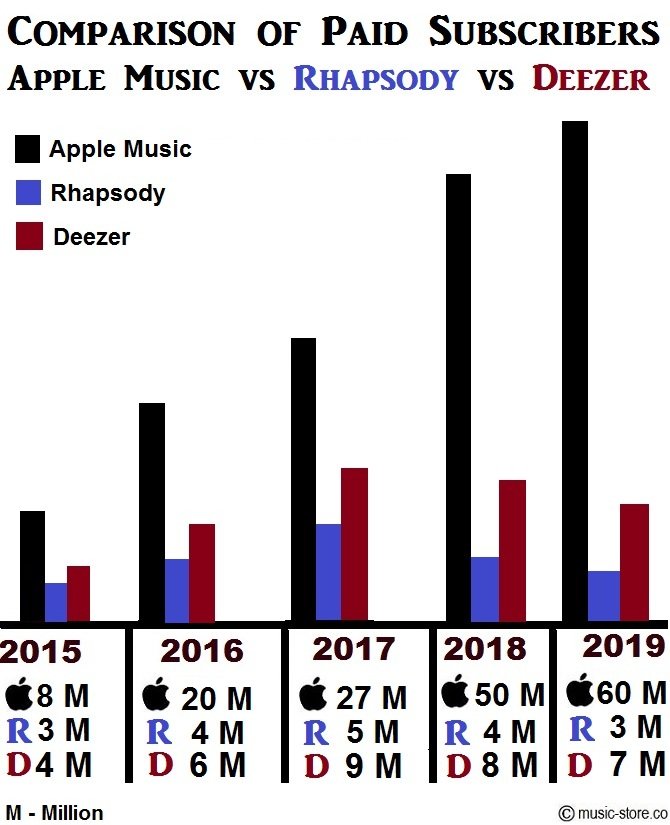 Digital music downloads are becoming a thing of the past.
People don't have to download songs at a higher price nor rip CDs and copy songs to their computers, to the mobile phones anymore.
Technological advancements have taken the music industry by storm, introducing music streaming services in the late 2000s.
Not only are these services cheap but they have also saved millions of music lovers from the clutches of greedy iTunes, that dictated the music industry throughout the 2000s.
You don't have to worry about iTunes permanently banning your account nor your playlist being deleted accidentally.
Instead, you get to listen to the songs anytime anywhere without having to download them on your phone.
There are streaming services that will let you have it all for free,but you have to put up with a lot of ads.
There are so many streaming services these days, it does indeed get very tricky in choosing the right ones.
Here, let's see how Apple Music, Rhapsody and Deezer compare:
MUSIC LIBRARIES
This is one of the most crucial elements of a music streaming service.
Each of these three has millions of songs and some even have videos.
• Apple Music
Apple music offers more than 45 million songs.
However, there are more than 60 million songs in the iTunes library itself, meaning 15 million of these are unavailable for streaming.
One advantage of Apple music is they are the only streaming services that have been able to win over Taylor Swift so far.
They exclusively offer her best-selling latest album.
• Deezer
Deezer claims to have 55 million songs that are available in more than 180 countries.
A strange anomaly with Deezer is that the number of songs available in each of these countries is different from the other.
This is the reason why there is a higher song count in Deezer's library in local music but the same is not available in the US, UK market.
• Rhapsody (Napster)
They have more than 40 million licensed songs with new ones being added every day.
A major advantage of having a Napster subscription is there is no limit to the number of songs you can play.
You can also choose to download your favorite songs and listen to them offline, and there is also no limit to this.
USER INTERFACE AND DESIGN
This is one of the most significant services between these streaming services.
• Apple Music
It has the best looking and clean interface with a big focus on the pictures.
It has tabs at the bottom offering straight forward navigation.
For You is a selection of albums, artists, and playlists explicitly tailored for you.
Radio all the tabs are pretty easy to figure out even for the new users making the experience a great one.
• Rhapsody (Napster)
This is one of Napster's significant strengths.
The app is excellent and the best designed and most intuitive.
The search button offers refined and useful results.
On searching for an artist, the mobile search mirrors what you expect offering albums, top tracks and the option to play the artist's radio station.
With Rhapsody, you can be limited by signal or data limits since you can set the songs to play offline and this is also very well placed within the app.
• Deezer
Deezer has a light, clear and simple design in both the mobile/tablet version of the streaming service and the web/desktop version of the same.
It is also easier to navigate as compared to other streaming services like Tidal and Spotify.
The simplicity of navigation and the fact that the services can be offered for free despite the many ads you have to put up with is just amazing.
PRICE
This is another significant difference between these services with some of them available for free, as well as for premium subscriptions, while others are exclusively available only via paid subscriptions.
• Deezer
This is one exciting streaming service since there is a free version where you get access to the whole music library but a limited version of the same on the mobile app.
You have to, however, put up with a lot of ads some playing in between tracks and you also have to accept lower audio quality.
The paid subscriptions cost £9.99/$9.99 per month.
• Apple Music
Apple has come out stronger than the other services here because it offers three different prices for different subscriptions.
The first one is the standard subscription of £9.99/$9.99 a month.
The second one is for the students who can join for £4.99/$4.99.
And lastly, Apple has a Family Membership that gives unlimited streaming to six people,and it costs £14.99/$14.99.
• Rhapsody (Napster)
This one also has two versions.
The Napster Unlimited desktop-only plan which costs £5/$7.77 per month and the Napster Unlimited with Mobile which costs £10/$15.50 per month.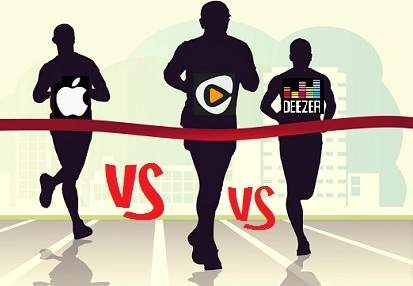 PROS and CONS
Rhapsody (Napster)
Pros
– Strong music selection
– Amazing mobile app
– Browser playback
Cons
– Basic desktop experience
– Low bitrates
– Half-baked/Inadequate social
Apple Music
Pros
– Offers something different from others
– Extended three-month trial
– Integrates with your existing songs
– Amazing music discovery features
Cons
– Tangled design
– Bugs
– iCloud integration issues
– Clunky iOS app
Deezer
Pros
– Smooth music flow
– Diverse song catalogue
Cons
– Curated content isn't up to par
– Unwieldy standalone app
Conclusion –
Comparing Apple Music with Rhapsody and Deezer is like comparing apples with oranges and tomatoes, for the very simple reason, that even though they offer very similar music streaming services, the quality of this services varies a lot from one provider to another.
Apple Music is available in more than 150 countries, while Rhapsody or Napster in 45 countries and Deezer in 190 plus countries.
Among the three Deezer is available in more countries, than Apple Music and Napster put together, does that mean Deezer is the most popular streaming service?
Not really, even though Deezer has all the qualities to be a successful streaming service provider, their paid subscriber base has not even crossed the double digit mark in the last 5 years, whereas Apple Music is closing in on 70 million premium subscribers as on June 2020.
There are many factors that contribute to Apple Music's success, Deezer and Napster's failure.
The critical factor is the app, while Apple Music's app is more fluid, with less frozen screens and easy navigation.
Deezer and Rhapsody apps have suffered frequent caching issues which sometimes forces you to delete all your downloads to make it work again.
Deezer does not offer support for Linux operating systems and their app is more messed up than any other streaming app.
A lot of popular artists have removed their songs from Deezer, as they don't pay royalties to the artists, paid very less or very late.
Loosing the trust of demi god musicians is a certain fatal blow to an already struggling streaming enterprise.
And of course, for some odd reason Deezer cuts most of the songs at end, which for sure annoys the most casual of listeners.
Rhapsody is not as bad as Deezer, as they pay the highest percentage of royalty to the artists (among all music streaming services).
With 40 million tracks in their kitty, Rhapsody supports both iOS and Android, allowing premium subscribers unlimited downloads on any device they may use, namely.. tablets, smartphones, PCs or a laptops.
They also have highly advanced equalizers in their apps, that can be customized by the user to get the best audio output.