Not many know that Ariana Grande is diabetic and skipping a meal or two would have adverse effects on her health.Nor does the way she dance in her music videos and on stage performances reveal the fact she has a eye defect and has to wear contact lenses most of the time.
The fact that she has abandoned Christianity just because it undermines women has nothing to do with the beautiful voice she was gifted with nor her incredible acting skills on New York's Broadway Musicals when she was just 13.
With her killer-cute pony tailed Italian looks and a voice of an angel, she stole the hearts of millions with her televised series Victorious aired on Nickelodeon May 2010.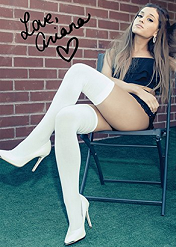 There are only a handful of artists who debuted at No.1 in Billboard Hot 100 for their very first album and there are only 10 to 12 artists who had their first two consecutive albums debut at No.1 in Billboard Hot 100 with Adriana Grande being one of them.
Born in a highly educated corporate family to a CEO father, loving mother and a caring elder brother, the story was tailor made for Adriana Grande to become the next TV and pop sensation.
Growing under the influence of Whitney Houston, Mariah Carey and Gloria Estefan during the bubble gum pop of 1990s had a telling effect on Adriana Grande's musical career and life as a whole.
But like every other girl of her age she had go through a grinding audition to be selected as Cat Valentine for the Nickelodeon original TV series Victorious.
When she did get selected and Victorious became Nickelodeon's best TV series ever with more than 6 million views in it's first season, it was just a matter of time before Ariana Grande hit it big on the red carpet.
Her first album "Yours Truly" released in spring 2013 had some amazing R&B numbers including the lead song "The Way" which peaked at No.3 in Billboard Hot 100 U.S charts.Although Minder Music sued Grande for copying their lyrics for $200,000 apart from seeking a permanent injunction against her hit number "The Way".
According to Minder Music the copyright infringement was for a 1972 song from The Jimmy Castor Bunch 'Troglodyte'. Reports say Grande's attorney settled the matter with Minder Music outside the court, but no official confirmation has been released from either side.
This lawsuit did not stop Ariana Grande from reaching stellar heights as her second song "Baby" from her debut album "Yours Truly" peaked at No.2 in Billboard U.S Charts.
She would also join Justin Beiber's world tour for four of his shows and would branch off to start her own world tour late 2013, , "The Listening Sessions".Just like Justin Beiber it was YouTube that provided the platform to launch her musical career and helped her clinch crucial contracts with record labels especially Republic Records.
2013 was more than just incredible for Ariana Grande as she won American Music Awards "Artist of the Year" and ended the year on a high note by releasing an R&B Christmas collection "Christmas Kisses".
Even though Ariana Grande provided great inspiration, a source of motivation to millions of kids all over the world through her Nickelodeon special series' Victorious and Sam & Cat, in real life, she is a die-hard horror movie buff who has always complained that she never had enough horror watching even the most scariest of horror movies.
And she time and again had expressed her willingness to act in her own horror movie which hopefully would materialize as her career progresses.Ariana who rejected Christianity and believes in Karma was seen kissing the Devil or Satan in one of her Facebook pictures taken during Halloween 2015.
Her second album "My Everything" released during spring 2014 had pop numbers more matured her age with positive reviews from many of her critics including the acclaimed Rolling Stones magazine.With time on her side Adriana Grande would be invited to perform at the white house along with Big Sean.
Most popular number "Problem" from her second album "My Everything" reached the No.1 spot in U.K.It also sold more than 100,000 copies on the itunes music store in it's first week of release making Adriana one of the fastest selling artists of 2014.
In the U.S the song peaked at No.2 and the Ariana wave swept the MTV Music Awards later that year when she did a live performance of her second song "Break Free" which also peaked at No.3 in Billboard U.S Charts and entered the Top 10 in many other countries including Canada, U.K, Australia and New Zealand.
Her collaboration with Nicki Minaj paid her dividends when her third song "Bang Bang" also reached the No.1 spot in U.K making her only the second artists after Adele to have three consecutive Top 10 hits in the Billboard U.K Chart history.
More than 100,000 downloads on the itunes music store in the first week of it's release, made even her vocal critics make note of her achievements if not applaud her.
She started working on "Moonlight" her third album with the first single "Focus" scheduled to be released on the first week of November 2015.Throughout 2015 she was touring US, Canada, Europe and Asia as a part of her Honeymoon tour and had earned more than $13.5 million from ticket sales and sponsorship.
For the most of 2015 Ariana Grande was acting in various television series including the Scream Queens a Fox TV original series.But the best is yet to come as the world awaits more tracks to be released from her third album "Moonlight" come November 2015.