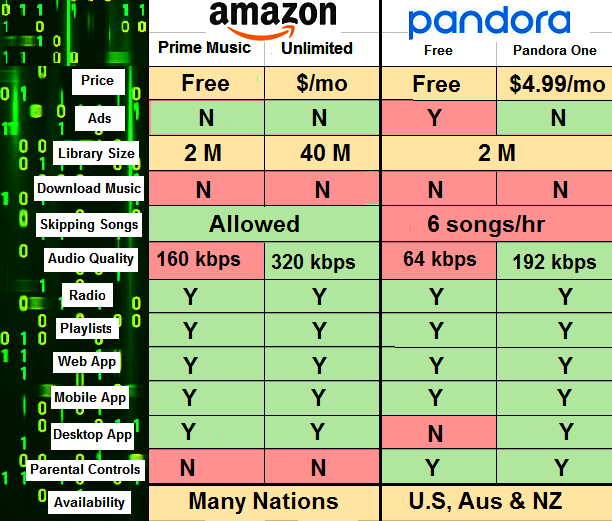 When it comes to streaming music, there are a plethora of portals waiting to serve you.
Almost all of them try to entice you with free trials, neatly designed apps, sleek interface, fluid navigation and high quality audio.
While many want your subscription at any cost, there are others who prefer only a select few.
As you might have guessed, it's quality vs quantity.
Those streaming entities that cannot compete with giants such as Spotify or Amazon Music Unlimited (#ad), focus on quality instead of quantity.
But then, do they really offer such a high quality of music? Many don't, but a handful do.
Pandora Music is one of those rare entities, that had always focused on quality, offering a complete listening experience to it's users.
They provide a deep insight on songs being played including artist info, song facts, lyrics (if available) and Podcasts related to that song.
But still, as competition increased they finally understood that size does matter.
The existence of Pandora Music hardly ever bothers Amazon Music Unlimited.
Being a pet project off Jeff Bezos, Music Unlimited is more like a spoiled rich kid, throwing late night parties every single night at the expense of his rich dad's hard earned income.
Indeed he does, soon to be trillionaire Jeff Bezos spends millions promoting Amazon Music Unlimited, yet.. it hardly ever leaves a dent in his pocket.
Amazon Music Unlimited vs. Pandora
Even though this might sound like a David vs Goliath sort of comparison, one has to understand that Pandora internet radio was itself a giant once, before the existence of Amazon Music.
A company that once held 75% share of the US online music streaming industry, before being run over by behemoths.
An entity that once had 200 million active subscribers, was besieged by financial crisis forcing the investors to sell it off to Sirius XM Satellite Radio for $3.6 billion in 2019.
While Pandora was struggling to make ends meet, Amazon quietly sneaked in Music Unlimited in October 2016.
But Amazon had one major advantage, it already had more than 80 million Prime Subscribers in the US, a majority of them converted to Music Unlimited, thanks to Amazon's clever marketing strategy.
One of Music Unlimited's major selling point is the free plan, with hardly any restriction, you can search and listen to any song from any era, in many languages.
You can also create playlists, listen to any radio station of your choice.
The free plan also enables you to use Alexa without any restrictions whatsoever.
There are also no limits to the devices you can use, be it a laptop, smartphone, PC, a tablet or the Amazon Echo, you can use your free subscription in any of these devices.
Amazon Music Unlimited is one of the very few online music streaming services, that offer unlimited song skipping even in the free version.
The only difference between the free and paid versions are the audio quality and the ad-free experience.
Pandora also offers it's users a selection of songs for free, but they are limited to the number of times you can skip them.
If you want to skip as many songs as possible, you need to upgrade to Pandora Premium that gives it's users exactly what they want from Pandora.
For Pandora Premium, users need to pay a $10-month fee to access millions of songs. They can also choose songs by skipping the songs they don't want to listen to.
Amazon Music Unlimited is accessible through a web player in your browser, Amazon Echo, and Amazon Music app that can be downloaded on Androids and iOS devices as well as personal computers and Mac.
You can also access Amazon Music Unlimited on the Fire TV (#ad) and Amazon's Fire Tablet through an app.
If you have Roku media streamer or Sonos multi-room system, you can also play music using them.
According to Amazon, there are also a few selected BMW and Mini cars that are amazon-enabled and provide access to Amazon Music Unlimited through it's infotainment system when connected to a smartphone.
Pandora is accessible in places such as the United States, New Zealand, and Australia. Pandora can also be accessible on iPhones and iPads using an audio App, Roku, TV, tablets, and other devices.
More than 50% of people listen to Pandora on other devices other than their PC. You can be connected to Pandora in your car.
From Toyota (#ad) to BMW, and Hyundai and Ford by using in-car apps.
However, you need to check with your local dealer to see if your car has access to Pandora.
Amazon Music Unlimited and Pandora, Which One Has More Music?
Pandora Music's database holds only a few million tracks while Amazon Unlimited offer tens of millions of songs to it's users.
Amazon says it has over 90 million songs in it's kitty, with an entire segment allotted to 'today's trending artists/songs'. Obviously, Amazon has more music compared to Pandora.
There are a few quirks that make other people get used to certain music streaming services than others.
In the case of Pandora, Pandora Premium doesn't offer pre-generated playlist, you have to choose songs and create your own playlist.
Pandora Music streaming services rely heavily on it's radio station, but you upgrade to premium, it comes without any restrictions.
Amazon Music Unlimited comes with no restrictions whatsoever. It has  more benefits than Pandora.
Radio and Playlist
Both Pandora and Amazon Music Unlimited offer personalized radio stations based on the songs you like and artists you love.
Amazon Music Unlimited has the unique ability that can be used by users. Using Alexa, Amazon Assistant (#ad) you can ask it to play the music of a certain artist, genre or even according to your mood.
Pandora also has a good mood-based section of songs that you can create as a playlist for yourself.
For Pandora, it's main strength lies in its ability to help users discover new songs and artists but not a playlist.
Unlike Amazon Music's AI powered voice assistant Alexa, which makes the
listening experience so much fun, Pandora doesn't have one, which is one of the main reasons for it's downfall.
It also means, you have to create your own playlist manually, from the scratch if you use Pandora.
Offline
Both Pandora and Amazon Music Unlimited offer offline playback.
You can only download music from Pandora if you have subscribed to their premium services while Amazon offers it as a standard service.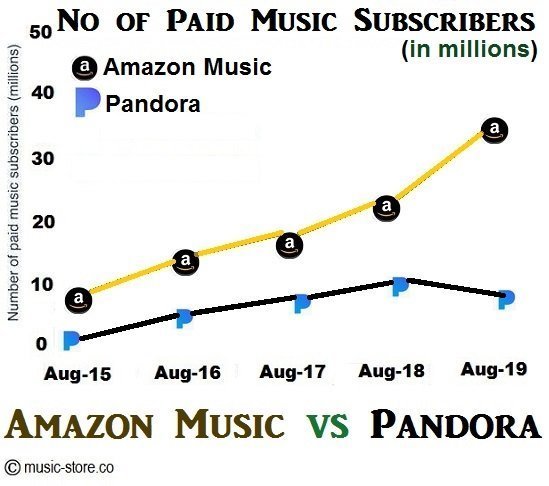 Paid Subscribers
A comparison of paid music subscribers for the last 5 years show Amazon Music (Amazon Prime Music plus Music Unlimited) gained 600 times more subscribers than Pandora in 2019.
And 300 times, more subscribers between 2016 and 2018.
Even though Pandora was the No. 1 ranked streaming company in the US between 2000 and 2014, a lot changed in 2015, when Spotify introduced highly attractive user friendly app, literally whisking away Pandora's decade old loyal listeners.
Inspite of having a huge repertoire of songs (around 30 million songs), Pandora was never a match to Amazon's Prime Music, which did not even offer online music streaming, even worse, one has to pay a substantial amount just to download a song.
Back in 2015, Amazon Prime Music had a little over 2 million songs, where paying and downloading songs in the only option.
But still it had 9 million paying listeners when compared to Pandora's 1 million.
The reason being Amazon's blockbuster subscription package, Amazon Prime, which was (still is) growing at an incredible rate in the US.
Amazon was able to convert all it's Prime members into paying subscribers and when Amazon Music Unlimited was launched in October 2016, it was the perfect launching pad Jeff Bezos was looking for.
And finally in 2019, Amazon Music has 32 million paid subscribers, a 70% growth compared to 2018.
While Pandora has 6 million paid subscribers, same numbers as in 2018.
Ominous signs for Pandora, as their very existence will be threatened by the streaming giants in the years to come.
Which one is the best?
Like we discussed, for the minnows, it is always going to be quality and for the behemoths it's the quantity.
Pandora's music library is never a good match for Amazon's humongous 60 million collection of songs nor is the premium song skipping feature of Pandora any match to Amazon's unlimited song skips available in the free version.
The only feature where Pandora beats Amazon Music Unlimited, is the Parental Control settings.
While there are hardly any Parental Control settings in Amazon Music Unlimited's app, Pandora seems to have put in a lot of effort in creating an app full of Parental Control settings.
Which means you can filter or flag songs with explicit lyrics, R rated album covers and block podcasts that deal with sensitive topics.
So, if you are a parent trying to bring up your kids in the best possible manner, then.. Pandora is for you.
Also if you like to discover new genres, sounds, melodies and rhythms of music, again.. you are going to love Pandora music.
But if you are one of those who eat, sleep and breath music, then Amazon Music Unlimited is the manna from heaven that you were looking for.
More Comparisons –