It is easy to get lost when picking a music streaming service since there are so many services available.
But it's not very difficult to select the right streaming platform, once you start comparing the different functionalities they offer.
Many popular streaming apps offer Discovery features to help users find new songs and free music libraries with tens of million tracks to users that work with the majority of devices.
We have to dig pretty deep to find the best streaming services, but in this article, we are going the split up, analyzing the difference between Amazon Music Unlimited and Tidal.
Which is the best music streaming service between Amazon Music Unlimited and Tidal?
Pricing
Most music streaming services charge a standard fee of $9.99 per month for an account and $15 per month for the family option.
Tidal has a higher price, one that boosts the quality of music that subscriber's stream.
While Amazon Music Unlimited charges a monthly fee of $ for prime members and $ a month for non-prime members, Tidal asks for $19.99 a month for an account and $29.99 for the family plan.
But with Tidal the amount is charged because it features a selection of master quality Hi-Res albums.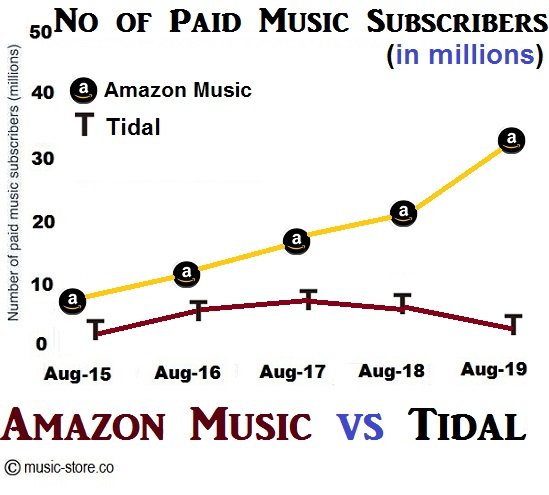 Sound Quality
Tidal uses MQA to stream 320Kbps for a selection of songs.
They also have a couple of thousands of "master" albums (if not million by now), but a lot of classic music in them, including Michael Bubble.
Amazon Music Unlimited offers different sound quality, 96kbps bitrate for it's free version, 160kbps for premium subscribers and 820kbps for the recently introduced HD version.
What Devices Are They On?
Unless you have a window phone, you need to know which devices are compatible with Tidal and Amazon music unlimited.
For Amazon Music Unlimited, all services are accessible through their music app, be downloaded on Android and iOS devices as well as PC and Mac.
If you have a web player, you can also access Amazon Music Unlimited by using the company's Echo devices.
Amazon Fire TV and Fire Tablets also have an app where you can stream and play music through Roku media streamer and Sonos multi-room.
Tidal doesn't have many options.
It is a streaming service for people who love streaming songs for the sake of quality rather than for the love of music .
Offline feature for Tidal and Amazon Music Unlimited
Both services offer unlimited mobile downloads for offline listening.
Both services allow users to download tracks to their devices for offline listening, so that's a good start for both streaming services.
Music Catalogue
Amazon Music Unlimited claims to have more than 90 million songs (updated on Jan 2022) in it's repertoire, with songs from yesterday's and today's most popular artists, while Tidal has over 80 million songs in it's catalogue (as on Jan 2022).
That's around 10 million tracks more than Tidal.
Popularity
Tidal gained it's popularity because of it's founder Jay Z and his wife Beyonce.
Whereas Amazon gained prominence because of it's highly successful paid subscription service, Amazon Prime.
Tidal has an estimated 3 million (controversial) paid premium listeners, till date.
Tidal reportedly gained 1.1 million paid subscribers in 2018 alone, but these figures are highly contentious, as they are yet to release any official figures to substantiate their claim.
While Amazon Music Unlimited amassed in excess of 86 million paid music listeners and 125 million subscribers, since it's inception.
It is probably the second most popular streaming services in the world after Spotify.
It is clear that Amazon has toppled over Tidal, but Tidal has intuitive features that set it apart.
Discovery Features
Both services are mature enough to offer fairly good music discovery features.
Amazon Music Unlimited has sections which serve up playlists and albums that you like.
The playlist and album is based on your listening habits, Amazon Music Unlimited make music discovery easier than ever with their Alexa assistance.
Tidal on the other side has curated content from artists, album, and genres.
Tidal's major selling point is the unparalleled high-quality music streaming service they offer their subscribers.
Tidal music streaming services have a maximum streaming quality of 1,411kbps with FLAC-formatted lossless files.

Between Amazon Music Unlimited and Tidal, Amazon Music Unlimited is cheaper compared to Tidal, especially for Prime members.
Since there are more than 120 million Prime users in the USA alone, Amazon has a clear lead in the numbers game with Tidal.
If you already have an Amazon Prime membership, Amazon Music Unlimited is probably the best option because it's cheaper.
Either way, Amazon is cheaper compared to Tidal.
Tidal, on the other hand, offers superior high-quality streaming service than Amazon Music Unlimited.
Tidal also has a huge music catalogue than Amazon Music Unlimited.
It's worth to note that in both services, you can create your playlist or choose from the curated playlist available.
Amazon Music Unlimited is available on more devices than Tidal, but they both offer a better music discovery option.
Depending on your preferences, you can choose either Tidal or Amazon Music Unlimited.
Paid Subscribers
Any topic related to paid subscribers and Tidal may be deeply disturbing to Jay Z's fans, as he was already embarrassed by a Norwegian magazine, trying to manipulate Tidal's paid subscriber base in 2017.
To make things worse, the Norwegian government ordered an official inquiry into Tidal's manipulated paid subscriber numbers.
Which if proven could end up Jay Z getting an arrest warrant from the Interpol.
Jay Z may be a fledgling businessman but a very popular musician, as evident from his streaming service, Tidal, which offers HD quality audio, a service dominated by Tidal for many years before Amazon introduced Amazon Music HD in September 2019.
Coming back to the subscriber numbers, Amazon Music's paid subscriber numbers grew 30 times more than Tidal in the last five years.
Let us not delve into subscriber numbers as it will not do any justice to the amazing user experience that Tidal offers.
But would rather result in a comparison chart (as above), which might give some senior Tidal executives hot flushes, headaches, anxiety and nightmares.