Kindle Unlimited Membership Plans
Both Amazon Pay and Apple Wallet are digital wallet companies that are on the competing edge of the digital wallet wars.
They are not the only digital wallets competing,but there is also Samsung Pay, Android Pay among others.
In this article, we will look at the differences between Amazon Pay and Apple Pay in terms of users, divergence, security and many other features.
The digital wallets might seem to operate the same way,but they are also different in many ways.
Amazon Pay is from amazon.com which is one of the largest online retailers in the United States, while Apple Pay is from the famous Apple brand created by Steve Jobs.
These two digital wallets are superior in their own way,but at the end of it all, the consumer is the winner in that he can choose the best service that suits him.
One of the major differences between Amazon Pay and Apple Wallet is the platform they both use.
Apple Pay is restricted to being used on Apple devices only and specifically iPhone6 and later.
There is no way you can use Apple Pay if you do not have an Apple device that supports the service.
This is different with Amazon Pay because it doesn't require any specific platform.
You can use Amazon Pay on Android phones as well as on the Apple devices.
You just have to open an account with Amazon and despite which platform you are using, the service will be readily available to use on your device.
This is a massive restriction that Apple Wallet has as compared to Amazon Pay, since there are people who prefer to use Apple devices while others prefer to use different platforms.
And since Apple Pay cannot be used on the other platforms, they are forced to use other digital wallets.
Apple Wallet can store all your boarding passes, digital loyalty cards, tickets and many others.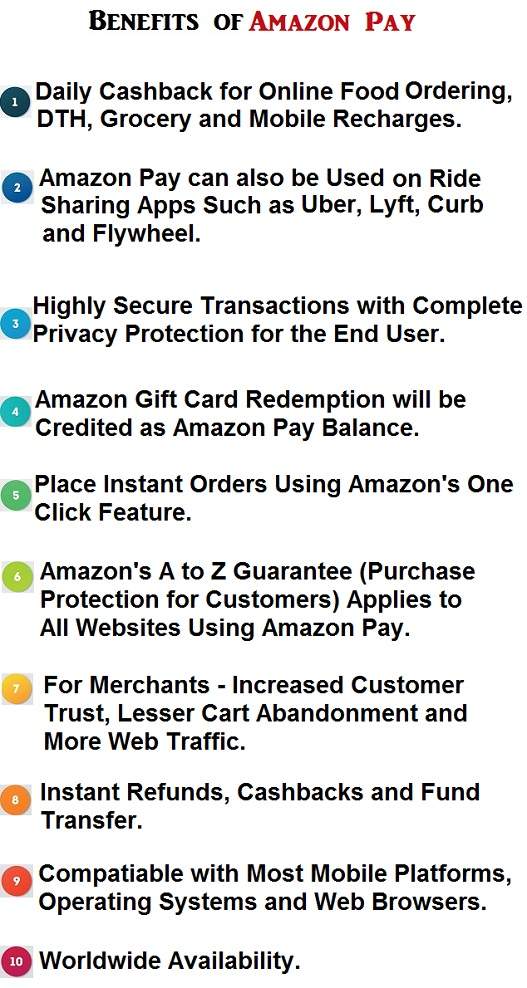 The app also serves as the default home for Apple Pay.
You can store all your cards on Apple Wallet and use them conveniently at any store or any other place that your cards are accepted.
With Apple Wallet, all your cards that are overflowing your pockets, purse and billfold are digitized and you just carry them on your mobile phone.
This is the most convenient way of paying for anything.
You don't have to keep count of all the cards in your purse of removing them now and then to make payments.
You just have to open Apple Wallet on your mobile phone and select the card you want and pay on the accepted stores.
With Amazon Pay, you don't get to add all your cards on it such that you can use them in selected stores.
You create an account and with this account, you can pay for anything from the merchants that accept Amazon Payments.
You can't add boarding passes or tickets to your Amazon account and this is one of the places where Apple Wallet trolls Amazon Pay.
One can be used conveniently on selected devices on the selected stores and the other is open to all devices, but locked to adding cards and paying on stores and train tickets or such.
Apple Wallet is helping out Amazon in a cash payment model known as Amazon Cash.
Try Twitch Prime
This feature allows consumers carrying cash to add funds to their Amazon.com account balances simply by presenting a barcode to a cashier at a network of their partner retailers.
The consumer will tell the cashier the amount of cash to add starting from $15 to $500 at once and the money is instantly shown in their Amazon.com account balance.
What Amazon is doing is keeping this experience digital which allows the consumers to store an Amazon Cash barcode in Apple's wallet and the barcode is reusable or on the home screen of Android devices.
You can store all the cards that Apple Wallet can handle on your phone,but one limitation is that the cards will become useless once the phone battery dies.
This is one frustration that Apple Wallet users can go through if you want to pay and the phone is dead.
On the other hand, with Amazon Pay, even when the phone is dead, you can still pay for the goods you want from different merchants.
All you have to do is login to your account using another phone or computer and you will find all your cash intact ready to pay.
This is different with Apple Pay since you had added all the cards and ready to pay on Apple Pay, using Apple Wallet but now the phone is dead,and you can't access your cards.
The digital wallets wars are not over and all the companies are doing their best to emerge on top of the other.
However, the consumer will choose the best service depending on security, convenience and ease of use,so the digital wallets still have some way to go before becoming perfect.
Create Amazon Business Account