Amazon Pay may not be as popular Apple Pay, as promoted as Google Pay or as exclusive as Samsung Pay, it may not even have it's own app, but still, it is growing at a phenomenal rate in the US and South East Asian economies.
Thanks to the most popular online subscription service ever, Amazon Prime.
While 1 in 3 Americans are Prime users, the other 2 have purchased something from Amazon in the last 2 years.
While Amazon Prime has 150 million users worldwide, it has 6 times the number of users, who had purchased something from Amazon in 2019.
In other words, every second, Amazon clocks an average sale worth $4700, which means around 50% of the stuff Americans bought online in 2019, was indeed from Amazon.
The point is, you don't need to promote a new venture of Amazon, in this case Amazon Pay, if you can see it on the Amazon website or app.
In spite of being in the digital payments business since 2009, Amazon never really took off.
Launched in 2009 as Checkout by Amazon, re-branded as Amazon Flexible Payments Service a few years later, Amazon was never really comfortable with their new found love, digital payments service.
However, Amazon finally found it's mojo in 2016, when Amazon Pay was released and hasn't looked back since.
Apple Pay on the other hand, is restricted to being used on Apple devices only and specifically iPhone6 and later.
There is no way you can use Apple Pay if you do not have an Apple device that supports the service.
This is different with Amazon Pay because it doesn't require any specific platform.
You can use Amazon Pay on Android phones as well as on the Apple devices.
You just have to open an account with Amazon and despite which platform you are using, the service will be readily available to use on your device.
This is a massive restriction that Apple Wallet has, as compared to Amazon Pay.
Not every merchant accepts Apple Pay, while there a lot of merchants who do accept them, a whole lot of digital portals are not very keen to integrate Apple Pay in their platform.
There are many reasons to this, they may have exclusivity deals with certain mobile wallets, their coding language has issues with iOS integration and lastly, they may not have obtained a license from Apple.
In scenarios such as these, Amazon Pay would not only be a handy alternative, but can release you from transaction related stress and anxiety, apart from saving your precious time.
The bitter truth is, many iPhone users are unable to use Apple Pay on portals other than Apple's and are forced to download third party wallets, such as Amazon Pay.
While Apple Wallet can store all your boarding passes, digital loyalty cards, tickets and many others, it is just a intermediary and not a mobile payment gateway.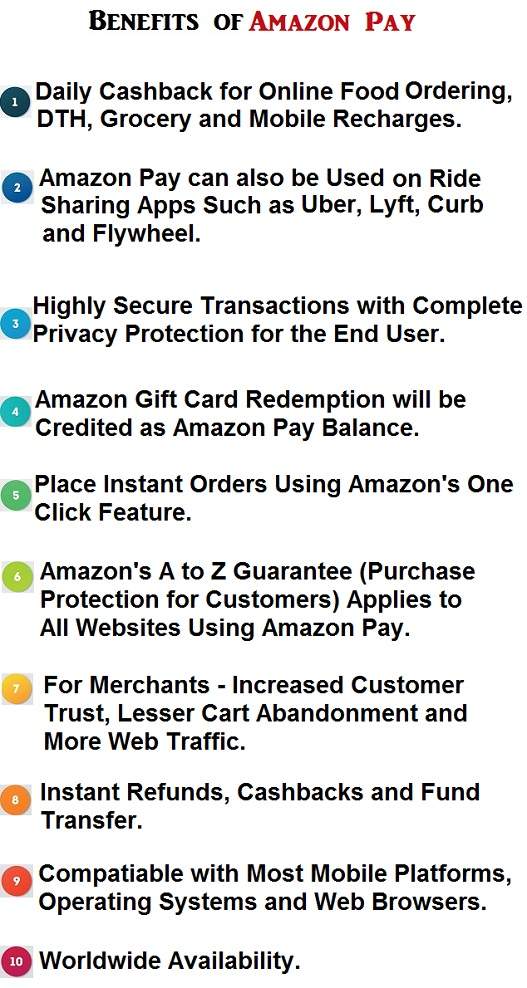 The app also serves as the default home for Apple Pay.
You can store all your cards on Apple Wallet and use them conveniently at any store or any other place that your cards are accepted.
With Apple Wallet, all your cards that are overflowing your pockets, purse and billfold are digitized and you just carry them on your mobile phone.
This is the most convenient way of paying for anything.
You don't have to keep count of all the cards in your purse of removing them now and then to make payments.
You just have to open Apple Wallet on your mobile phone and select the card you want and pay on the accepted stores.
While Apple Wallets can be used for offline purchases, Amazon Pay is very much restricted to the cyberspace.
There are more than 50 million merchants across the USA, that accept Apple Pay without any issues.
All you have to do is, keep your iPhone close to the contactless terminal or tap the swiping machine, bingo! your transaction is completed.
With Amazon Pay, you don't get to add all your cards on it such that you can use them in selected stores.
You create an account and with this account, you can pay for anything from the merchants that accept Amazon Payments.
You can't add boarding passes or tickets to your Amazon account and this is one of the places where Apple Wallet trolls Amazon Pay.
One can be used conveniently on selected devices on the selected stores and the other is open to all devices, but locked to adding cards and paying on stores and train tickets or such.
Apple Wallet is helping out Amazon in a cash payment model known as Amazon Cash.
This feature allows consumers carrying cash to add funds to their Amazon.com account balances simply by presenting a barcode to a cashier at a network of their partner retailers.
The consumer will tell the cashier the amount of cash to add starting from $15 to $500 at once and the money is instantly shown in their Amazon.com account balance.
What Amazon is doing is keeping this experience digital which allows the consumers to store an Amazon Cash barcode in Apple's wallet and the barcode is reusable or on the home screen of Android devices.
You can store all the cards that Apple Wallet can handle on your phone,but one limitation is that the cards will become useless once the phone battery dies.
This is one frustration that Apple Wallet users can go through if you want to pay and the phone is dead.
On the other hand, with Amazon Pay, even when the phone is dead, you can still pay for the goods you want from different merchants.
All you have to do is login to your account using another phone or computer and you will find all your cash intact ready to pay.
This is different with Apple Pay since you had added all the cards and ready to pay on Apple Pay, using Apple Wallet but now the phone is dead,and you can't access your cards.
The digital wallets wars are not over and all the companies are doing their best to emerge on top of the other.
However, the consumer will choose the best service depending on security, convenience and ease of use,so the digital wallets still have some way to go before becoming perfect.