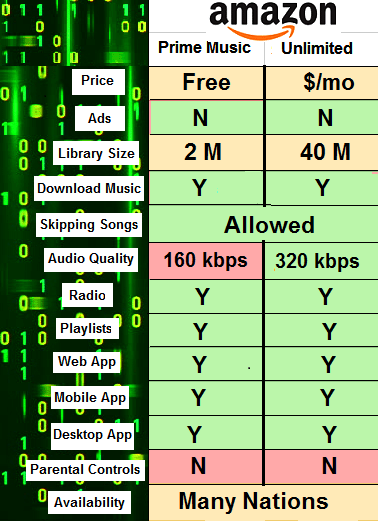 Amazon Prime Music subscribers in the U.S were already aware of music streaming services on Amazon, long before the rest of the world was made aware of it's presence.
Prime users have been streaming music via these services since 2008.
So when the news broke out about Amazon's new service Amazon Music Unlimited, most people wondered if they really need the newly launched Amazon Music Unlimited.
Some might think that Music Unlimited is a refined version of Prime Music, but there are more differences between these two services, than meets the eye.
The thought that you will be required to pay a $ extra fee for Amazon Music Unlimited is even harder to digest for many users, especially the Prime users.
So for starters to make the ideas simple, this article will discuss the similarities and the difference between the two services, what they have in common and what sets them apart.
We will also look at what new features are included, to help you get a better picture of what Amazon Prime Music and Amazon Music Unlimited is all about.
What are the similarities between Amazon Music Unlimited and Amazon Prime Music?
The similarities between Amazon Music Unlimited and Amazon Prime Music makes it difficult to tell the two apart.
Just in case you don't know what both of them have in common, here is a breakdown.
• They both can be accessed offline as well as online
• Both of them have curated playlist for you to choose your playlist from
• They both support streaming on both Android devices and iOS.
• You can skip whatever song you dislike on both platforms. They can be as many as you want
• You can stream on Amazon Echo, Dot, and Tap on both of them
• Both services allow for ad-free music playback experience
• They feature personalized music stations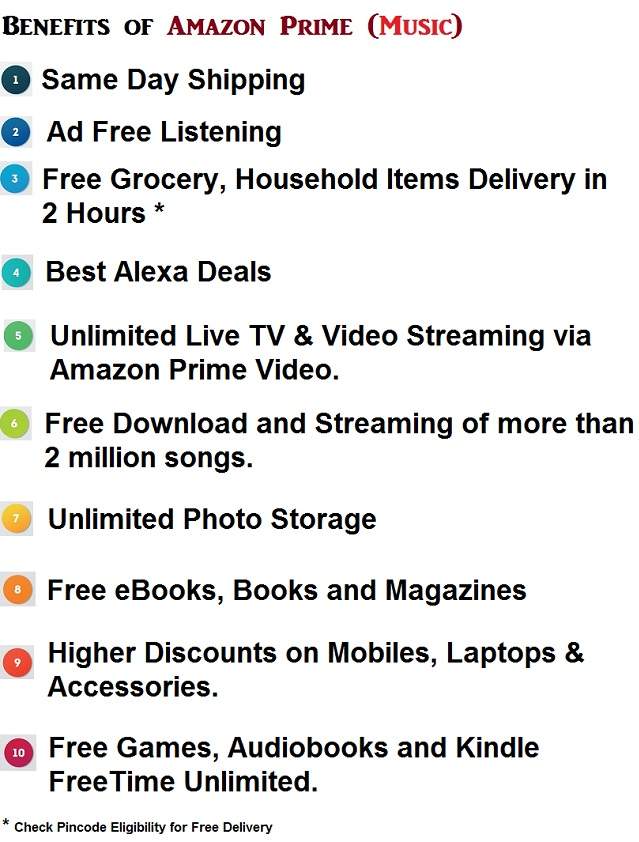 What's The Difference Between Amazon Prime and Amazon Music Unlimited?
The most notable difference between the two is the number of songs available on each platform.
While Amazon Prime Music streams around 2 million songs, Amazon Music Unlimited streams tens of millions of tracks, 40 million songs to be precise.
Other services that are different between Amazon Prime Music and Amazon music unlimited include the flexibility of creating playlists.
Amazon Prime Music allows it's users to create music playlists, but the Alexa option is more limited than in Amazon Music Unlimited.
Music Unlimited has an upgrade feature known as the additional voice commands/comments.
That allows you to easily create a playlist by just saying "Alexa, play Norah Jones" and you will get a playlist of popular Country singer Norah Jones.
You can also create a love rock or emotional music playlist using the same format, but based on your listening history.
Music Unlimited has another special feature on it's platform, including "behind the scenes" feature known as "side by side" where artist comment on their songs and albums.
Amazon describes the feature as one that brings fans and artists closer together.
Users can simply ask, "Alexa, play side-by-side by OneRepublic" and Ryan Tedder will play and comment on the OneRepublic album.
The Cost
The cost for Amazon Music Unlimited is higher than that of Prime. After a 30-day free trial, you are required to pay $ per month.
This is the most affordable plan in Music Unlimited, but you can only use Music Unlimited on your Dot, Tap, and Echo.
If you want to listen to music elsewhere or you don't have a smart Amazon device, you will need to pay $ for the standard plan or $$ on top of your annual Prime fees for a year.
The other plan you can get for Music Unlimited is the one six family members can be on for $$ per month or $$$ per year.
Of course, Amazon Prime Music is free for Prime members which mean, if you need to upgrade to Music Unlimited, it is going to cost you.
Whether you remain with Prime or upgrade to Music Unlimited, depends solely on whether you are satisfied with your current music collection.
The good thing about Amazon music unlimited, it comes with a 30-day free trial that allows you to see what it comprises of and compare it to Amazon Prime Music.
Whether you want to upgrade or not is ultimately your choice.
To draw a conclusion Amazon Unlimited Music is better for people who don't have Spotify and anything else.
You can also buy music from iTunes music store.
If you are still on the fence, Amazon Music Unlimited is worth it, especially for people who already own an Amazon Echo.
It is also accessible through Mac, PC and the Amazon music app for Fire devices, iOS and Android.
You can also access it through the company's Echo devices and a web player in your browser.
You can play music through Roku media streamer or Sonos Multi-Room System as well.
Give it a try and see the different between Amazon Music Unlimited and Amazon Prime Music