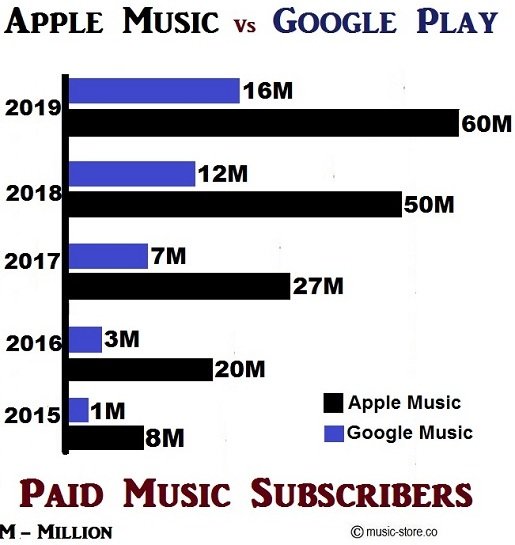 Apple Music and Google Play Music are not only two of the biggest streaming giants in the music industry but also two of the biggest tech giants in the world.
Both services were launched in mid and late 2015, following companies like Pandora and Spotify, who were growing leaps and bounds.
We have decided to look at the services, to see if they stand up to what they offer and how they compare to each other.
The Setup
Google Play Music
Google Play Music is simple, all you need to do is sign in on a web browser or through the Google Play Music app.
On the homepage, you will see a message asking you to personalize the services.
Click on the message to identify your music genre and artist from an endless list of artists.
Google offers paid and free versions of play music with a trial period of 30 to 60 days in case you want to subscribe to the paid version.
Apple Music
Apple Music too has a page representing music genres and artists that you need to choose from while customizing your page.
You need to click once on the genre or artist you love and twice on the one you like and X on the ones you don't like.
They offer different options to choose from and once you are finished choosing, you are ready to rock and roll.
Sound quality
The two music streaming services stream music at different bitrates.
Google Play Music streams at 320kbps and Apple Music streams at 256kbps.
However, Google Play Music streams MP3 whereas Apple Music streams AAC.
Both sound qualities are great sometimes you won't notice the difference.
Pricing
Google Play Music offers a thirty-day trial, after which you have $9.99 per month for the basic plan.
But they don't have the family or student plans. On the other hand, Apple Music (plans) has three tiers, the Basic, Family and Student plans.
You need to pay a monthly fee of $9.99 for the basic plan and $14.99 for the family tier.
If you are a student and have proved with a valid ID, you need to pay only $4.99 per month.
Apple Music users are set to enjoy family and student plans, as well as the free for all plans.
They can gain access to services like a few ads-supported radio station, the beats 1 radio, viewing connect streams and finally accessing your personal iCloud Music Library.
Google Play Music free tier includes listening to an ad-supported radio station, and skip up to six tracks per hour.
There are quite a few stations available in the free tier including the new releases, top of the charts and stations based on your activity and mood.
Finally, you will get to listen to over 50,000 songs and upload your iTunes library quickly using an extension they provide.
Devices You Can Play On
Apple Music is available on Mac, PC, Android and iOS whereas Google Play Music is available on Android devices iOS as well as the PC.
Music library and Playlist
The two services offer the same number of songs.
They both offer 50 million tracks with a vast selection of music, but different playlists.
Apple Music has an edge over Google Play Music because of it's curated playlists.
They have Apple Connect, a feature that allows users to receive curated music from the creator they follow.
Apple has its radio station which features special appearances by major artists.
Music Discovery
Google Play Music has no features that allow users to discover new music.
In contrast to Google Play Music, Apple is all about discovery.
Both services are filled with recommendations based on the artist that they follow.
Further, the Apple Music Connect feature allows the user to discover new music curated by both their favorite artists and Apple themselves.
Again, the debate on what you choose depends on personal preferences.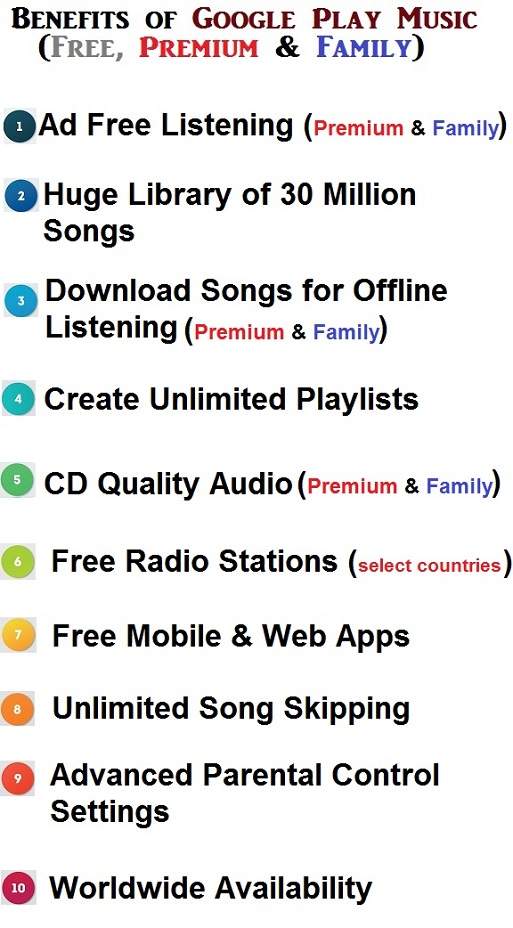 Apps
When it comes to apps, Apple Music is being criticized for their design of the mobile app.
But the app is not that different from the one on Google Play Music since both services use the same navigational methods though slightly different features.
For instance, Google Play Music app design has guidelines that make it bright and flashy where as Apple Music opts for a more elegant approach.
Again, you decide depending on your preferences.
Before deciding the best music streaming services, you need to check the services yourself and try them.
For instance, if you want access everything that Google offers, including YouTube, then Google Play Music is the best for you.
In contrast, if you wish to discover curated, new music, consider going for Apple Music.
But ever since Alphabet (Google's parent company) made that announcement that Google Play Music will be replaced by YouTube Music by the end of 2020, the stakes of the re-branded Google Play Music (YouTube Music) have suddenly gone up.
As on June 2020, a Google Play Music subscriber can access both GPM as well as YouTube Music,but not for long.
It seems Google is giving all of it's Play Music subscribers enough time to transfer their content (playlists, liked songs, lyrics etc) from GPM to YouTube Music.
It has also introduced special features in Google Play Music app that will transfer all the files to YouTube Music, in a single tap.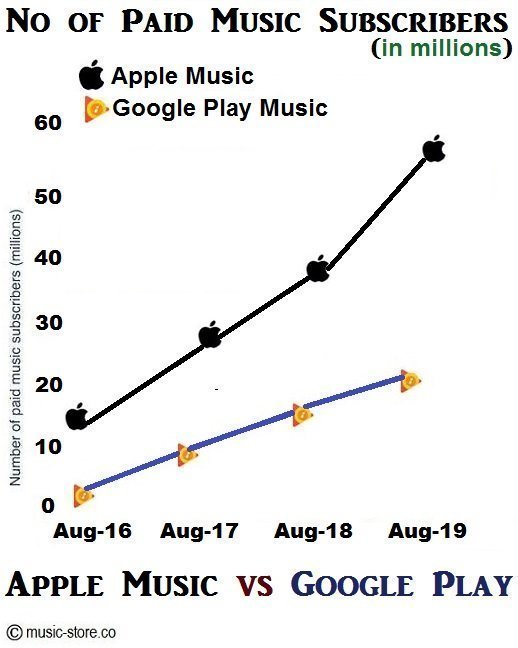 Paid Subscribers
Majority of Apple Music's paid listeners either come through either iPhones or iTunes.
Whenever iPhone sales zooms, so does Apple Music's paid subscriber data.
For the last two years (2018 and 2019), Apple Music's growth has been painfully slow, at around 20%, the same period where the sale of iPhones dropped,for the first time in it's history.
Between 2017 and 2018, Apple Music's paid listeners grew around 82% (27 million to 50 million), when iPhone 8 and 8 Plus sales, shattered all records in the mobile industry.
Google's mobile phone, Pixel 2 never had such record breaking sales nor were people interested in YouTube Music's premium version, when they can get it for free on YouTube's basic version.
But still Google Music (Google Play + YouTube Music) has seen a steady growth of paid listeners between 2015 and 2019.
From 1 million paid subscribers in 2015, Google Music has reached 16 million subscribers in 2019, without making much of a fuss.
Thanks to it's omnipresent video streaming portal, YouTube, which has more than 2 billion registered users, an unexplored gold mine from Google's perspective.
Ann Wojcicki, CEO of YouTube must be smirking in her dreams, every time she's reminded of YouTube's popularity.