Most people are skeptical about the user friendliness of Apple's products, thinking every new product requires a specific set of skills to operate them.
There is no better example than the iPhone, which works on iOS.
While intellectuals prefer iPhones, most blue collar workers opt for android based mobiles such as the Samsung Galaxy S20 Plus or a Moto G, simply because of the 'user experience' factor.
Just because Apple Pay and Apple Wallet are owned by the same company, doesn't mean they are highly complicated apps that require a superior level of intelligence.
Not only are they an integral part of a singular app, complimenting each other, they also share a symbiotic relationship.
Means, without Apple Wallet there is no Apple Pay or vice versa.
Apple Wallet previously known as Passbook is an app included in Apple's iOS operating system.
It allows users to store boarding passes, coupons, store cards, loyalty cards, credit cards and debit cards and then makes a transaction using Apple Pay's interface.
Apple Pay, on the other hand, is a mobile payment service that lets users make payment using iPhone, iPad or Mac, and Apple watch.
Just like Samsung Pay, Apple Pay doesn't require specific contactless payment terminals for Magstripe (MSD) transactions.
It can work with the existing contactless terminals.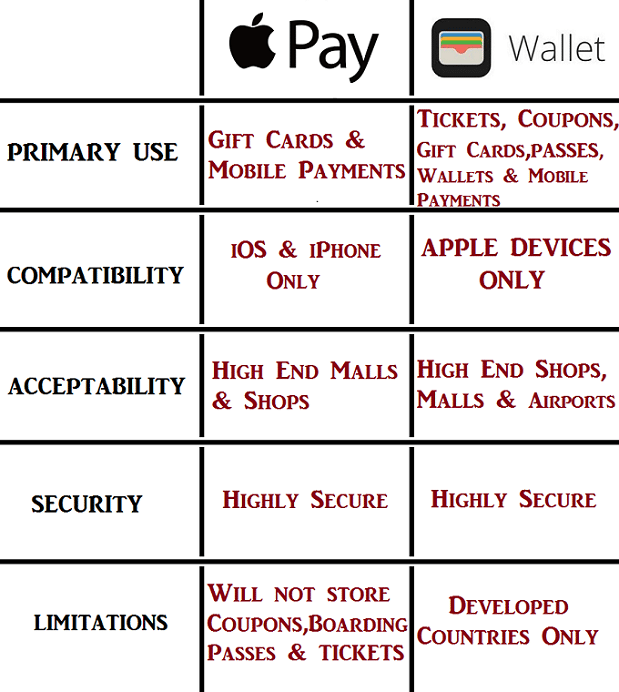 These two products are similar, and they sometimes work hand in hand, but they are definitely not the same.
There are distinct features that make them different.
Apple Wallet or Wallet, in short, is considered as Apple's answer to digitizing the cards overflowing your pockets, pulse or billfold and this includes Apple Pay.
The app stores virtual versions of all your coupons, passes, tickets, credit cards, debit cards and loyalty cards making it easier to access the cards at any time.
Wallet is always online and it is also location-aware meaning it can pull up and update the gate number on your boarding pass or the balance on your coffee shop card.
With this feature, you always know where you need to be and how much you have left.
Apple Pay, on the other hand, is a mobile payment service or a digital wallet that allows you to make payments in iOS apps, and on the web.
Apple Pay doesn't store coupons, boarding passes and tickets like Apple Wallet.
Instead, it digitizes a credit or debit card chip and PIN transaction at a contactless point of sale terminal.
It is the same as contactless payments used in many countries, but it has an addition of two-factor authentication via face ID, touch ID, PIN or passcode.
Apple Pay enables Apple devices to remotely communicate with the point of sale systems by using NFC (Near Field Communication) technology, the Secure element (a dedicated chip that stores all the encrypted payment information) and Apple's Touch ID.
With Apple Wallet, you can set the time or location you want an item added to the app to appear.
Apple Wallet gives the users a convenient way to organize and use boarding passes, reward cards, gift cards, and tickets.
An user can easily bring up passes in the app with PassKit APIs, post them on the web or send them via email.
This is different with Apple Pay since you can't set the app to appear at the location or time you want.
You have to manually launch the app if you want to make a payment.
However, you can do this with the help of Apple Wallet because like we said earlier, the apps work hand in hand.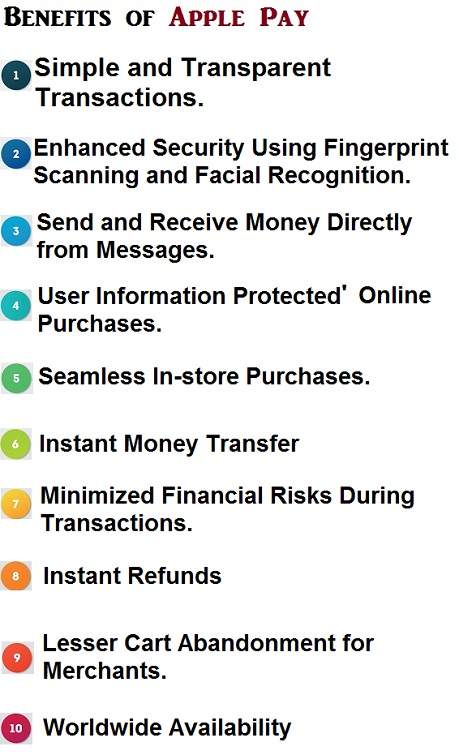 With Apple Pay, you send and receive money from friends and family and this can quickly be done right in messages.
You can use the cards that you already have in Apple Wallet to make payments.
When you receive money through Apple Pay, the money is added to your Apple Pay cash card that is in the Apple Wallet app.
You can use the money you receive to immediately start making purchases in stores, in apps and on the web.
With Apple Pay, you can transfer the balance you have on the app direct to your bank.
Wallet acts just like the normal wallet we know that is used to store all your debit and credit cards, loyalty and gift cards, coupons, boarding passes and tickets.
This means for you to use the Apple Pay app on your device, you must add all the cards you want to use in the Apple Wallet.
Apple Pay uses the cards you have added to your Wallet.
Wallet (AKA Passbook) is supported by almost everything from party services to movie theaters, coffee shops to airlines, conferences and loyalty cards.
You just have to fill up the Wallet.
Adding Wallet passes is not obvious on all apps, but there are places you can generally find them.
Adding cards to your Wallet varies depending on the apps depending on how the developer decides to use them.
Apple Pay, on the other hand, is only compatible or supported by iPhone 6 and above.
The users with lower versions of iPhone like iPhone 5 can use the app through Apple Watch, but it still lacks the Touch ID security.
Instead of the Touch ID, Apple Pay on an Apple Watch is activated with a passcode and remains active as long as the user wears the Watch.