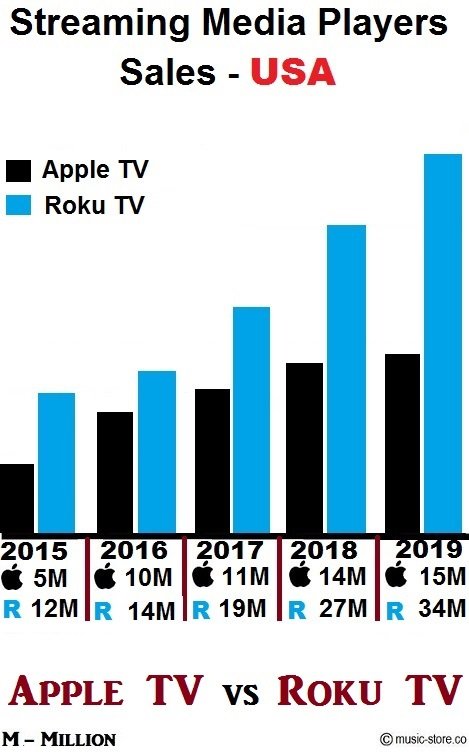 People are slowly getting tired of cable TV and media streaming boxes are on the rise showcasing the best technology has to offer when it comes to TV.
There are so many options for the streaming boxes with Apple TV and Roku being one of them.
If you are getting rid of your cable TV, welcome to online entertainment where an entire world of programming is ready waiting for you.
One advantage the streaming boxes have over cable TV is offering dedicated services like original shows, TV shows, and subscription services like Netflix, Hulu,and Amazon Prime.
Apple TV and Roku might offer similar services but they are not the same. Let's take a look at some of the differences between these two: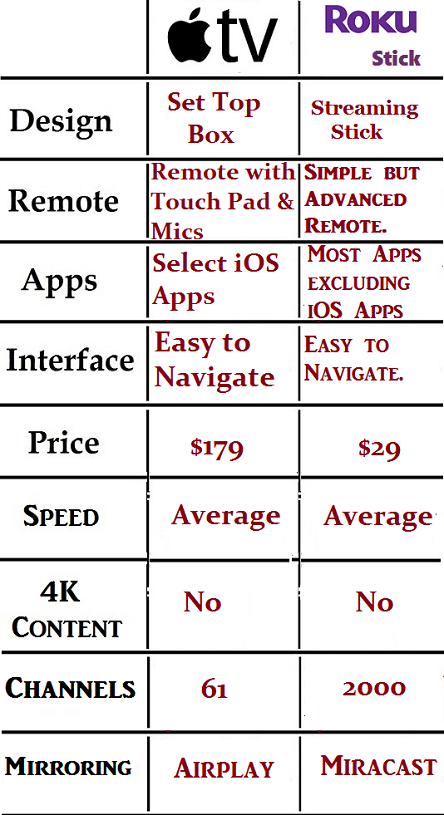 • Content
This is one of the significant differences between these two devices.
Roku currently has about 2000 channels while Apple has 61 of them.
Most people might ignore that content but come to think of it and you will see that Roku gives you more options content-wise if you want them.
If you want to own a TV show or rent a movie, Apple TV will force you to use iTunes which works in Apple gadgets only.
Roku, on the other hand, gives you access to Amazon, Google Play, M-GO and Vudu.
All these have a similar selection but the advantage is they let you watch you buy on any device.
Roku has a software update that lets you follow the TV shows and movies you want to watch and you get an alert when any one of them is on sale.
All of this gives Roku an edge over Apple TV in terms of content.
• User Interface
Apple is one company that has a history of creating excellent user interfaces but unfortunately, this doesn't apply to Apple TV.
The main menu on Apple TV is similar to the look of the home screen on your iPhone.
It has a number of static app icons that launch the different streaming services.
While this might work well in handheld devices, it is troublesome and a bother to navigate on a TV using Apple's remote.
If Apple adds a new channel, you will be forced to stick with it even if you don't want to watch it.
You can arrange the icons in any way you want or even hide some channels but it is a difficult process.
Roku has a better interface as compared to Apple TV. It gives you full control over the apps appearing on your main menu meaning you are not forced to go through a bunch of app icons to get what you want.
The menus flow from left to right making it easy and more natural to navigate.
• Remote
Apple TV has a great looking remote but it is too small and the button layout isn't suited for the interface.
It is frustrating to navigate an on-screen keyboard to perform a search.
It is easier when you use the iPhone app but it is tedious to have to unlock the phone and connect it to the TV just to take control.
Roku has an easy to use remote with a lot of functions. It has buttons that automatically launch key apps like Amazon Instant and Netflix as well as a directional control pad and an OK button.
One clever feature on the Roku remote is the headphone jack on the side. The TV mutes itself automatically when you plug in headphones in the jack.
It is awesome when you want to watch something without bothering the others in the room.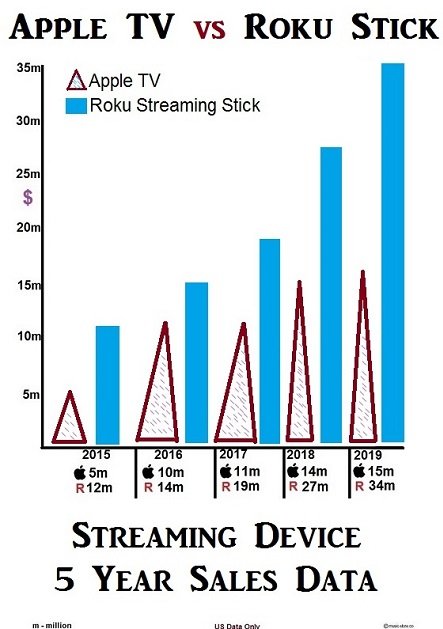 • AirPlay
Few apps like Netflix and Hulu will let you send content from your phone to your Roku but most apps don't support it.
About every major music or video app on iPhone can work with AirPlay.
Assuming Apple doesn't have a channel that you want, you can easily beam the content form an app on your phone to the TV.
The AirPlay feature also allows you to mirror your iPhone or iPad's screen to the TV and this is great for presentations.
If you are getting a streaming device to beam a lot of content from the phone to the TV, then Apple TV is your choice.
If you own a lot of content through iTunes, Apple TV lets you sign into your iTunes account and access all that content right away.
Both Apple TV and Roku are great streaming devices but the one you buy is going to be determined by the features you want to encounter and the features that are friendly and easy to use.
Otherwise, both of the boxes are pretty good. If you want to buy a streaming device today and can't wait, Roku might be the best choice but that doesn't leave Apple behind.