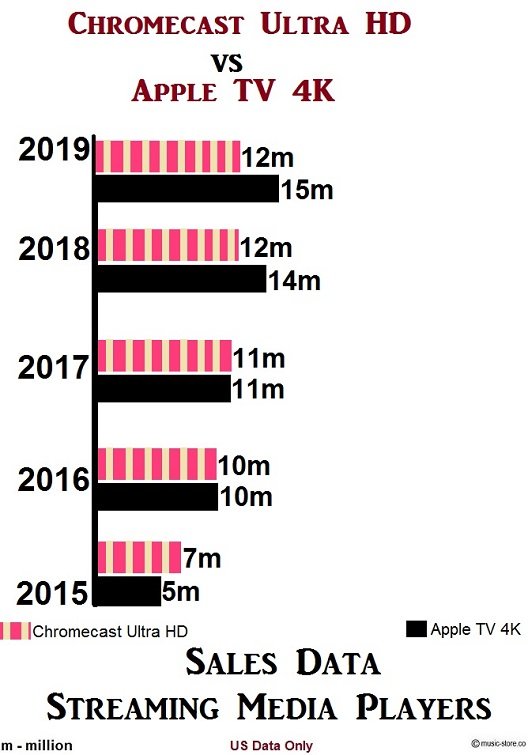 Media streaming is on the rise today and cable TV is on the verge of dying slowly by slowly.
Paying for cable TV today is uneconomical as it costs hundreds of dollars per month just for entertainment purposes.
Streaming boxes are becoming more common and companies like Google, Apple, Amazon and others are diving in the media streaming market.
Media streaming is becoming all about 4K faster than it was expected.
It has reached a point where these companies are offering Ultra HD compatible devices to meet the visual needs of the users.
These devices might be offering the same services,but at the same time, they have some differences.
Chromecast Ultra HD is from Google and Apple TV is from Apple Inc. Let's take them head to head and see the differences:
Design and Specifications
Chromecast Ultra HD has the form factor and design of a dongle. It is a dongle shaped and small enough to hang at the back of the TV hidden away from sight.
You just plug it into the HDMI port if your TV at the back and you remotely stream content.
For the people who prefer a wired connection, which is advisable when planning to stream 4K UHD content, Google has also added the option of plugging an Ethernet cable into the power supply.
The specs of the Chromecast Ultra HD streaming box are:
• Unknown RAM and Processor
• HDMI output
• Unknown storage but likely to be 256MB flash
• 47g in weight
• Max. Output Video Resolution: 4K w/HDR (HDR10 & Dolby Vision)
• Dimensions 58.2 mm in diameter, 13.7mm in height
• Ethernet, Wi-Fi and 802.11 ac connectivity
Apple TV 4K, on the other hand, has a boxy like design.
The difference between this streaming box and Chromecast is that the Apple TV box is larger in size and cannot hang at the back of the television set. Instead, the box sits at the bottom of the TV.
It can also be mounted at the rear of the TV using third-party brackets.
It is just like a small set-top box sitting at the bottom of the TV and can fit into any media center.
It has an HDMI connection,but the cable is not supplied with the box, power, Ethernet and USB-C for system restore.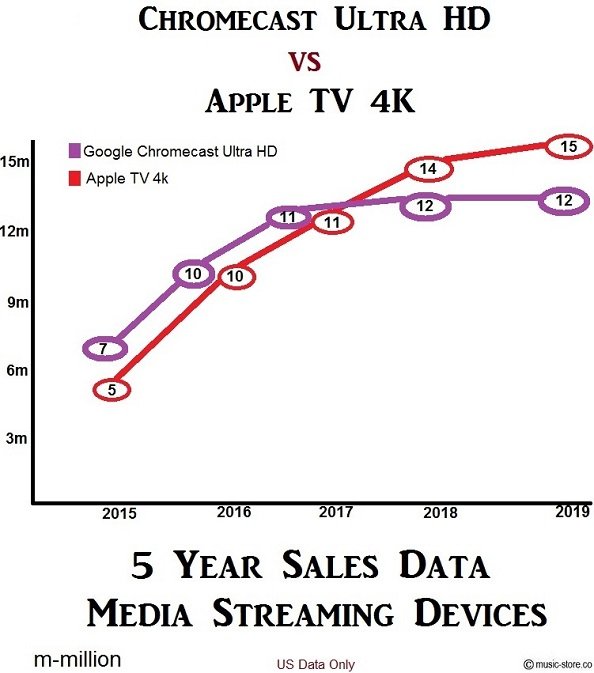 Here are the specs for the Apple TV 4K:
• AX10 Fusion 2.38 GHz processor
• HDMI output and LAN
• Ultra HDR support
• 4K content support
• 7.1 channel sound output mode
• Network player
• IR receiver
• Gigabit Ethernet support
• Bluetooth 5.0 wireless technology
• Dual-band Wi-Fi
Features and Software
This is another glaring difference between these two devices.
Chromecast doesn't have a user interface that you can navigate through.
It also doesn't have a standard remote control because it was made with the idea of looking for content on your phone, PC or tablet and casting it to the TV.
All this is achieved using the Chromecast button on compatible apps which include YouTube, Netflix, iPlayer, Spotify, BT Sport, BBC Sport and Google Play Movies.
The main selling point of the Chromecast Ultra is the affordable price point and it 4K UHD streaming ability.
Apple TV 4K has a different approach. It has a dedicated user interface which has a wide range of music, media, and games.
You can navigate through the user interface by swiping on the touchpad section of the remote control. Apple also has Siri on the remote control and it has a powerful voice search system.
Storage
This is not an issue for people who use these boxes primarily for streaming purposes.
However, a streaming box like the Apple TV one has apps and games installed or to be installed and it needs storage space.
This is why the Apple TV 4K box is available with either 32GB or 64GB for games and other downloaded apps and media.
Chromecast, on the other hand, doesn't even have a user interface and you use the Google Home app previously known as the Chromecast app.
4K and HDR Content
The two media streamers both support 4K resolution but Apple boasts of an advanced version of HDR which is Dolby Vision.
Chromecast supports HDR 10 only while Apple TV supports both of them.
4K resolution is good in that it defines the number of pixels in the content while HDR defines how bright, dark or colorful the pixels can get.
The lack of Dolby Vision in Chromecast is not a big difference since it can support 4K content and HDR 10.
Before buying any of the two devices, make sure you test them out first and see which one is worth your money.
Remember Apple TV is not cheap but has better picture and video quality, while Chromecast doesn't have advanced HDR support but is less expensive as compared to Apple TV.