Technology is here to change almost everything today and TV is one of the things affected by technology.
Cable TV is becoming expensive to use with users spending hundreds of dollars per month just for entertainment.
Smart TVs are not as smart and people are now choosing to go for a streaming box for entertainment. The streaming box has a lot of advantages as compared to cable TV or smart TVs.
One of them being the availability of a lot of content with better quality and sound and also apps and games as well as third-party apps compatibility.
As this happens streaming devices are piling up on shelves at the electronic stores but the more they are,the harder it is getting to choose the one suitable for you.
Google Chromecast and Apple TV are two of the best streaming devices on the market today and while they are similar, they also have significant differences.
Let's take them against each other and examine some of these differences.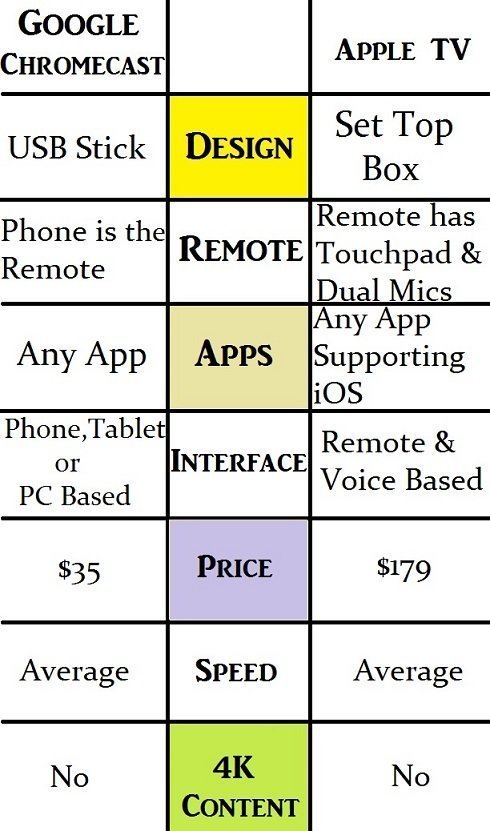 Remote Control
Google has introduced Chromecast in the market and it is one of the streaming devices without a standard remote control.
To operate, you need a mobile device to help you navigate through the Chromecast app.
To some people, this might be inconvenient because it is useless to have the streaming box if you don't have a mobile device.
Apple TV remote has six control buttons that are combined with a clickable touchpad that works the same way as the MacBook trackpad.
Apple TV has an added advantage over Chromecast aside from the standard remote.
The remote itself has a dedicated voice control button. It also has an inbuilt gyroscope and an accelero-meter set up.
With this, the remote can respond to being waved around. Another benefit that comes with the remote is the IR remitter which enables the remote to be used for the TV too.
User Interface
Chromecast has no specific user interface nor does it have a remote control to help you navigate through.
The idea that Google has with this streaming box is for you to stream everything and also do the controlling via the phone, tablet or PC then cast it to the TV.
All this is done by pressing the Chromecast button on compatible apps which include most of the big ones like Netflix, BBC Sport, YouTube and Spotify.
Apple TV, on the other hand, has a dedicated user interface that is apps based.
The remote control helps navigate through the apps and games on the Apple TV interface and this is achieved by swiping on the touchpad section of the remote.
One huge advantage of Apple's interface is the use of voice command. Apple has a strong search system,and you can use the voice command to search for anything you want to stream.
Design
Chromecast ultra is a streaming stick that is plugged directly into the HDMI port at the back of the TV and it wirelessly streams content.
Google has also added the option of plugging an Ethernet cable into the power supply if you prefer a wired connection.
This is advisable especially if you are planning to stream 4K UHD content and the Wi-Fi is not so strong.
The device is a circular dongle weighing 47g and comes in a black plastic case.
Apple TV, on the other hand, is a small set-top box that can be mounted to the back of a TV set,or it can fit into any media center.
The device is compact measuring 100x100x33mm with a matte black case which is sturdy and unobtrusive.
The back of the device has a small collection of connections with one for an HDMI cable, USB-C for system restore, Ethernet and power.
Apple TV has no optical audio output,but it supports Bluetooth speakers and headphones.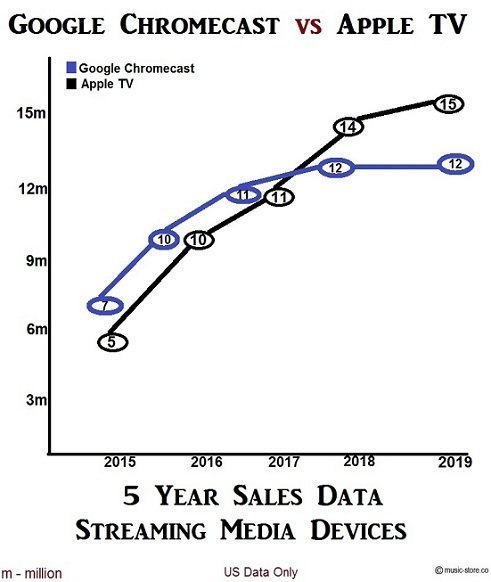 Operating System
This is one of the significant differences between these two devices. Apple TV made by Apple Inc runs on an Apple iOS version called tvOS that is not available on any other device.
Chromecast, on the other hand, runs on Android OS. This is why it is easier to install the Chromecast app on the mobile device or tablet to help you navigate through the system.
These two streaming boxes both have 4K streaming capabilities and this was the lag that Apple had before it introduced 4K in its devices.
Chromecast might seem nagging without a remote control,but the service and range of apps supported are impressive.
Apple TV offers a traditional interface of apps and also comes with a controller for navigation.
It is an all in one unit to watch movies and TV,but despite it having 4K support, the price will be an issue to most people especially if you compare it with Chromecast which is cheaper.