The battle between Samsung and Apple has led to the invention of sophisticated and reliable smartphones across the globe.
While Galaxy 8 and iPhone might appear similar, a closer look at each will portray some differences discussed below;
Design
Upfront, both phones have same features but a closer look will have the Samsung Galaxy S8 sporting curves around the edges of the display while iPhone lacks.
On the back, the Galaxy 8 has a single-lens camera while the iPhone 10 harbors a dual-lens camera.
Color-wise, Apple brand has managed to launch iPhone in Space Gray and silver colors while the S8 comes in coral blue, orchid gray, midnight black, and maple gold.
According to several users, iPhone is a little heavier and lacks the headphone jack, as well as the micro SD expansion slot. Instead of a fingerprint reader, Apple has invested on a Face ID technology.
Performance
Both phones are very powerful; however, iPhone X tends to out run S8 because of the brand new Bionic Chipset which is by far the fastest invention by Apple brand accompanied by six core CPU/GPU, M11 motion coprocessor, and 3 GB RAM.
The Samsung S8 (US) sports an octa-core chipset while the one in Europe and Asia hosts an Exynos 8895. Both Galaxy models carry a 4GB RAM plus a Micro SD slot to increase the phone's memory.
Even with their high-speed processors, Apple's iPhone X continues to have a lead in performance.
Though the S8 comes with a 64GB space only, the SD slot compensates for more. The iPhone X runs with the iOS 11 operating system while the S8 uses the Android Nougat.
Battery Life
A major problem with smartphones lies with the battery's lifespan. Over the years, Samsung has launched long-lasting batteries than Apple but with the presence of iPhone X, the game has changed.
Galaxy S8 fits a 3000 mAh battery while Apple Company decided to go for the 2716 mAh.
Though the latter is smaller it supports extensive use of the phone for hours which is very impressive because it has a high processing power than S8.
Price
The Apple brand is known for it's expensive products which are limited to very few countries.
To obtain an iPhone X, one will spend $999, AU$1, 579, and €999 for the 64 GB model.
The 256 GB make goes for 1, 149 American dollars and Euros.
On the other hand, Samsung Galaxy 8 is cheaper since it can be purchased for less than $725 in many shops worldwide.
Camera
Both phones come with a 12-megapixel camera on the rear but Samsung sports a faster aperture even with the front camera.
However, iPhone X has a second 12 MP lens with a 2.4 aperture that brings 2x optical zoom for a better and clearer image.
It is also known for blurring the background accompanied by the presence of an optical image stabilizer that helps focus every single shot.
While taking a video, one has the advantage of using a 4K video that is able to film shots at up to 60fps or record slow-motion videos at 240fps.
The front camera has 7 megapixels plus a 3D face scanner that is not fooled by a hat or a change in hair color.
Both brands are neck to neck to improve their products especially since Google Pixel is threatening to take the spotlight.
As of 2017, the iPhone X has set a new pace for mobile manufacturers. Other than upgrading the camera, design, and a battery's lifespan, Apple is a few steps ahead with the bionic chipset.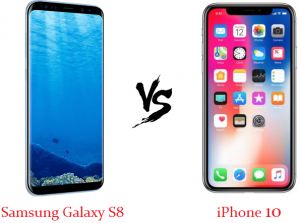 Nevertheless, the S8 is still up to par with the iPhone X in almost every area apart from speed and camera.
It is also superior in the battery power section, design, and the presence of extra features gives it a competitive advantage over the iPhone X.
Rumor has it that both products will receive upgrades on their operating systems but there will be delays with the S8.
Price wise, Samsung phones are affordable compared to Apple products. Besides, the former is more popular than the latter because of its diverse services and it has been on the market a lot longer.
Globally, the number of individuals with Samsung Galaxy 8 is higher than Apple especially since it's readily available at a cheaper price.
iPhone X is mostly sported with the wealthy folks and sparsely owned by few companies for their employees.
Despite having many visible similarities, both smartphones are arguably further apart.
Few complaints tend to focus on the battery life and since they are sophisticated, maintaining them becomes hectic for many people. Honestly, 50% of S8 and iPhone owners barely manage to optimize their phones.
There is more to a smartphone than just touch and go.