On-demand music streaming is rising in popularity and the world of music streaming has never been this crowded.
Listeners and music fans are shying away from physical recordings in favor of the massive online music libraries.
Different music streaming services keep popping up and each of them is offering different amount of songs, features and other in-app quirks.
However, with the numerous music streaming services, only a few are up to the task and offering a vast music library as well as good quality music.
Some of the streaming services are also offering video streaming as part of the music streaming.
With the many music streaming services available, music listeners are finding it hard to make a choice wondering which one is the best.
Spotify and Deezer are some of the best music streaming services.
These services might be similar,but they also have a lot of differences that set them apart. Let's look at some of the glaring differences between the two:
Music Library
This was a significant difference between Spotify and Deezer a few years back,but today, the advantage lies on Deezer's side.
It's exclusive and super brand is what gives Spotify a competitive edge today and with a music library of 30 million songs reaching 58 countries worldwide.
Nearly all the songs you want to listen to can be found on Spotify.
Deezer, on the other hand, has a vast library of 40 million songs which reaches more than 180 countries worldwide.
With Deezer, the number of songs available in every country varies and that is likely to be the reason for the high song count in Deezer's local music library being unavailable in the UK.
When it comes to songs collection, Deezer is a good option if you want to find something different.
Quality
Deezer has more than 2 million hi-definition audio files encoded in FLAC an uncompressed audio format streamed at 1411 kbps.
This file format preserves more data than the standard mp3 files. Mp3 is compressed audio and by this, it requires shaving off a lot of details in the audio to achieve the small size.
Deezer's Elite plan for CD quality streaming is now available if you are a Deezer Premium+ subscriber, which you can upgrade for no extra cost to enjoy Deezer CD quality streaming service.
It streams at 16-bit/44.1kHZ which is the same resolution as CD.
Spotify's highest quality is 320kbps in OGG and it scraps off parts of the audio that might be considered as inaudible preserving most of the critical data.
This means that the quality differences between the compressed and uncompressed formats can be distinguished if put on a higher level with external audio speakers.
New Music Discovery
This is one feature that appeals to the music lovers in a significant way.
If a music streaming service has a way of giving music listeners new music in a simple way, this is an excellent chance of them subscribing to the service.
Deezer has introduced a fantastic feature called 'Hear This' , which is a music video feed explicitly personalized for you.
feature shows you new tracks and albums from artists you add to your favorites and listen to.
The function also picks tracks based on your listening habits and the playlists created by the users who have similar music taste as your's, meaning you will never run out of songs to listen to.
Spotify has a 'Discover' feature which is not like Deezer's 'Hear This'.
While it doesn't recommend playlists in the Discover section, it recommends artists, individual tracks and albums.
Spotify also has an additional feature called 'Discover Weekly' which presents the user with along playlist of the hottest tracks the app thinks you will like every week.
Another cool feature is in the Discover feature is the 'Now' section which offers recommendations based on the time of day and the day of the week.
Spotify also has a 'Browse' option which has options to help you find what you are looking for and Deezer also has an Explore feature.
But it doesn't offer as many options to help you easily find the tracks you are looking for.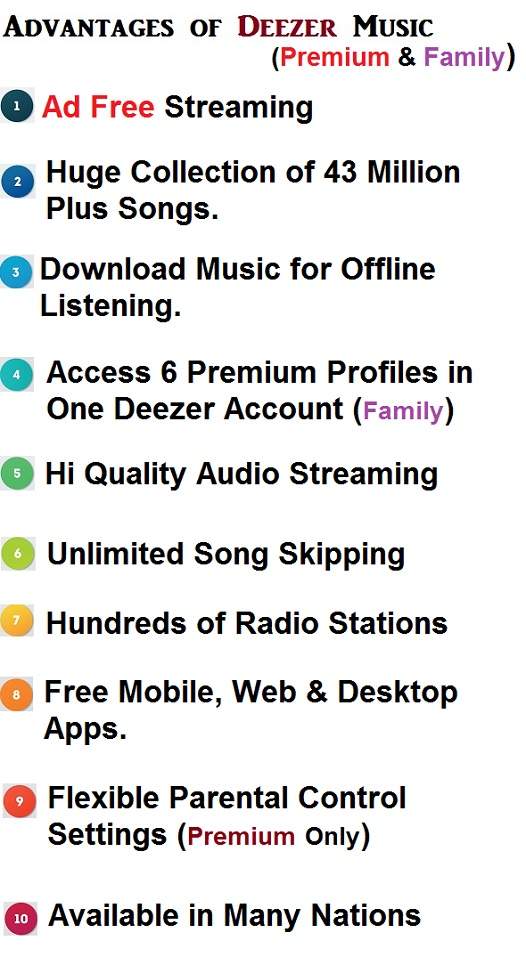 Radio
In addition to the music streaming features, Deezer and Spotify both offer radio services.
Deezer has themed radio channels, artist radio channels and partner radio channels with lots of genres to choose from.
With the Radio feature on Deezer, you also get limited skips if you are using the free version.
Spotify also has a radio feature similar to Deezer's and it offers Artist Radio for the artists you like or have subscribed to the same way as Deezer.
However, Spotify's 'Skip' feature doesn't limit the number of skips you are allowed on each channel.
That means if you don't like a song, you can skip it right ahead to the next one and so on.
Paid Subscribers – Spotify vs Deezer
Both Spotify and Deezer were started their operations in 2006, 13 years later… Spotify became the first streaming portal to cross the magical figure of 100 million premium listeners, while Deezer is still fighting for it's survival.
Officially launched in USA in 2007, Deezer had a dream start, with more than 750,000 users visiting their website in it's very first month of operation (August 2007).
Whereas Spotify was not even launched in the U.S, nor will it be for the next 5 years.
Finally when Spotify was launched in the US, in June 2011, it already had a million paid listeners from it's global subscription database.
To be totally honest, Deezer did not introduce a paid subscription package, until August 2010, when it partnered with Orange, the French media giant to introduce the Deezer premium package.
Deezer reached the 1 million premium mark in less than a year of it's launch and till date is considered to be the only company that gave Spotify a stiff competition at the start of this decade (or anytime after that).
Deezer kept up the pace in 2012, when it reached 2 million paid subscribers and in 2013 Deezer doubled it's paid listeners numbers to 5 million, while Spotify had 6 million.
By 2014, Spotify had 10 million paid subscribers while Deezer had 6 million premium listeners.
By the time 2015 came to an end, Spotify had doubled it's premium subscriber numbers to 20 million, while Deezer's took a dip, reaching 4 million.
The year 2016, saw Spotify grow by 60% to reach 33 million premium users, while Deezer's numbers went north to reach 6 million.
Deezer premium reached it's peak in 2017 when it reached 9 million paid listeners, while Spotify doubled it's lead to reach 60 million.
In 2018, Spotify had (80 million) 10 times more premium subscribers than Deezer (8 million).
2019 was a landmark year for Spotify, as it became the first streaming portal to reach 100 million premium subscribers, while Deezer's premium numbers dipped even further to reach 7 million.