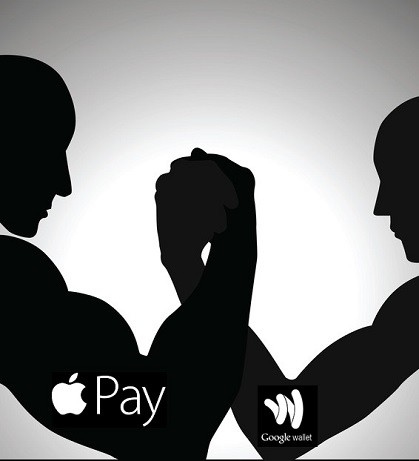 Launched in 2011, Google Wallet was a dominant force in the mobile payment industry, as there was hardly any competition for the first three years.
Within a year of it's inception, Google Wallet was integrated with Gmail and users were able to send money using a mobile number or a Gmail account.
Unlike it's most recent mutation Google Pay, Google Wallet never automatically transferred the money to a bank account, but stored it in a person's online G Wallet and the user had many options to spend the money.
With the help of a Google Wallet debit card, they can purchase anything online or offline using POS (Point of Service), withdraw the money to their bank accounts or transfer it someone else.
While Apple was working on it's own version of Google Wallet for the App Store users, it will take them 3 more years, to finally launch Apple Pay in October 2014.
Verification and Compatibility
Even though both Apple Pay and Google Pay use the widely accepted Near Field Communication technology, the way they implement it differs drastically.
While authenticating, Apple Pay makes use of it's much coveted Touch ID mechanics, whereas Google Wallet uses a simple yet effective PIN based verification method.
When it comes to devices, both iOS and Android platforms are compatible with the Google Wallet, while Apple Pay is supported by iPhone 6, Apple watch, and iPhone 6 plus.
Most of the Apple products lack the relevant hardware to run mobile payments including all versions of iPad.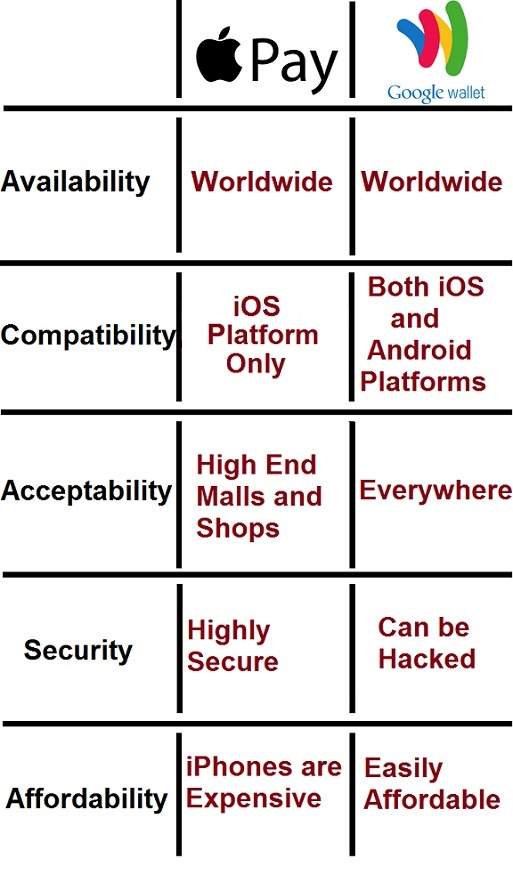 Security
It is no coincidence that both Google Wallet and Apple Pay use the much fancied Secure Element Chip technology, which uses multiple layers of encryption at different stages of a transaction.
Your credit or debit card info are never stored in the same servers as that of Google Wallet or Apple Pay, but in an even more secure, obscure, hidden location.
Every time you make a transaction, your payment details are scrambled and sent to the merchants payment gateway in a highly encrypted manner, even though it is possible for the hackers to hack your data, they would never be able to decrypt it.
Apple Pay goes a step further, swipes your details to your bank, which in turn authenticates your credentials and sends back the Device Account Number (DAN) that resembles a credit card number.
This level of security ensures that each transaction receives a unique ID instead of showing the real card data.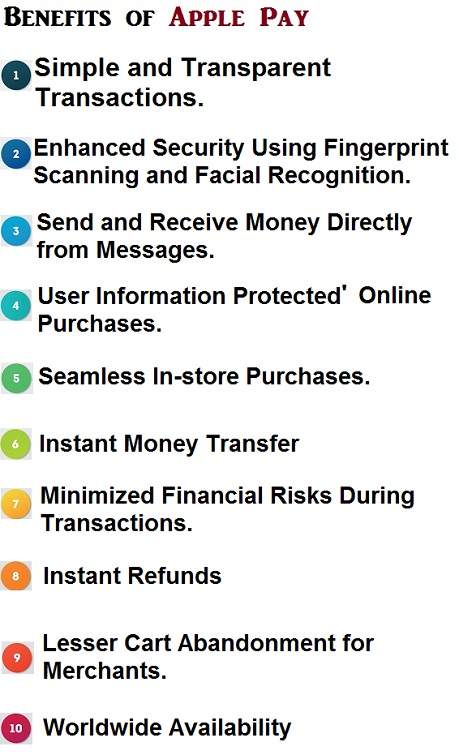 Divergence
Any card can be added to your Google Wallet including gifts and loyalty cards; you can also store and use funds from your wallet without involving your bank.
On top of that, Google tracks your transactions, saving all your order details, feeding you with highly targeted ads, whenever you visit any of their platforms.
As unethical as it may sound, you agreed to all of their Terms of Service when you installed the Google Wallet app on your mobile.
Google Wallet Fraud Protection Policy protects your personal details from outsiders and hackers.
Unlike Google, Apple does not store your card details, instead, it stores the DAN sent by your bank after it verifies your credentials.
Apple Pay does not track your transactions, instead acts as an intermediary between the payment service provider and your bank.
It is a payment medium, that is, an iPhone with an Apple Pay application, resembling a credit card.
It can be lost and if your mobile's battery drains off, no transaction will take place.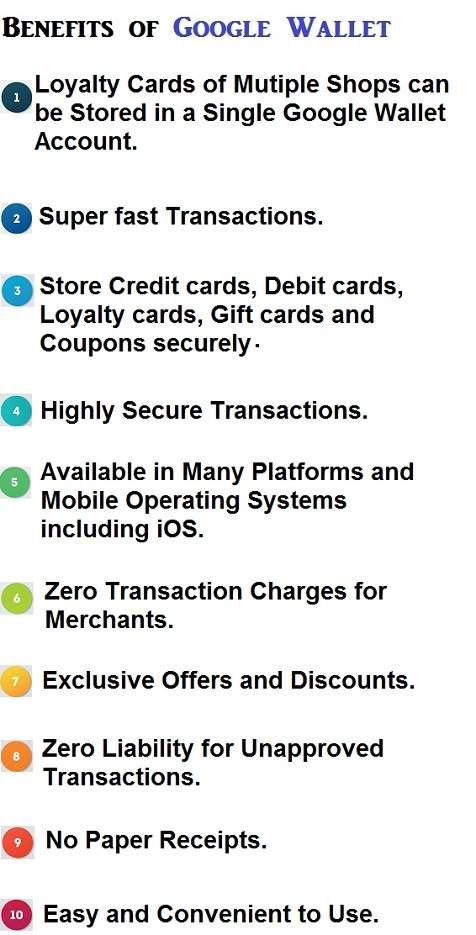 User Experiences
As an online payment service provider, Google has numerous users across the globe and every person with a Google account can download Google Wallet free of cost.
On top of that, Google Wallet is available in many languages including Arabic, Chinese, Persian, Vietnamese and Hungarian among others.
However, Google Wallet is not easy to use when compared with Apple Pay.
One has to open their phones, access their account with a valid pin and follow the steps required to complete a transaction.
Apple, on the other hand, has fewer users than Google, but many of its devices have different language options that enable people to understand the system.
However after the iCloud incident, a lot of users lost confidence in Apple, because their 'famed' security was flawed and later severely compromised.
Despite the threat, people prefer Apple Pay since it is easy to operate on a device, by the slightest of a touch.
To improve user experience, Apple Pay made shopping easier by teaming up with major business players like McDonald's, Disney, Sephora, and Apple Stores among others.
Set-Up
In order to set up Google Wallet, one is required to manually enter a lot of private credentials, including personal and banking information.
However, some of these details may not be at your disposal and the process is too exhausting for many.
With Apple Pay, the set up usually takes two to three minutes because if you are adding a new card, you can either scan the card details using your camera or fill in a few details for verification.
Basically, Google Wallet aims at replicating the physical wallet while Apple Pay fights to eliminate the need for credit cards.
The former has the ability to transact using any bank and since it's security is highly recognized, Google becomes the most trusted online payment provider compared to others.
Apple Pay has adapted the coolest feature of 'tap and pay' which many users were extremely impressed with
However, phones get lost all the time which exposes user's information to fraudsters and hackers.
In such cases, users are advised to notify their banks instead of dealing with Apple or Google support.
It is safe to say that having an e-wallet is safer than carrying solid cash or walking around with credit cards.