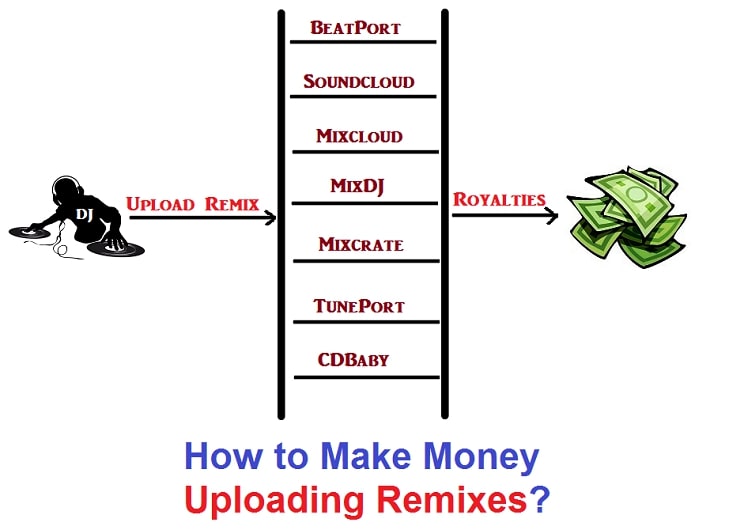 Not long ago, if you told someone that you are professional DJ, people would have viewed you with utmost sympathy and sorrow, than looking at you as a champion or a role model.
Dj'ing was considered a poor man's profession and a rich man's hobby.
But DJs such as Tiesto, Paul van Dyk, Armin van Buuren and David Guetta not only brought honor and fame to this profession, but created an entire new generation of fans that were young, energetic and loyal to the end.
However, becoming a DJ is not every body's cup of tea.
One must show the same level of dedication as an Olympic swimmer or a professional boxer, to gain respect and recognition in this profession.
Chances of you falling apart is extremely in the initial stages, as you might be struggling with lack of guidance and financial freedom.
If you somehow managed to cross this stage, make no mistake, you are a rock star in the making.
But how exactly do you gain experience?
You need to start playing to your friends and family at every given opportunity, once you are confident, you can start playing at the local pubs and bars for free.
You need to post your work regularly on Twitter, Instagram and Facebook and keep your followers interested.
Trust me, if you really have mastered your DJing skills by now, your inbox must be flooded with requests to play at private events and parties.
And a record label executive should be in touch with you in no time.
That's exactly what happened to Armin van Buuren, DJ Tiesto, Avicii, David Guetta and many other successful DJs.
You need to reach this stage within 5 to 10 years of training to be a DJ.
But what if no record label executive ever gets in touch with you? and no one ever invites you to play at their birthday parties or late night binges?
Don't loose hope, internet is filled with websites dedicated to promoting a DJ's work.
There are a plethora of websites, willing to promote your work absolutely free or by taking an insignificant percentage of your royalties as a fee.
However, you need to keep it in mind that you don't have the right,no matter how much you re-edit or remix the songs, selling rights are limited.
Mixcloud happens to be one of those places where you can put your music out, but to earn; you might require Beatport which allows you to upload your remixes and start selling.
This platform gives DJs a place to legally sell and share their remix with their fans without worrying about copyright infringement.
They have a special arrangement with most of the record labels based in USA, as mentioned in their terms of service.
And more often than not, your remixes are automatically approved and legitimized as soon as you upload them to Beatport's servers.
If your remix is not covered by an exclusive Beatport record label license, they will let you know asap.
More sites like Soundcloud, Mixcrate, and MixDJ among others also offer similar services.
But Soundcloud is a little tricky as more DJs have had their accounts banned on this platform than anywhere else.
Exercise caution before uploading your work on this platform, as not only your work but your reputation as well is at stake at Soundcloud.com.
If you are still finding it difficult to upload remixes and earn money, take a break.
Go back to your drawing board, bedroom, garage or wherever, sharpen your skills and comeback as a better performer.
Start releasing your remixes for free, promote it at every given opportunity, like commenting about your mix on related YouTube videos, Instagram, Facebook and Twitter posts.
People like free things and the more they listen to your music, the more your brand picks up, and within no time, you will have your creation on adverts, movies/films, and most of all, you will have contracts flying your way.
It doesn't happen overnight, but it's not a fairy tale either.
It, however, depends on how much you are invested in your music collection.
Thinking outside the box will bring you more money than you can imagine especially, if you know your way around websites.
Uploading a remix is easier but earning even a penny out of it will require wits.
Create a blog or a website and share your experience with the world and while at it, link the readers to your collection and form an engaging platform with them.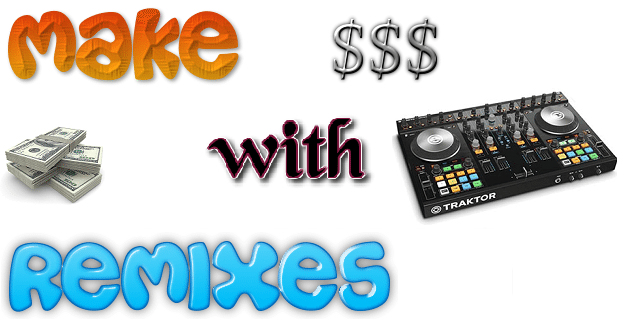 Also, advertise on the blog/website by displaying ads with gears most DJs aspire for or any other ad you deem fit for your site.
There are people out there willing to pay any amount to learn how to DJ. You have the skills, monetize on them. You can simply deliver through text or video.
There is no better teacher for remixes than the DJ himself, and that is an opportunity to earn extra money.
With your website up and running, take your camera and talk your students through the process.
Remember that there is a software for mixing tracks, but the real deal is not in the mixing; it's the flow of tracks.
The skills required to make an outstanding remix are learned, and that's not all, you have to set a rhythm; something to make you stand out.
The music industry calls that a signature where you are recognized instantly especially the moment your remix hit.
Use your social media site to sell your brand by telling people you are available.
It might not be directly related to earning through remix uploads but using your uploads; you can invite people to listen to your collection live at a local joint. Before that, talk to the owner of the club about it.
While at it, sell branded merchandise like t-shirts, headphones, sunglasses, and hats among other things but you will have to split with the club owner if you want another shot.
This way, you will have uploaded one or two remixes for free and sent out invites.
Chances of earning a lot are very high through this process. Don't limit yourself to traditional ways of getting gigs.
Technology is here for a reason, and the internet has proven to be the fastest way to get the word out there and make money fast.
Having that in mind, it is up to you to find the safest way to earn a few bucks online, and one of them is through uploading remixes for free.
From there, your brand will grow on their own, and no artist will blame you for illegally selling their track.
It will take time, but patient pays.
However, to earn directly, you will have to pay to enjoy the rights of uploading and make money.
As long as you have an agreement with the owner, no one can stop you.
Indirectly, you will have to be very convincing.
Show people what they will be missing and most importantly, allow them to engage with you and each other.
On Facebook or Twitter, embrace both the positive and negative review. Critics will always be there to bring you down but control your attitude.
Making money online is the new trend globally and uploading remixes is no exception.
Just like the rest, you need to build traffic and gain an audience.
Keep them entertained, and you will have them begging for more. Monetize your skills online and capitalize on free upload remixes.