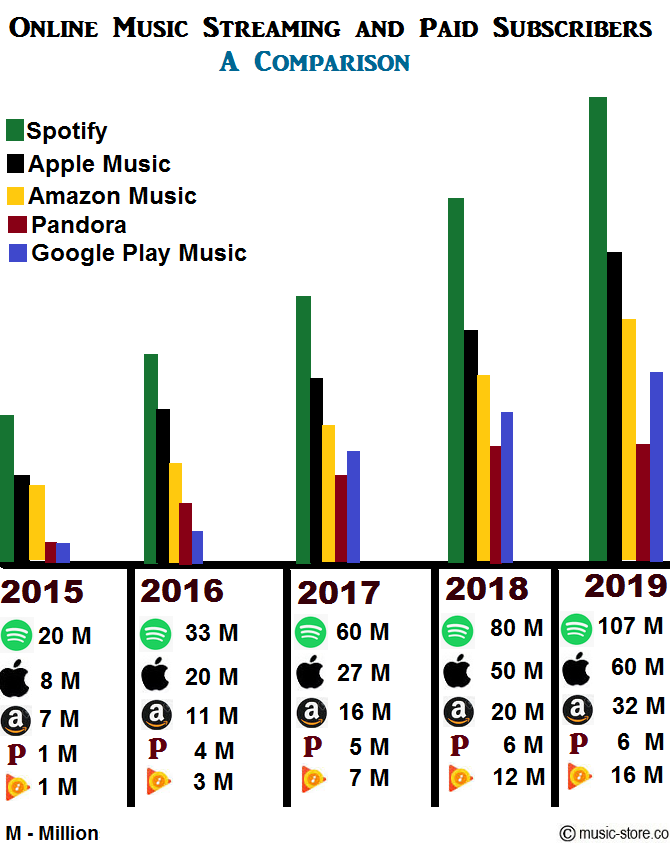 Back in May 2019, when Spotify announced that it had crossed the magical 100 million paid subscribers,globally, it was an enormous achievement for not only Spotify, but a day of celebration for the entire online music streaming industry.
Yes, it was indeed a shot in the arm for the Big Four (Spotify, Apple Music, Amazon Music Unlimited and Google Play), who are yet to see a penny of profit , but persisted with their ventures for many years now.
For all the other music streaming service providers, this news may be another nail in their coffin, but not the final one.
Especially for Tidal, Pandora and Rhapsody, who have seen their paid subscriber base dwindle so fast, that Jay Z started manipulating Tidal's paid subscription numbers, just to attract new investors, this despite the fact, that Tidal offers super high quality audio for it's streaming service.
But he was eventually exposed by a Norwegian newspaper, which has a substantial amount of evidence (against Jay Z) that it obtained through an extensive undercover investigation.
Jay Z, fully aware of the consequences, neither refuted the newspaper's claims nor acknowledged it.He simply stopped releasing paid subscription numbers for the next year (maybe forever?).
Meanwhile Pandora had already suffered a huge loss in it's Asia-Pacific region, which forced it to shutdown it's Australian operations.
Deezer on the other hand, which promised at lot, growing at 114% back in 2013, and was poised to overtake Spotify as the no.1 music streaming service provider of 2014, has not even crossed 8 million as on September 2019.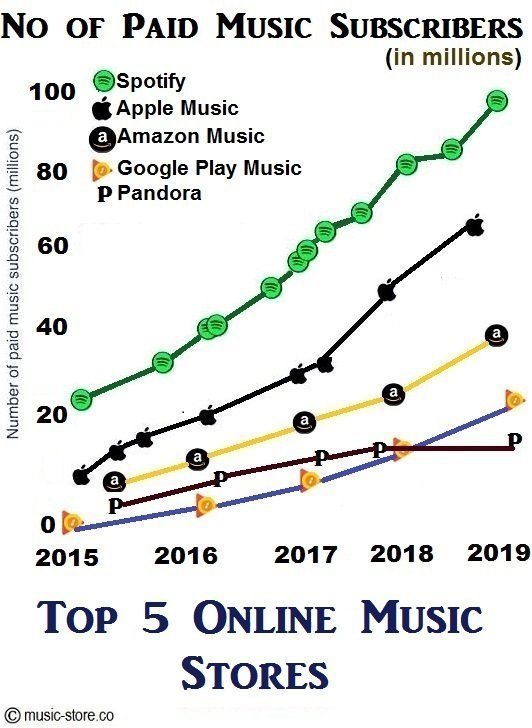 This shockingly slow growth rate of Deezer eventually prompted the Paris based company to postpone it's 2016 IPO and now it looks like, it may never go public.
While it is true that none of the streaming services have tasted a yearly operating profit (since their inception),including the mighty Spotify, things are about to change in the next few years.

Spotify
With Spotify projected to be the first music streaming company to taste a quarterly/yearly profit.
It's number for the second quarter of 2019, are the most encouraging for any music streaming provider over the last 10 years.
Spotify which had a Q2 loss of 394 million euros in 2018, had a Q2 loss of 76 million euros in 2019, a huge reduction of 318 million euros, which can be attributed to it's ever growing active users count.
Spotify's active users grew from 180 million in 2018 to 232 million as on June 2019, an impressive 29% YOY (Year On Year) increase.
But that's not even half of Amazon Music's YOY increase of active listeners in 2019.
Spotify owes it's marketing team a huge thanks, for the majority of it's paid subscribers,it's purely because of their aggressive expansion, partnership and acquisition,that they have crossed the 100 million mark.

Amazon
Amazon Music (Prime Music + Unlimited) which has 32 million paid subscribers,grew over 70% in the last one year (2018 – 19),the fastest ever in the number games of the music streaming industry, while Spotify's growth rate was around 25%, the same time.
At this rate, Amazon Music will overtake Spotify in the next 5 years, as Spotify's yearly growth rate has been pegged around 25% for the last few years.
Unlike other streaming providers Amazon Music would never have to worry about investment or the lack of it.
Being owned by the richest man on earth Jeff Bezos, one can be rest assured that Jeff will not hesitate to invest a ridiculous amount of money, time and again, into his streaming business even if the ROI is going down the drain.
With it's user friendly interface, 40 million song catalog, high quality audio and Alexa compatible streaming, Amazon Music is all set to beat the competition in the next few years.
Apple Music
The second biggest streaming provider, Apple Music has 60 million subscribers as on May 2019, gaining 10 million subscribers from same period last year.
While this is indeed a substantial amount of subscribers in just year, the growth is indeed very slow, at just 20% between 2018 and 19.
When compared with Amazon Music which has a 70% YOY growth rate (of paid subscribers), the yearly growth rate of Apple Music paid subscribers is indeed appalling, guaranteed to give some senior Apple Music officials, some sleepless nights.
One should also acknowledge the role of iPhones, in the growth of Apple Music over the last few years, as majority of the iPhone users also happen to be the most loyal of Apple Music listeners.

Google Play Music
Google Music which has YouTube Music and Google Play Music bundled together, experienced a sudden surge in active new users, just like Amazon Music.
The company source says, it experienced a 60% paid subscriber surge between 2018 and 2019 and puts the total around 15 – 16 million subscribers.
The company had 12 million paid subscribers in 2018 and had a similar surge in paid subscribers (of 60%), between 2017 and 2018.
Inspite of the impressive subscriber growth rate, YouTube Music had just added 6 million paid subscriptions (since it's inception in May 2018), even though YouTube has more than 2 billion worldwide users.
Despite it's heavy promotion on YouTube and an impressive app, YouTube Music hasn't really taken off, which has indeed resulted in Google's shares plummeting 8.6%, the Search giants most dismal performance in the last 7 years (since 2012).

Pandora
Pandora, the most popular music streaming service in the US, is actually losing it's loyal listeners to Spotify at an alarming rate.
The pioneers of the online music streaming service, Pandora had 73 million listeners in 2019, out of which only 6 million pay to listen to their music.
In 2018 Pandora had 6 million paid subscribers as well, and as evident from the subscriber numbers, many listeners are opting out of Pandora over the last two years.
One of the main reasons for Pandora's declining listener numbers is the tough competition from the Big Four (Spotify,  Apple Music,  Amazon Music Unlimited and Google Play).
Pandora does not have as much of a financial backing, like the 'Big Four' and experts predict that the 'Big Four' will eat away Pandora's subscribers in the next few years, so much so, that the company will lose more than 10% of it's subscriber base by 2021.
In 2012, Spotify had only 5 million listeners in the US, whereas Pandora had 67 million.
For a company that had more than 90% of all the music streaming listeners, the future does not look all that bright, unless it works out a strategic partnership with any internet giant, with a substantial volume of subscribers, Pandora will have it's eulogy written in the next decade.