Getting a refund for Amazon's Music Unlimited service is a surprisingly easy task , unlike explained otherwise by some of those social media influencers.
You are pretty much guaranteed a refund, if you claim it, within 7 days of subscribing to the service.
But the real struggle starts from the 8th day, when it's a 'done and dusted' deal from Amazon's point of view.
No more 'one click' refunds or automatic cancellations, you are just staring down the barrel.
Always remember, once escalated to the customer support, it's just between you and the Amazon rep at the other end.
And they are indeed vested with powers to issue a refund, however they deem fit, irrespective of the order size, without the intervention of their superiors.
But before contacting the help desk, put yourself in their shoes and ask yourself, if you truly deserve a refund.
"Yes bro, I feel cheated", if that sounds like you, then proceed with caution.
Possible scenarios for claiming a successful refund for an Amazon Music Unlimited subscription:
1. Alexa Automatically Subscribes to Music Unlimited
Every Echo owners worst nightmare, never subscribed to any of Amazon's service but still getting billed for Music Unlimited.
Very rarely it's a technical glitch but most of the times it's the FOMO, probably a free trial that you signed up during the holiday season, high on Christmas spirits, yet unable to recollect it, the very next day.
All you had to say was, "Alexa, try Amazon Music Unlimited".
Ex: Get 6 months free for an annual subscription, Get 3 months free for a 6 month subscription.
Try setting up a 4-digit voice code on your Alexa app, to confirm your voice purchases, follow the steps given below…
Select Settings under More (dotted line) options in your Alexa app, select Voice Purchasing, proceed to Purchase Confirmation, click on Manage , turn the Voice Code tab on and set a unique 4-digit voice code.
2. Accidentally Signed Up on Additional Devices
You may already have an active monthly Amazon Music Unlimited Individual plan but suddenly you get billed twice the amount, and you are freaking out.
You are willing to bet your last dime, that it's a technical glitch, but unfortunately it's not.
Alexa has f***** you up again. This time it's not the FOMO but your kids signing up for Music Unlimited from your secondary device, perhaps the tablet that you let them play games with.
Politely saying "Alexa, downgrade Amazon Music" usually works.
Switching to a single-device plan totally eliminates this issue but a more concrete solution would be to disable Voice Purchase or setting up a 4-digit voice code on your Alexa app.
Amazon loves issuing refunds for accidental purchase made by kids, as the whole incident goes viral on social media in no time, a free promotion and an enhanced brand image for Amazon.
3. Subscribed for Prime but Never Music Unlimited
While Prime Music vaults 2 million songs, only the popular, chart topping songs are shown to the Prime users.
It's nothing more than a condensed version of Amazon Music Unlimited, which holds more than 100 million songs.
When you suddenly recollect that 90s song, you last heard at the mall 10 years ago and desperately search for it on your Prime Music app before it fades away from your memory.
But the app won't play it unless you subscribe to a 3-month free trial for Music Unlimited and you take the bait, absolutely confident that you will cancel the free trial on the 89th day, but you eventually forget.
Sometimes Amazon intentionally slots a viral, trending song exclusively for Music Unlimited users, making it unavailable to Prime Music users.
Unsuspecting users seldom read the TOS and stream the song anyways, assuming they are still with Prime Music, when they are clearly not.
4. I Don't Even Have an Amazon account.
Once upon a time you had an Amazon account that you often used, one fine day you lost your mobile and all your financial information with it.
You create a new account and get on with your life, like a bolt from the blue, your card is charged for a 2 year one-time Amazon Music family plan subscription, when you are still single.
Sometimes a stolen card can also be used to create a fake Amazon account in your name (even if you don't have one) and expensive items will be ordered, albeit to a fake or temporary address.
For all the above mentioned issues, a simple, straight forward message to Amazon's CS executive is good enough to get you a refund.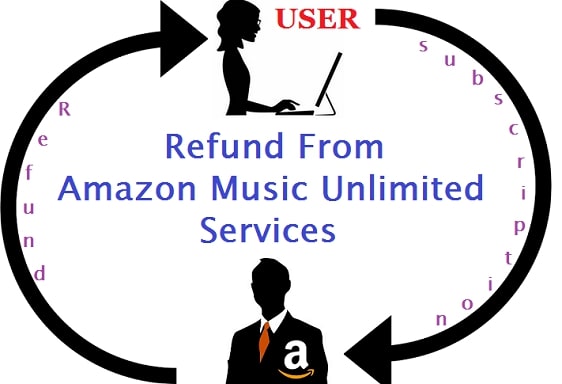 Moving forward, let us look at some of the difficult instances in claiming a successful refund from Amazon.
1. The 8th Day Dilemma
Claiming a refund on the 8th day of a subscription has a better prospect than doing the same on the 18th day or the 28th day.
While Amazon is under no obligation to issue a refund after the 7th day, a well written persuasive sentence, can sometimes convince a pro-customer executive, to condescend to your refund request.
Being honest enhances your reputation, as the executives are required to rate each and every customer, who interact with them, on a scale of 1 to 5.
Your aggregate score (ex: 3/5) will be displayed next to your profile (not visible to you) and the representative arrives at a decision based on your aggregate score, when everything else fails.
2. Third Party Devices
Unable to resist a tempting offer, you might have signed up for Amazon Music Unlimited from your Apple or Google account, even worse your internet service provider login.
Amazon has no control over these sign ups nor do they have the authority to issue a refund for the same, put simply, these sign ups seldom reflect under your Amazon account's Subscriptions page.
3. Hacked Accounts
Hacked Amazon accounts sell twice as much as Venmo or PayPal accounts on dark web, simply because, you can buy Amazon gift cards worth $1000s using pre-stored card info, spend them offline on partner stores, supermarkets and departmental stores, completely untraced.
Every single day thousands of Amazon accounts are being hacked.
Log into account atleast once a week to make sure it's accessible.
If hacked, the only chance of getting a refund is, if the item is 'On the way' yet to reached it's destination.
For digital purchases such as gift cards, you might need to send a copy of the Police report to Amazon executives, to claim a successful refund.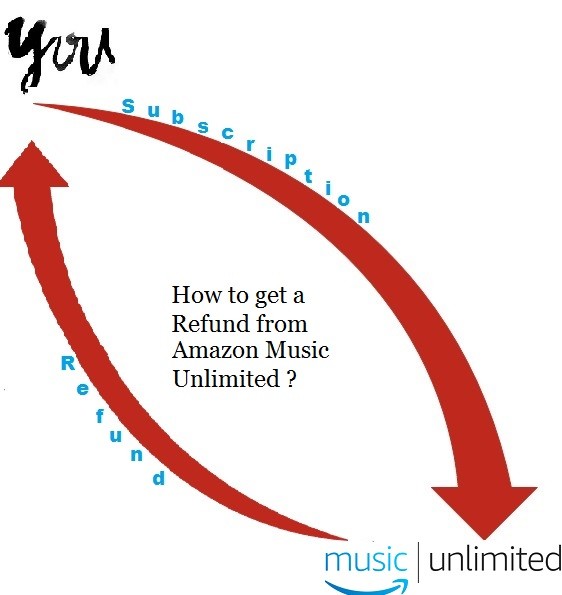 Purchases go wrong all the time, and it's your responsibility to let the company know when you have any difficulties.
Usually, companies have policies in place for refunds and Amazon is no exception.
However, if you are making any transaction online, it's critical to read the terms and conditions before agreeing on anything.
You might regret an already completed order, when their policies have a non-refundable rule.
All in all, take precautions with your devices; touch screen tends to have a mind of their own when left in the hands of kids.
Disabling Voice Purchase, setting up a voice code or using Parental Locks on your devices, puts an end to accidental purchases and the accompanying embarrassments.