Seldom would a streaming giant deny you a refund citing the Law of the Land and their TOS, which Tidal does.
For an unsuspecting customer coming from Apple or Amazon Music, this might sound like a con job from a third world country but unfortunately it's not.
To qualify for a refund, American customers are expected to NOT stream a single track for 14 days after they download the Tidal app, not even during the free trial.
Very similar Spotify's TOS, there is however a huge difference, you can stream as much as you want during Spotify's free trial, cancel anytime and claim a refund.
But in Tidal,  streaming during free trial will make you ineligible for a refund, your card will be charged irrespective of a cancelled free trial.
If you are one of those unlucky ones, who has been denied a refund citing the T&C, here are a few tricks, to get your money back from Tidal Music:
1. Contact them on Social Media
While an email to Tidal's support team is often met with a negative reply, contacting them on X (formerly Twitter) or Instagram would yield a different kind of response.
If you have a valid reason to claim a refund (stolen card or mobile), your case will be analysed by a different team (not the usual support team) vested with powers to issue an instant refund.
2. Discuss in Relevant Forums
As explained above stolen cards or lost mobiles can be successfully claimed from Tidal but for them, free-trials are a different breed of problems.
Denied outright, you can post your issue on sub-Reddits dealing specifically with this issue, where Redittors often share their innovative, successful approaches in persuading Tidal to issue a refund.
3. Make YouTube Videos
While some of these Redditors often bask in glory on bringing Tidal's support team to their knees, the methodologies they use were often controversial and borderline threats.
Some of them take screenshots of the email correspondence with Tidal's support team, create a short YouTube video on how Tidal scammed them with their unrealistic TOS and refused them a refund, inspite of cancelling their service well within 14 days.
They often make 50 times more than what Tidal owed them but some email these videos to Tidal's support , often getting permanently banned from using their services again.
4. Report them on BBB.org, Mouthshut or Trustpilot
Unlike the general perception Better Business Bureau often pulls up companies by their collars for defective products or services offered to customers.
While they seldom act on individual complaints, once the number of complaints reach a certain threshold (more than 1000 complaints on defective products/services), they inform the relevant authorities , who demand them to refund every eligible customer, take them to court or even seal the company for good.
Tidal might have 1000s of infuriated customers, who have been denied a refund but hardly 150 customers have taken up this issue with BBB.
But still, they respond to each and every complaint, issuing refund to a select few, to fool the authorities, making them believe that they are a pro-customer company, which they clearly are not.
Mouthshut.com or Trustpilot are similar service/product rating, reviewing platforms where Tidal responds, but only to a bare minimum of complaints, once again to fool the authorities.
Unlike American corporate laws, pro-people European Union laws prohibits Tidal from stealing millions of euros from gullible customers in the name of Terms & Conditions for using their free trial.
Which means you can stream as many songs as you want and still claim a successful refund, if you cancel their service within 14 days, which an American user cannot do.
If you are using Tidal in one of the countries governed by European Union laws, you can claim a refund for a variety of app related issues, including …
1. Frequent crashing & hanging of the Tidal Music app.
2. Connectivity issues to third party devices.
3. Poorly designed app.
4. Poor Android auto & crowded interface.
5. Limited app functionality.
6. No Alexa/Smart integration.
7. Non compatibility with MacBook and new age tablets.
8. Bluetooth & Chrome casting issues.
9. No playback from SD card stored music.
10. Offline music playback & login issues.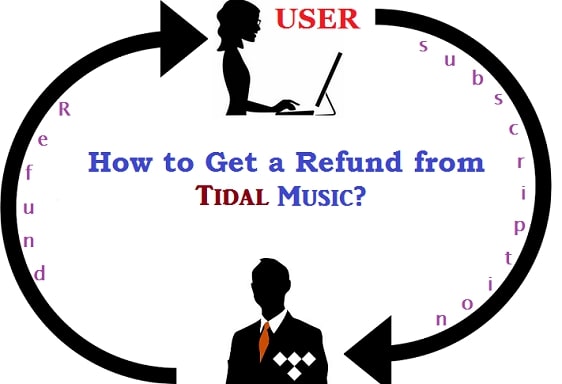 Tidal's Refund Policy
According to Tidal's refund policy, if you have purchased a refund and you live in a country in the European Union/United Kingdom, you are eligible for a refund.
After sending a request you will have to wait 14 days of purchase for a full refund.
But you are only eligible for the refund if you have not started downloading or streaming any service content.
Once you start using the services, you lose all the rights of getting a refund.
Also, if you are in parts of the United States and you cancel your subscription after 14 days of purchase, you will not be refunded anything including advances charged.
Another reason you might not be eligible for refunds is if you live in countries that are not part of the European Union.
No refunds of any payments or advanced charges will be given to you.
To read more go to http://read.tidal.com/terms.php and understand better about Tidal refund policy.
Now that we know the refund policy, how can you get a refund from Tidal Music if you are eligible?
How To Get A Refund From Tidal?
The fastest method you can use to get a refund from Tidal is by submitting the issue to them online. After you check your credit information and other information about your subscription, open Tidal on your browser
Step 1
Once Tidal help opens, type your name and your email address and type a subject you want to request.In this case, type a simple word "refund".
Step 2
Select the language you eat to use if it's English or other languages you prefer.
Step 3
In the next box, select your Category which is "Refund".
Step 4
Next comes the Description field, whatever you enter in the Description field will be the ultimate deciding factor in getting your desired refund.
Remember, Tidal has every right to reject your refund claim, if it feels that your claim is superficial or not convincing enough.
So make sure that you write with clarity and conciseness, backing your claim with proper evidence.
Take all the time you need to let them know you want a refund and why you want a refund.
Tell them why charges are invalid or incorrect and the reason you need a refund.This is important as it will lay your case with them.
Step 5
Next, enter your device, your operating system, and your DAC.
Step 6
In the attachment field,you can post a screenshot of your billing statement or your credit card showing the incorrect charge. Make sure you upload after closing out all the sensitive information.
Step 7
After you are done, click submit and wait for Tidal to reply.
Majority of the refund claims rejected by Tidal, are for automatic billing after the trial period and other technical issues (connectivity, sound quality, song skipping, parental control settings, offline listening,multi user logins etc..).
So before you buy a Tidal Premium subscription package, please go through their Terms of Service, especially their refund policy and pay attention to those specific lines which deals with different scenarios, on which they issue a refund.