For sure, you are among those who swapped the physical music formats for streaming services. When it comes to online music stores, Spotify and Tidal are two of the most viable streaming options.
On the other hand, trying to choose Spotify vs. Tidal can be a hard task, especially if it is your first time using a music streaming service. Take note that each of them has its own pros and cons.
To help you decide, we give you a thorough, careful comparison between Spotify and Tidal.
We also include a fair comparison between premium versions of these two streaming giants, including Spotify Premium, Tidal HiFi, and Tidal Lossless.
Before we dive into the head-to-head comparison of Spotify vs. Tidal, you can consider the comparison table below to have an overview: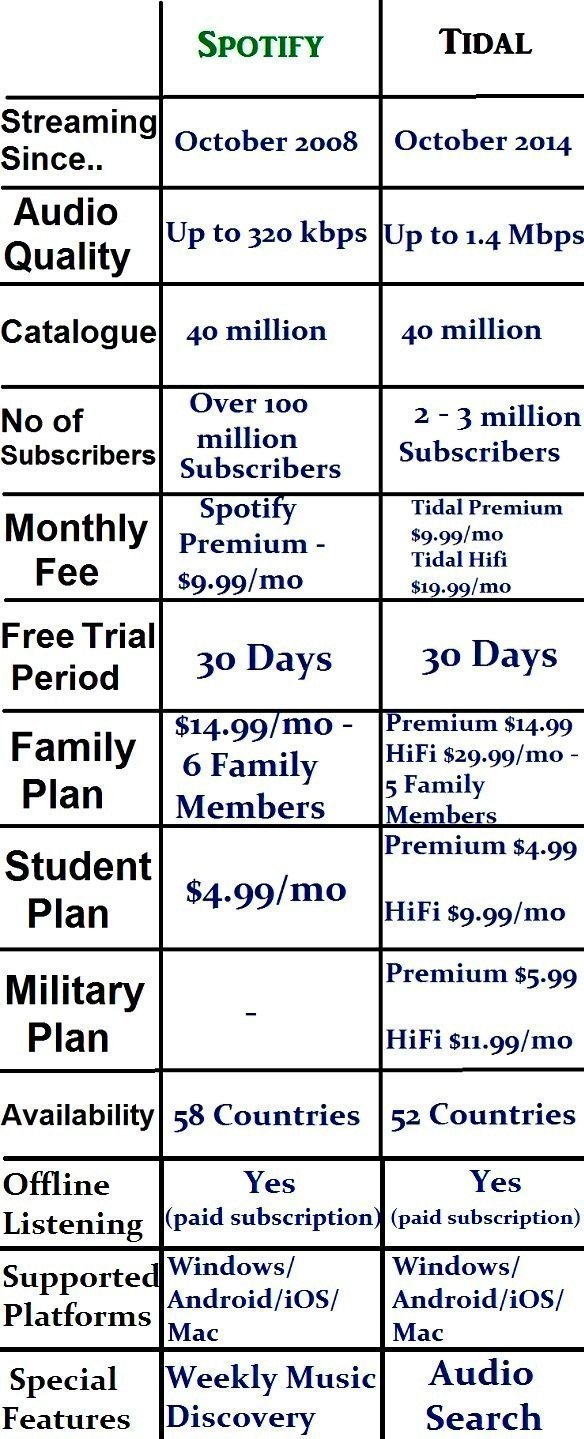 Although Spotify and Tidal are both popular online music stores, you can notice that there are some differences between the two.
Now that you already have an idea of the difference between Spotify vs Tidal , let's get more familiar of these two music streaming services.
Spotify Overview
Launched in 2008, Spotify remains to be one of the most popular online music stores in the world.
This online music store delivers personalized playlist, easy to use interface, and enormous music library.
You can also enjoy its features like an original podcast, robust device support, social media interactions, and a lot more.
Spotify became famous among music lovers due to its free trier.
Meaning, you are allowed to stream music as well as use several features without spending. But, take note that half of Spotify features are not for free.
Among the popular features of it is the Search, where you can look for any song, album, artist, or podcast.
You can also browse throughout the options with ease, such as top charts, new releases, music videos, radio stations, concerts (buy tickets), classical, rock, pop rock, electronic, and more.
Tidal Overview
In 2014, Aspiro had launched Tidal and then relaunched by Jay-Z in the next year.
This music streaming service emphasizes high quality sounds and music videos along with exclusive contents.
You can take advantage of the expansive music catalogue with more than 60 million songs as well as hi-res tracks offering lossless music.
Furthermore, the user interface of Tidal is quite busy. It features large graphics, navigation bar with Home, Search, Explore, and My Collection, and moving slides.
At the top of Home, there are several slides that display new music, livestreams, exclusive albums, and so much more.
Then, at the underneath of Home, you can find the popular artists and playlist, new tracks and albums, top charts, radio stations, podcast, master-quality playlist and albums, and more.
Tidal is better-known for video contents of high quality. You can find a plethora of video playlists which feature both old and new music videos for each genre.
Besides music videos, you can also consider watching Tidal exclusives, including behind-the-scene clips, backstage footage, interviews, live concerts, short documentaries, short films, album videos, TV episodes, and much more.
Spotify vs. Tidal: Head-to-Head Comparison
If you are still undecided between the two online music stores, it is best for you to learn the head-to-head comparison of Spotify vs. Tidal.
That way, you will be able to understand better the difference between the two.
So, let's get started!
MUSIC LIBRARY
Being a music streaming service veteran, Spotify does not provide the precise total number of songs.
However, many expect that it has a huge music library with more than 40 million songs. Apart from that, it adds around 20,000 new songs everyday.
Although you can find plenty of popular songs for each genre, it lacks a number of exclusive songs similar to the Beyoncé's album, Lemonade.
Meanwhile, Tidal surprisingly also offers a large library with 40 million songs.
Besides, they also provide more than 175,000 music videos.
In fact, it is the first music platform known in releasing albums from world-renowned artists like Beyoncé, Rihanna, Drake, and Kanye West.
DESIGN
Since 2008, Spotify is known to update its design multiple times.
This online music store is easy to navigate every time you want to explore songs or discover music.
As for the design of Tidal, it has been criticized due to its complicated design. However, its latest version already offered easy navigation.
AUDIO QUALITY
Spotify offers a free trier service supported with 160-Kbps music along with random Ads.
If you upgrade your subscription to Spotify Premium, you can get rid of any annoying Ads, while accessing up to 320 Kbps of streaming.
Mobile device usage changes the music quality compressed Kbps to 96 and 160 accordingly to ensure smooth streaming experience.
When it comes to sound quality, Tidal did a great job by offering up to 1.4 Mbps.
If you are a fan of hi-fidelity music, Tidal can be your ultimate music resource.
When playing music using external speakers, you can easily distinguish the high-quality audios.
PRICE DIFFERENCE
Spotify comes with a two-tier system – free and Spotify Premium $9.99 per month.
Besides, it also offers almost 50% discount for students and family members.
The same way to Spotify, Tidal also offers two basic plans.
The Tidal Premium with $9.99 monthly payment is considered to be the cheapest, while the more expensive one is the Tidal HiFi which is 19.99 per month and is twice the price of Spotify Premium.
It also delivers nearly 50% discount for students, family members, and military personnel. On the other hand, you still need to pay more for Tidal HiFi plans.
SOCIAL FEATURES
The two online music stores do not only allow you to enjoy a wide array of songs but also take advantage of social features.
Spotify offers mature social features where you are free to share music, making it the music service more special.
With Tidal, you are allowed to connect to Facebook. This means that you can easily share your desired music with your friends.
You can also extract a URL that you can use to link someone to any track, playlist, or album.
OTHER FEATURES
When you use Spotify for music streaming, you can experience amazing music discovery features, which include both daily and weekly music playlist.
While with Tidal, you are enabled to enjoy the privilege of buying concert tickets.
With the above side by side comparisons between Spotify and Tidal, you will surely clear your mind of which of them is perfect for your music streaming needs.
If not, the information about the subscription plans will further help you.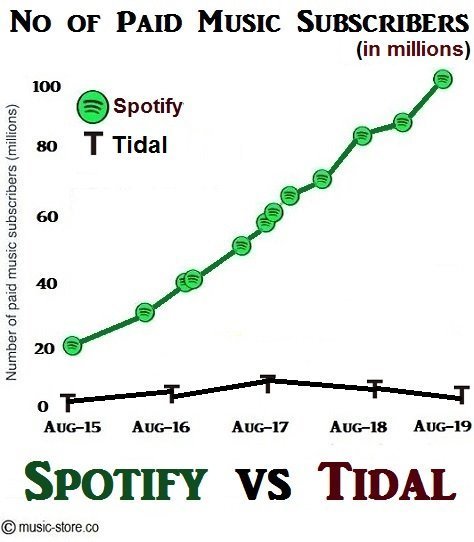 Subscription Plans: Spotify vs. Tidal
When you are choosing between Spotify vs. Tidal, one of your top concerns is your budget. Let's see whether Spotify or Tidal will fit your budget.
Spotify Free Subscription vs. Tidal 30-Day Free Trial
If you want to stay on your tight budget yet, you wish to stream the latest, popular songs, and you can go for Spotify.
That is because this online music store provides a free subscription plan. On the other hand, you will encounter some adverts as the free version are being supported by these.
You can find the audio quality to be limited with a maximum of 160 Kbps.
You also need to skip a particular track 6 timed per hour when using a mobile device.
Recently, Spotify gives the users the ability to pick and play songs appearing in one of its personalized discovery playlists such as Discovery Weekly, Today's Top Hits, Daily Mix, and more.
Although Tidal does not offer a free and advert-supported subscription plan premium unlike Spotify, you can take advantage of free 30-day trial.
Spotify Premium vs. Tidal Premium
If you are an individual user, Spotify offers a full-featured Premium plan at $9.99 per month.
If you are a student, you can get the music streaming service for $4.99 per month along with Hulu and Showtime for a limited time.
In case there are other five people who want to share the bill with you, it is possible for you to get the $14.99 a month family plan.
Besides, you can also try the $99 annual plan so that you can save up to $20 from the total amount or from the regular paid subscription.
With the paid subscription, there is no way for you to encounter ads.
You can also experience unlimited skips, which means that you have the best chance to pick and plat any song and listen to them as much as you want.
If you prefer listening to an album, you are free to skip those songs you do not want to listen to.
You can play your desired songs even you are offline, making it convenient for you if you have no Internet connection while traveling.
For Student plan, you can take advantage of good deals since Spotify Premium plan comes with free and advert-supported Hulu account along with Showtime access.
If you have never used or signed up for this online music store, new members will be entitled with 3-month free trial period.
The said 90 days free trial period allows you to download up to 10,000 songs that you can listen to even you are offline.
When it comes to Tidal Premium, you can take advantage of the two triers – Premium for $9.99 a month and HiFi for $19.99 a month.
With Tidal Premium, you can access all the features you wish in Tidal like unlimited skips, music videos, no advertisements, playlists, search and play.
Then, the HiFi offers everything that the Premium plan has plus the Tidal lossless High Fidelity and master-quality recordings.
Once you take advantage of Tidal HiFi subscription, it is possible for you to stream tons of tracks in the lossless quality.
This premium subscription also provides Master Quality Authenticated technology where music compresses to offer master-quality sound and without limits.
You can use your smartphone or desktop to listen to higher quality audio or even use an MQA-compatible device or MQA-compatible DAC.
If you are a family subscriber and wish to use 5 accounts, you can opt to pay $14.99 per month for Premium plan, while $29.99 per month for HiFi.
If you are a student, you can choose between paying $4.99 per month for Premium subscription or $9.99 per month for HiFi.
Then, if you are in the military, you can decide between Premium subscription and pay $5.99 monthly or pay $11.99 per month for HiFi subscription.
All the Tidal Premium plans allow you to download the desired track on 5 varying devices for offline listening. In fact, you can use the 5 devices simultaneously.
Final Thoughts
From the head-to-head review above, you can notice that Spotify and Tidal have their own advantages and downsides.
Spotify is well known for its affordable price, user-friendly interface, and free trier services, while Tidal dominates the market for streaming music through lossless songs and exclusive contents.
Whether you choose Spotify or Tidal, keep in mind that you cannot download any song that you wish for offline playback.
You can perform offline streaming unless to subscribe to Spotify Premium or Tidal HiFi. In the end, your choice will depend on your unique needs as well as your budget.
We hope that the comparison we made helped to decide between Spotify and Tidal. Happy streaming!