Cable TV is becoming truly outdated as more people are now adapting to various streaming devices.
And if you are still loyal to Cable TV, you might be subjected to crass, unrefined, 'in your face' Technophobic jokes by your own family and friends.
Streaming devices are not only cheaper, they also have more content and capabilities as compared to the 'archaic' cable TVs.
Streaming media has now become the popular form of entertainment for billions of people across the world.
College students, corporate professionals and other users are looking for streaming services, using streaming devices extensively.
The market is now flooded with a lot of streaming devices such that users are finding it hard to pick the best one for them.
For a long time, Roku has been dominant in the media streaming devices, but it's supremacy was put to test after companies like Google, Apple and Amazon entered the market.
Let's take a look at the Amazon Fire TV and both the Roku Express and the Roku Express Plus.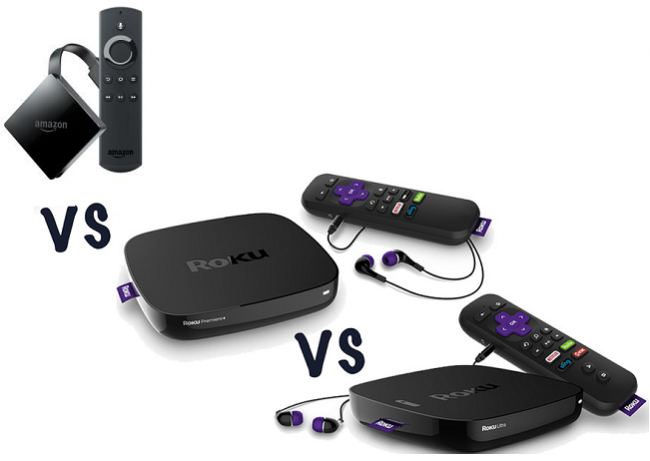 Roku Express
This is a compact streaming device that is accommodated alongside your TV or even PC.
The device works more like a set-top box and you have to link it to your TV using the HDMI cable that comes with the device.
It is powered via a micro USB port and it can be powered by the TV or if your TV doesn't have a USB port, you can use a normal standard adapter to power the device.
The device comes with a standard remote control that is IR based meaning it is limited in functionality.
To better control the device, you can use the Roku app available on Android and iOS platforms.
The device has a video output of 1080p and it makes way for an amazing viewing experience.
The device supports 802.11b/g/n wireless standards meaning you can easily stream via Wi-Fi.
The device has a few flipsides but not the most serious ones.
To start with, the device doesn't have 4K support which is Ultra HD video output. The hardware is a bit slow but not sluggish.
Amazon Fire TV 4K
This device is one of the easiest and best ways to play ultra HD content.
The device was released in 2017 and it comes with 4K video resolution.
This is higher and better than the standard 1080p video output but your TV has to support 4K UHD.
The device is connected to the TV using a flexible HDMI cable and is inserted at the back of the TV hidden away from view.
It is powered using a micro USB cable and comes with a USB adapter just in case you don't have a free USB port on your TV.
Amazon Fire TV 4K comes with a remote control that has added capabilities like the Alexa voice remote.
This makes it easy to browse through the interface and the apps when searching for content.
One flip side of this device is the absence of the Ethernet port.
This means that it can only be used via Wi-Fi and this can bring some limitations when it comes to streaming 4K content.
It also has no expandable storage and it requires an Amazon account and 79 pounds Amazon Prime subscription to get the best out of it.
Roku Express Plus
This is an advanced version of the Roku Express. It is one of the best streaming devices in the market and it connects to the TV via an HDMI cable.
An added advantage of this device as compared to the Express is the analog AV cable complete with yellow, red and white plugs.
This means it can easily connect to the older TV models that don't have an HDMI port.
It connects to the TV and you can stick it using a sticky tape that comes with the box to the TV.
You only have to keep it in the line of sight with the remote control for it to work. You can also use the Roku mobile app to control the device.
The Roku Express Plus comes with 4K content support.
This means you can enjoy videos with high resolution (UHD) but your TV has to support it for it to work. 4K is an advanced video output higher than the standard 1080p output.
One flip side to this device is that it doesn't have an Ethernet port.
This means you can only stream using Wi-Fi and this might be a problem while streaming 4K content. Your connection has to be super-fast otherwise it will be sluggish.
Which one should I buy?
Looking at the capabilities of all these devices, you have to sit down and decide the one best suited for you.
If you have a slower Wi-Fi connection, don't go with the Amazon or the Roku Express Plus devise since you will not enjoy streaming lagging videos.
You won't even enjoy the 4K content capabilities that come with these devices.
However, if you are the kind of person who enjoys streaming 4K content on a budget, the Roku Express Plus is the device for you.