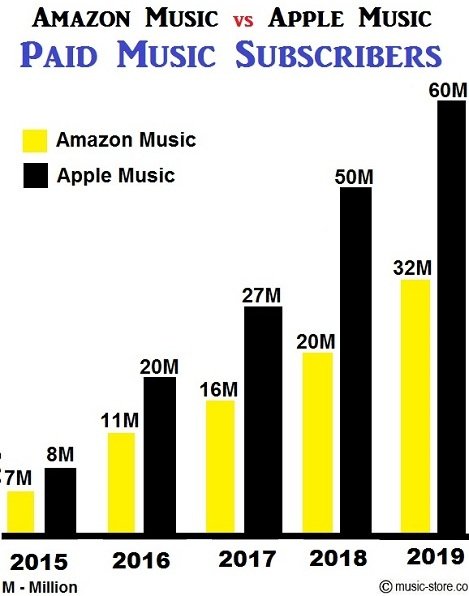 The craving for music varies from one person to another, it's not only about the current mood of a person, but also hugely depends on every individual's personality.
For example, a tall muscular guy would prefer Heavy Metal or Rock music but a short, soft and a timid guy would love listening to Romantic songs.
You may be a huge fan of Rock n Roll, Classics, Hip-Hop or RnB, but to listen to your favorites by coming up with a playlist is both time-consuming and exhausting.
That's where Amazon Music Unlimited and Apple Music come in with an opportunity to listen to your favourite hits; whether old or new.
It doesn't matter where you are; in a car, at home, in the office, or at the gym working out.
You get to play music with your phone or home entertainment devices by downloading to your respective devices.
The opportunities these apps provide fall in the category of availability, costs, exclusivity, design-interface or music discovery function.
However, each and every feature differs from one streaming app to another.
Availability
You can access Amazon Music Unlimited on multiple platforms which include Android, Fire TV, iOS, Mac, on the web, and Fire Tablets among others.
Also, it works well with home entertainment products like Roku, and it's being introduced on new cars such as BMWs, Ford, and Mini.
It was recently launched in the UK while the US received it's services since October 2016.
It's also available in Germany and Australia.
On the other hand, Apple music is available on Apple TV, Apple Watch, and iOS devices.
Additionally, you can access it via iTunes on Mac/PC and stream your best hits through CarPlay.
What sets it apart from Amazon Music Unlimited is the fact that it's available in over 100 countries globally plus more accessing it online every single day.
Exclusivity
Despite Amazon Music Unlimited being new to the game, it stands out featuring Garth Brooks' entire collection of 16 albums.
While every other artist exhausts the digital technology to sell their music, Garth has never allowed digital downloads until now.
This gives Amazon a competitive advantage, an unique ability to show case to it's listeners, the best-selling Country solo artist, exclusively on it's platform.
Apple Music differs in such a way that it has exclusiveness with famous artists like Usher, Taylor Swift, Frank Ocean and Lil Yachty among others.
Even though these exclusives offer a short term benefit,after which the music spreads out to other services, it still brings a lot of premium subscribers to the streaming app.
Apple has had a lucky turn with iTunes, since it helped them offer content before anyone else.
Being able to stream Katy Perry's new hits will attract all her fans instantly.
Such an opportunity has Apple Music gain popularity all through the years.
Exclusivity has it's perks if you know where to look for them.
With Amazon Prime account, you can subscribe to Amazon Music Unlimited for just $ per month.
But if you are not a prime member, $ per month will have your favorite music at your fingertips.
A year subscription will cost you $$, while a family plan goes for $$$ annually; monthly, the family subscription goes for $$.
This plan, allows you to stream music on six devices at a go.
A 30-day free trial is available for users so they can familiarize themselves with Amazon Music Unlimited before subscribing.
Apple Music has a student's plan at $4.99 per month, individual Apple Music plan for $9.99, and $14.99 for a family membership of up to six people.
For new users, a free period of three months is available allowing you to enjoy new hits through and through.
Interface and Design
According to users, Amazon Music Unlimited looks beautiful featuring a design skin similar to the Amazon Prime Video service.
Apple music, on the other hand, is realistic and simple to use.
Music Discovery Function
Alexa sets Amazon Music Unlimited apart since you can play any song from any artist without shuffling through the tracks.
The music library is designed has a list of recommended albums and playlists according to your listening habits.
With Apple Music, you get to listen to exclusive interviews, hits, and guest hosts among others.
It keeps track of your search record and uses the data to recommend the best albums with For You.
You can connect with artists' work and videos with Apple music via a social club where musicians post their progress, and you can comment or share posts to Facebook or Twitter.
There are other differences like the number of tracks where Amazon Music Unlimited avails tens of millions.
But that's small compared to the 45 million tracks available with Apple Music.
Sound quality on Amazon is not yet clear, but Apple deserves a 256 kbps (AAC).
Paying a few dollars to listen to music may seem too much for some people, but there are benefits to those who are ready to subscribe to Amazon Music Unlimited.
It's market restriction is a challenge, but users without accessibility can always use an alternative.
After unsubscribing with Apple Music, some users claim to be unable to access downloaded music from before especially during the free period.
Despite these differences, the music industry is benefiting hugely, and users have an easy time accessing music.
Paid Music Subscribers
Even though Apple Music and Amazon Music started even in 2015 (around 7.5 million subscribers each), things changed drastically in 2016, where Apple Music paid subscriber base grew at 75% to almost 20 million subscribers.
The spike in the paid subscribers hike can be related to the unprecedented craze for iPhone, which had the Apple Music (free and paid version) bundled with it.
During the same period Amazon Music's premium listeners grew from 7.5 million to 11 million (around 50%), even though it was yet to introduce it's flagship music related service Amazon Music Unlimited.
Amazon Music's subscriber hike can be related to it's ever popular subscription package, Amazon Prime.
Unfortunately for Apple, things slowed down in 2017, where it was able to gain only 7 million more paid subscribers at 27 million from 20 million.
A growth rate of just 30%, iPhone's declining popularity was considered as the main reason for Apple Music's growth rate.
Amazon Music had 16 million paid subscribers in 2017, a 50% subscriber growth rate, thanks to it's flagship music app Amazon Music Unlimited.
In 2018, sale of iPhone's latest model iPhone XS, exceeded expectations, hence it was no surprise than Apple Music grew from 27 million to 50 million paid subscribers within a year.
An incredible 82% growth rate in just a year.Amazon Music had a muted paid subscriber growth rate at 20 million subscribers in 2018, growth rate of just 25%.
2019, was just the opposite, Amazon Music had a phenomenal 70% listener growth rate to reach 32 million subscribers, whereas Apple had a subdued growth rate of 20% to reach 60 million paid listeners.