Even though Android Pay and Amazon Pay are products or services offered by two different entities, namely Google and Amazon, the competition between these two companies is cutthroat to the core.
Be it the music streaming service (Amazon Music vs Google Play Music), Bluetooth speakers (Echo vs Google Home), subscription based service (Amazon Prime vs Play Store) or online product search, these two companies are so incredibly competitive.
One cannot help but compare them with the infamous browser war of the 90s, between Microsoft's Internet Explorer and Netscape's Navigator.
While both these mobile payment applications are fond of frequent name changes, Amazon at least had the common sense of keeping it's brand 'Amazon' in every upgraded version.
Whereas Google experts seem to have experienced huge mood swings every time they upgraded and named Google's mobile wallets.
From Google Checkout in 2006 to Google Wallet in 2011 and then to Android Pay in 2015 and finally Google Pay in 2017, confusing first time mobile users beyond comprehension.
Let us take a look at some of the similarities and differences between these two payment processing portals.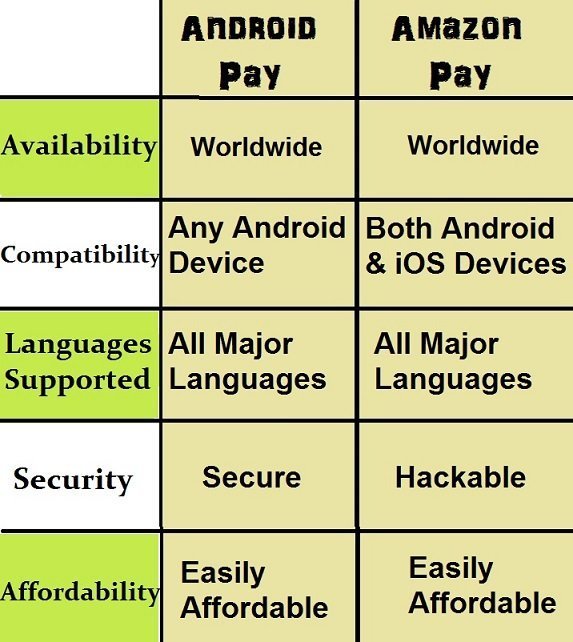 Market Share
There are not many mobile payment apps that are loved by many, hated by few but respected by all.
Android Pay and Amazon Pay are some of the select few apps that enjoy this special status.
Thanks to their aggressive marketing strategy including discounts, cashbacks, coupons and referral programs, they are miles ahead of their competition.
The only problem is, consumers in developed countries such as the US and UK still prefer using credit and debit cards even for online transactions, whereas those in developing countries such as India, Srilanka, Philippines and Thailand embraced them with open arms.
US banking sector is fiercely dominated by private players, who wouldn't care less about the govt regulations on the banking sector.
South East Asian banking scenario is unlike anything to that of US.
Private banks like HSBC, DBS, ICBC and UOB never had issues obeying government regulations.
Neither did Android Pay or Amazon Pay had issues conducting peer to peer payments (P2P) transactions on their platform.
Which obviously means, most American users of Amazon Pay or Google Pay (Android Pay) use them exclusively on Amazon or Google portals, such as buying products through Amazon or subscribing to a service via Google Play Store.
Hence, it is no surprise that Android Pay and Amazon Pay make up to 60% of all mobile transactions in countries like India and less than 10% of online transactions in US and UK.
Statistics show that Android Pay or Google Pay will grab a large market share because there are so many countries supporting the app.
On top of that, Android devices are undeniably affordable and widespread.
According to World Remit 2019 report, the company has successfully introduced the app to 150 countries by charging a small mark up to cover the foreign exchange rates and a 5% maximum processing fee.
Contrary to Android Pay, Amazon has introduced the online payment method to very few nations that include the United States, Italy, Spain, Japan, France, Germany, and United Kingdom only.
It allows users to buy products or services from mobile apps and websites through payment methods available in Amazon accounts.
To diversify across the globe, Amazon pay will need to incorporate more languages instead of relying on devices that have inbuilt languages.
Integration
Both systems have successfully included banks, stores, and online retailers in their prospects; however, Amazon Pay seems to attract more vendors than Android Pay.
In October 2019, Google's AP tweeted that they had support from 16 banks and credit unions like Hawthorn, Washington Savings, Chevron Federal, and Peoples Bank among others.
During summer, the numbers increased to 71 and add Apple Pay users to the tally since the brand uses NFC as well.
Also, MasterCard, American Express, Visa, and Discover were not left behind.
Amazon, on the other hand, invested in the Amazon Payment Partner Program that was launched on April 4, 2016.
It is designed to accommodate e-commerce providers and their merchant customers.
It comes with unique services and tools to help their partners expand their supply base by using Amazon Payments to keep the chain active.
It is available by invitation in Germany, Japan, United Kingdom and the United States.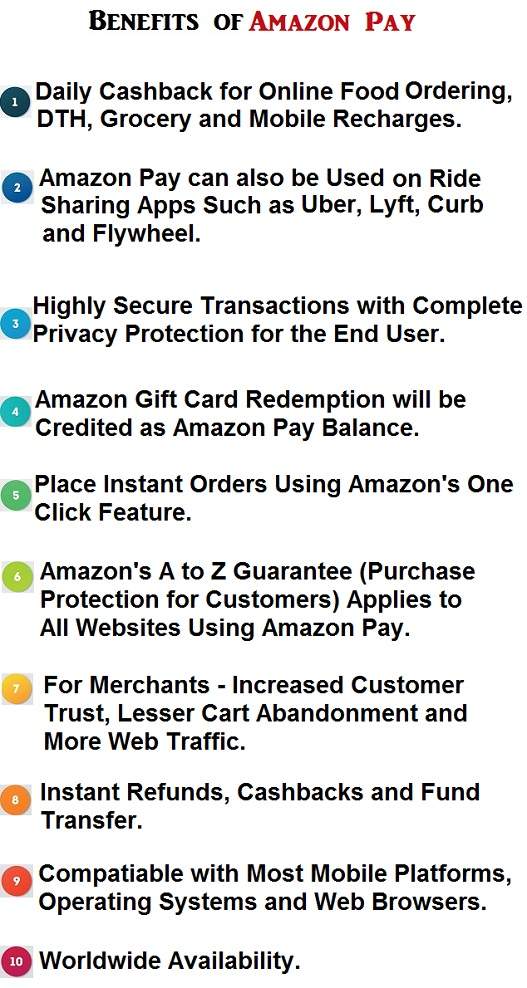 Compatibility and Security
So far, one needs an NFC-empowered device that is running Android 4.4 KitKat and above.
Apart from bank cards, Android pay accommodates gifts and loyalty cards as well.
Security wise, user's personal information is safely stored in the Google cloud network.
During transactions, a one-time 16 digit token is used, but all other details remain hidden from vendors or third parties.
Since Amazon Pay is web-based, it is compatible with any device with internet.
A password-protected account is created using a secure server connection that is closely monitored and maintained.
Another level of security is recommended as a precaution.
The multi-factor authentication keeps frauds away from individual accounts and allows users to transact without fear of exposure.
A lot of competitors are emerging with new mobile payments techniques that make Android and Amazon Pay look outdated.
So far, only Apple and Samsung Pay have appeared to take the challenge.
On May 24, 2016, the world leading mobile payment provider, PayPal,decided to join Android Pay.
Since then, GAP users are able to link PayPal to their profile.
Amazon Pay is currently trending on social media for creating a money-making opportunity for Alexa Skills Developers.
On top of that, they are working alongside Apple Pay to collect funds for the Hurricane Harvey survivors.
Through Amazon Pay, sales are increasing for retailers around the world as more than 2 billion smartphone users transact.
A recent market share chart revealed that Amazon Pay will soon overtake Paypal especially if the brand invests in integration.
Also, Amazon is expected to expand it's horizons globally; however, it has a long way to go before it's spotting the same figure as Google does.