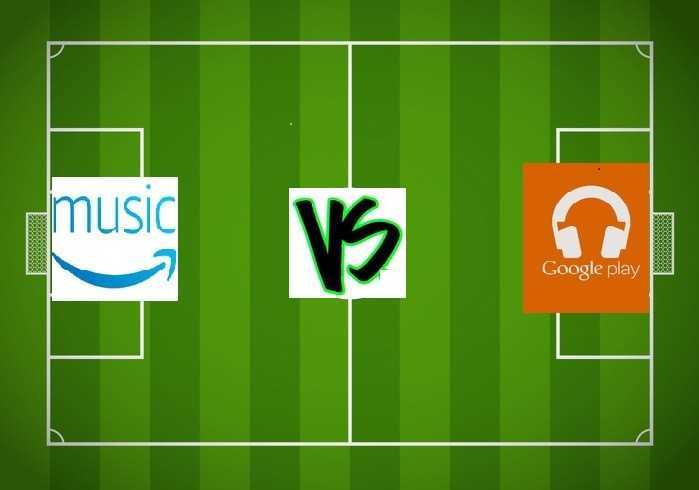 Music streaming services are becoming popular compared to the digital music downloads.
There being several competing services, it becomes tricky to choose the best.
Google Play Music and Amazon Music Unlimited differ in several ways from prices to interface and design.
In between, there are other factors that set them apart allowing each use their respective unique features to their advantage.
Prices
While Amazon Prime is free, all Amazon Music Unlimited subscription costs a certain amount of money.
Good news for the US is, with a prime account, you only need $ a month to subscribe to their unlimited version.
The standard price goes for $ a month while the family subscription costs $$ monthly despite the lack of a prime membership.
Amazon has a 30-day free trial for the music unlimited which gives you a chance to decide whether to use it or go for an alternative.
To access the 35 million Google Play Music library, you get a three-month free trial, and if you are impressed, it will only cost you $9.99 a month to enjoy playing your favorite tracks.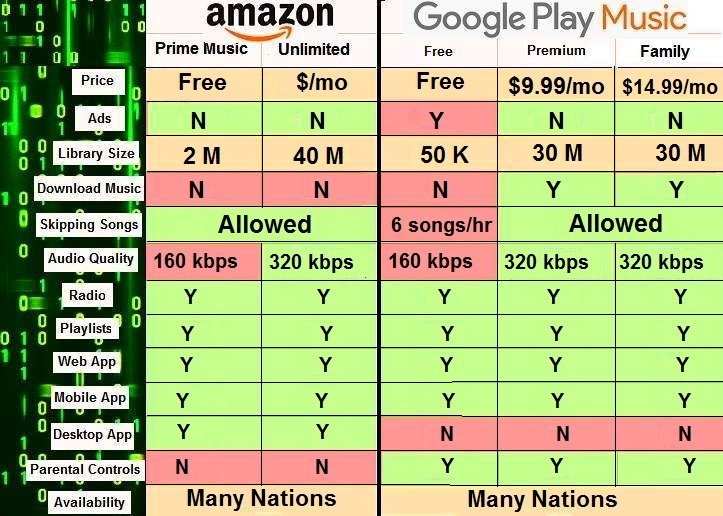 Music Library
Currently, Google Play Music prides itself with 35 million tracks which are accessible to over 58 countries.
Contrary to the 40 million songs available on Amazon Music Unlimited, the two streaming services are neck-to-neck on the entertaining industry.
Design and User Interface
When it comes to design and interface, each of the streaming services displays a big difference.
Amazon Music Unlimited does not appear as dark as it's competitors;it features a design similar to the style of Amazon Prime Video service.
Also, it is easy to navigate, Google Play Music, on the other hand, has a colourful design and interface which is also easy to use as it's accessible within a click or two.
Music Discovery
Every day, music lovers are searching for something new to listen. With Amazon Music Unlimited, recommendations are available based on your purchase history and reviews on Amazon.
However, a little more personalization of their content will improve it's free-to-use counterpart by far.
Google Play Music recommends according to your streaming history, but the difference comes in with the fact that, Google Play allows you to create a playlist automatically using instant mix based on a song.
This makes music discovery way easier than shuffling through the tracks.
Offline Listening Downloads
All music streaming services have listed an offline listening option where some offer it for free while others include extra cost.
Amazon Music Unlimited allows you to download albums and songs you have already added to your library for offline playback.
Google Play users, however, download as many tracks as they want to listen offline but that comes with a bonus.
Also, users can upload up to 50000 of their favourite songs which are made available in apps on all devices allowing them to join the music streaming club without having to start over.
Compatibility
Recently, Google has boosted the number of songs you can store for free. You can stream these songs on the web from your iOS device or Android, on a Sonos speaker or Chrome cast.
Sadly, there is no native desktop app which is unfortunate for PCs since Google Play Music matches the music at a higher quality from more audio formats.
However, for Amazon Music Unlimited, the Android app is limited to echo devices, a select number of home entertainment devices and some cars have it inbuilt.
Amazon Echo, Amazon Tap, and Echo Dot are among the cheapest plans; listening on those devices comes with restrictions. Much like many applications available out there, compatibility depends on its make.

As the new kid on the block, Amazon Music Unlimited signed an exclusive to air Garth Brooks records.
The American best-selling solo artist has a different hip factor compared to the popular rhymes from Beyoncé.
Google Play Music may allow you to store and stream your entire music library, but the radio station it sponsors play unlimited music without having to repeat the particular tracks you have saved in your playlist.
An added advantage from the stations is that you will be able to view the entire track list aired and save it.
Though it offers music locker service for free, subscription to YouTube red attractsa certain monthly fee.
Unfortunately for Google Play users, the streaming service is not good when you are looking for new releases since it emphasises stations and recommended music.
On the whole,what Amazon and Google are doing to the music industry is expanding it to new horizons giving music lovers a chance to be familiar with their favourite artists and their work.
Both are available globally although Amazon Unlimited Music still has a long way to go.