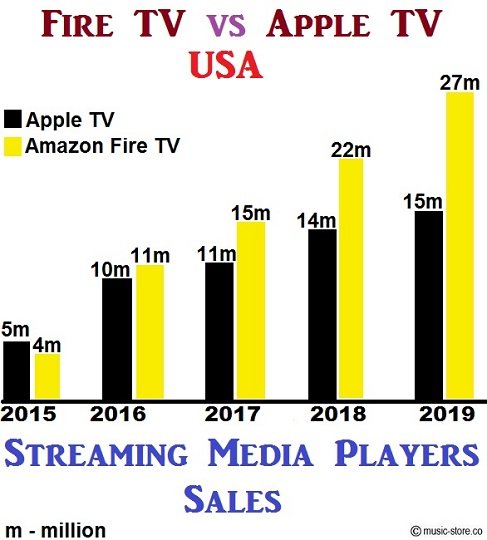 For the people who like watching TV, cable TV is no longer a viable option for them.
The one's using it are spending hundreds of dollars every month just for entertainment.
Smart TVs, on the other hand, are not any good since people have realized they are not as smart as people think.
This is due to the introduction of the dedicated streaming stick and boxes available on the electronic shelves.
This is the type of technology that is looming right now and it is cheap,to begin with, and it doesn't require a lot just a TV that can support the device and you are ready to go.
Streaming devices today offer more than just TV and movies.
They have games and offer content from third-party apps to give you a full entertainment package for you to enjoy comfortably.
Amazon Fire TV and Apple TV are some of the streaming devices available on the market today.
They might sound the same and offer the same services,but they are different in a way.
Remote Control
Both Apple TV and Amazon Fire TV come with a standard remote control that allows you to navigate through the user interface.
The designs of the remote controls are different,but Amazon that their standard remote has been improved with 40% longer battery life and 20% lower latency,but the design doesn't change.
The remote has a directional pad and seven other control buttons.
One of the buttons gives you access to the built-in mic for voice control.
On the other hand, the Apple TV remote has six control buttons combined with a clickable touchpad that works in the same way as the MacBook trackpad.
One of the buttons on the remote is dedicated to voice control.
One area where the difference between these two remote controls is visible is the Apple TVs remote has an inbuilt accelerometer and gyroscope set up.
This enables it to respond to being waved around like a Wii remote. The Apple TV also has an IR emitter that allows it to act as a remote for the TV too.
User Interface and Operating System
The most significant difference between these two is their operating systems.
Apple TV is run on a version of Apple's iOS called tvOS that is not found on any other Apple device.
The Fire TV is a heavily modified version that uses HTML5 for a slick experience,but it runs on Android OS.
The UI differences are visible in that Amazon Fire TV uses Amazon Prime Video making all the content accessible directly from the home screen without having to navigate through individual apps.
Apple, on the other hand, has an app-driven user interface. It has chunky icons that lead to specialized content.
Apple has also tied together the content of its services from the various apps through the powerful search system.
Games
Both Apple TV and Amazon Fire TV Stick are advanced media players and also have games console functionality as a major secondary feature.
Amazon was first here with the original Fire TV which had higher processing power, custom made games controller and Amazon was committed to providing enhanced gaming apps with full controller support.
For Apple TV, it has not provided a dedicated games controller.
What they have done is stipulating that all games that will be available for the new Apple TV must be compatible with a stock remote.
They have also added support for third-party MFI controllers,but games that work with such specialist peripherals only will not be allowed on App Store.
Hardware
The new Fire TV Stick has a MediaTek quad-core CPU that is more powerful than the previous model.
One of the ways in which this power will be put to use is in outputting 4K content.
And this is a huge advantage to the people who love high-resolution video quality.
This is one feature that Apple TV doesn't support.
Apple TV is stuck with the old 1080p Full HD video output and it is sufficient for the majority of TV owners in late 2015.
Remember you cannot enjoy 4K content if you don't have a TV that doesn't support HDR and 4K.
Apple TV has more internal storage as compared to the Fire TV Stick with 32GB or 64GB versus the 8GB Amazon Fire TV Stick has.
This reflects Amazon's intention of you to stream most of your content while Apple has an app focused strategy.
However, the Fire TV Stick comes with expandable storage with the microSD slot while Apple TV doesn't offer the same.
Price
Putting their merits aside, the two devices have a sizeable disparity in the price.
The Amazon Fire TV Stick costs $$ while the Apple TV costs $149 for the 32GB version and $199 for the 64GB model.
It is for the consumer to now choose the best device for streaming with both the devices having different advantages as compared to the other.