The biggest source of entertainment after YouTube, Spotify with more than 290 million subscribers is the most successful streaming portal in the world.
Gaining more than 5 times it's listeners since 2016, Spotify's closest rival Apple Music is a distant second with 65 million premium listeners and cannot be even categorized as a competition.
As of June 2020, Spotify not only owns 40% of the premium subscription market of more than 400 million global paid customers, it is also right on track to be the leading streaming portal in the world's biggest market, India.
Here are some of the facts that make Spotify special…
1, Spotify offers 70% or 35 million of it's entire catalog of 50 million songs completely free to it's basic listeners.
2, It is the only streaming entity offering a day or weekly pass for a premium plan, which includes downloading songs and offline listening.
3, Similar to the YouTube Mix, Spotify creates a Daily Mix, based on your listening experience, with unlimited mobile skips and shuffle play options (selected artist radio and albums) for the Free plan.
4, Deleted Spotify accounts and playlists can be recovered with total ease.
5, You can upload any song that's not on Spotify and listen on any device using a premium account.
6, Whenever available, lyrics, behind the lyrics and artist info are displayed even in the free tier.
7, Apart from giving steep discounts to students in it's premium plans, Spotify also offers free summer internships, dissertations, thesis and disquisitions to qualified students.
8, Integrated with almost all leading speakers including Google Home, Amazon Echo and Apple HomePod.
9, Spotify pays the second highest royalty percentage to artists, a whopping 80%, next only to Tidal.
10, It has more than 3.3 billion user created playlists, bigger than Apple Music, Google Play Music and Amazon Music Unlimited combined together.
When I started using Spotify's free plan 5 years ago, I thought I was selected for an automated cardless free trial to the premium version.
Being an ardent 80s music lover, I was totally overwhelmed to listen to tracks, I last heard 25 years ago, during my childhood, thanks to Spotify's Recommended for Today section.
It also has a Jump Back In section which shows a list of albums that you had not completed, listening to.
Most of us have that one song, that we can't get out of our heads, keep listening to them all day long, for days, weeks or sometimes even months together.
For such fanatics, Spotify has a section called Uniquely Yours, which has two further sub sections called, 'The songs you can't get enough of right now' and 'Past songs that you couldn't get enough of' yes, you read that right.
As funny as it may sound, this is what the crazy music lover hidden inside every one of us does.
If you are new to online music streaming and by any unfortunate stroke of bad luck, downloaded free versions of Apple Music and Google Play Music, felt totally wasted, you need to download Spotify's free version asap.
Because there is absolutely nothing free in Google Music and Apple Music's so called free versions, apart from a few throw away radio stations, that you can get with better reception on Tune In Radio's free version.
Spotify does have a few drawbacks, let us take a look at the few Cons of Spotify's Free Plan…
1, Too many adverts and the frequency of ads keeps increasing every single day.
2, Only 6 skips per hour and no Shuffle Play, unless mentioned for an artist radio or album.
3, Cannot download songs for offline listening.
4, Sound quality is considerably less (anywhere from 120kbps to 160kbps) when compared with the premium version.
5, Only 35 millions songs are available in the free version, compared to 50 million in the paid version.
6, In the free version, Spotify automatically converts your playlist into an artist radio without asking your permission.
7, Free version forces you to listen to tracks, you never want to, by creating automated playlists.
8, Spotify's 'premium' software loads songs even with a patchy internet connection, not so the free version.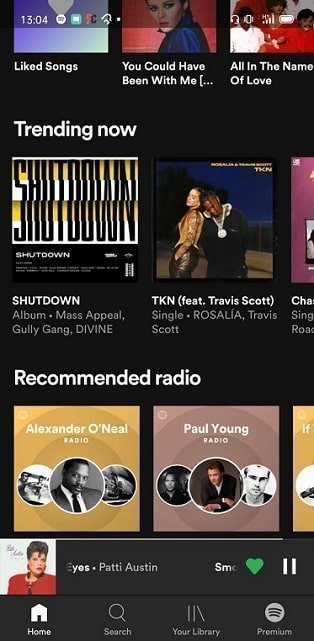 9, New updates sometimes messes with the UI, resulting in lost playlists or sections such as Trending Now, Daily Mix, Uniquely Yours etc.
10, You cannot upload songs from your device to Spotify's portal (web player, desktop or mobile apps).
Choosing between Spotify's Free and Premium plans is not a matter of lighter pockets or heavier wallets, it's as simple as using one's common sense based on whatever music they listen to, how long do they listen to and where they listen to?
If you are allowed to listen to music at your work place and if most of your co-workers love Spotify (they usually do), you can ask your management to purchase a customized Spotify corporate package, which your company should provide for free of cost or for a trivial amount.
And then, there are those, who are very selective on what they listen to, for example: A baby boomer would be more inclined to listen to The Beatles or Elvis Presley rather than Taylor Swift or Nicki Minaj.
They may be on the look out for 60s and 70s songs that they never heard of, in their prime. For such delicate darlings, a gift of Spotify Premium's individual plan is literally a manna from heaven.
Even though Spotify earns a considerable lesser amount of money by displaying ads on their portals, when compared with what they earn from their premium plans, they still offer three fourth of their entire catalog free, simply because, it's their company's policy.
According to Spotify, no user must spend a significant amount of their earnings or savings just to listen to a few songs everyday.
And finally, always remember, never pay for anything that you can get for free somewhere else.