For the people who are not well versed in Chromecast, this a streaming device powered by Google.
The device connects to the HDMI port on the TV or any other display medium and streams both video and audio.
An app is used to control whatever you want to watch and casts it to the big screen or the display medium.
Chromecast can stream content from the computer or your phone directly from the internet via Netflix or any other streaming service.
The device is made in such a way that you can download an app from Google Play Store and add features to it.
Some of these apps have distinct streaming services while the others will add functionality to the main product.
There are different streaming devices just like Chromecast,but they all have distinct features.
Chromecast recently released Chromecast Ultra on top of Chromecast.
These two devices might be similar,but they are not the same. Here are some of the key differences: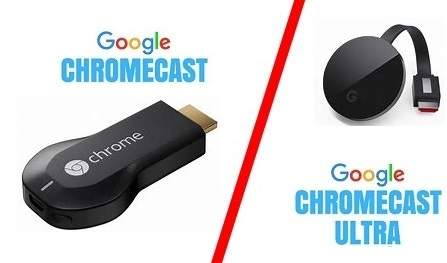 Price
Chromecast Ultra costs almost twice as much as the regular or the normal Chromecast.
However, one might think that one of these is a successor of the other,but it's not.
Chromecast Ultra has more improvements than the other Chromecast and it is more current.
Even if the price of the new Chromecast is higher, it is well worth it because it has better and improved features.
Speed
It is obvious that the new Chromecast Ultra is a step up from the standard version.
If you provide Chromecast Ultra with a good broadband connection, it can stream HDR and 4K Ultra HD content.
The hardware in Chromecast Ultra is powerful and fast enough to do things on the fly as compared to the regular version.
It streams the highest quality content and without skipping or buffering and these are some of the best improvements that Google has to offer in this new version.
To stream UHD or even HDR content, you need to have a powerful and fast network too.
The box can only do so much in speeding up your streaming,but the network also plays apart.
Chromecast Ultra's hardware allows it to connect to 802.11ac 2.4 and 5GHz Wi-Fi with a 1 by 2 single Input Multi Output (SIMO) antenna for low latency and fast speeds.
It also has a standard Ethernet port built inside the power supply when you want to plug into a wired network switch instead of using Wi-Fi.
Chromecast, on the other hand, is the primary streamer. It handles 1080p videos which it streams very well.
It is also small such that it can be powered by the TV if you have a powered USB port at the back.
It also supports Wi-Fi at both 2.4 and 5GHz.
Chromecast, however, is not for those people who have a 4K television and it can't stream 4K content.
Ethernet Alternative
Chromecast Ultra is better in such a way that it provides alternatives. Streaming video might be reliable when using Wi-Fi,but it is not better than a cable connection.
The wired connection assures you of more speed and reliability.
This is important while streaming video content because it is the determinant in whether Netflix will send a 4K HDR signal to your TV or it will throttle it down to 1080p because it has the impression that's all your network can handle.
This is why the Chromecast Ultra has an Ethernet adapter included such that you can plug it directly into your modem or router for the fastest and most reliable streaming network.
4K Content
This is the most significant difference between Chromecast Ultra and the regular Chromecast version.
Chromecast Ultra outputs streaming video at 3840 by 2160 while the standard Chromecast is limited to 1920 by 1080.
This means the new Chromecast Ultra has four times the pixels and this is the new standard for the latest original shows on Hulu and Netflix.
Apart from the higher resolution, Chromecast Ultra supports high dynamic video range (HDR) video.
HDR has more pixels than the standard 1080p video and the pixels in HDR can cover a more granular and broader range of color and light output.
This is best if you have a television that can handle it. Remember not all 4k TVs can handle it,but it looks terrific.
Is it Worth An Upgrade?
The question most people are asking today is if they should upgrade.
If you don't have a 4K television, then don't bother upgrading since the high definition content will not be supported in your TV.
You should have a TV that supports HDR to be precise. Chromecast Ultra is fast, powerful and supports better video quality but on the other hand, it is twice as expensive as the regular version.