Beta tested in 2007 and launched in 2009, Amazon Pay never gained any momentum until 2014, by the time which Google Wallet and Apple Pay took over the world of mobile payments.
Faced with glitches and bugs during the initial stages, Amazon Pay will eventually be pushed back by 5 or more years, making it loose all the gains of a so called early start.
It was only in 2015 that Amazon Pay will finally get it's act together, thanks to it's newly introduced easy integration feature with Shopify, Opencart, Magneto and BigCommerce.
Unlike Google Wallet which had a smooth sailing ever since it's launch in 2011, Amazon Pay was made to earn it's bread.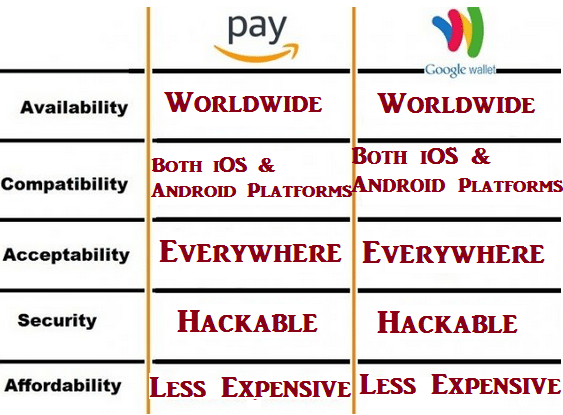 Users
While Google Wallets most recent variation Google Pay has more than 90 million users worldwide, Amazon Pay too has picked up the pace in recent years, growing from 33 million users in 2016 to around 85 million users in 2020.
It is no secret that Amazon Pay owes the huge part of it's success to the parent portal Amazon.com and it's highly successful offspring Amazon Prime subscription program.
With more than 350 million users worldwide, Amazon does not have to flinch, to enroll a few million customers to Amazon Pay program every now and then.
Yet, Amazon offers highly lucrative incentives to it's users, whenever they purchase a product through the Amazon Pay gateway.
Unlike Amazon Pay, which has remained unchanged over the years, Google Wallet has under gone drastic changes every few years.
For some reason Google kept on changing it's mobile wallet's name which was not well received by it's users.
At the beginning it was Google Checkout, then came Google Wallet, which mutated into Android Pay and finally evolved into Google Pay.
Google seems to have finally settled down with 'Google Pay' and hopefully won't confuse users with another name change in future.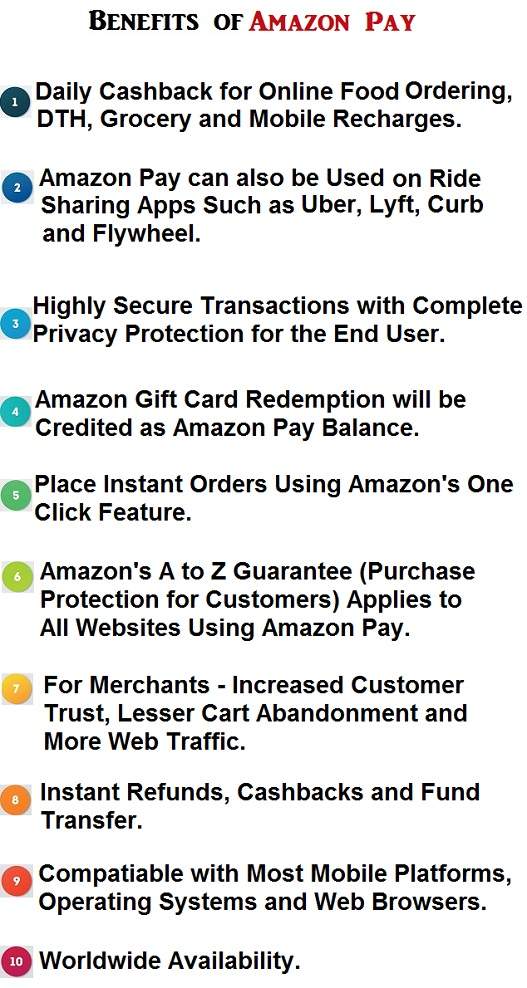 Infrastructure
Both these payment systems are backed by corporate behemoths who literally dominate and dictate our lives every single day.
Hence it is no surprise that both Google Wallet and Amazon Pay have the best infrastructures to handle any security, transaction, software, server and customer service related issues any time of the day.
While the apps themselves get updated several times a month, not every update guarantees a better transaction, while most of these updates are User Interface related, there are some that specifically deal with major security flaws, that hackers, fraudsters and scammers exploit with ease.
Features
Google Wallet has several features that enhance the end user experience as well as the security of their transactions.
For instance, the Google Wallet NFC Tap and Pay technology makes it easier to process transaction while the virtual card issued upon set up protects user's personal details from fraudsters.
Other features include sending money through gift cards, loyalty programs and debit cards.
With Amazon Pay users are not required to set up another account.
Instead, they enjoy automatic recurring payments with Amazon Pay, mobile-friendly responsive widgets, back-end service calls, a custom integration and inline checkout among others.
Data Power and Security
Since both services store multiple loyalty and gift cards, Google Wallet happens to have powerful solutions when you add any supported reward card.
Transaction errors are easy to track with Google Wallet because it stores every detail transmitted through boundless Google servers.
With Amazon Pay, some transactions may not go through, because the system relies on the initial details the user filled while setting up an account.
Suppose you moved away and the current gift card has your new address; Google Wallet will be able to pick up the changes since a new set up was made.
To access payments, Google Wallet and Amazon Pay require a four-digit PIN but their lock system is different.
Amazon PIN is used to lock out users from specific cards while Google Wallet uses the pin to access the app depending on the set time-out period.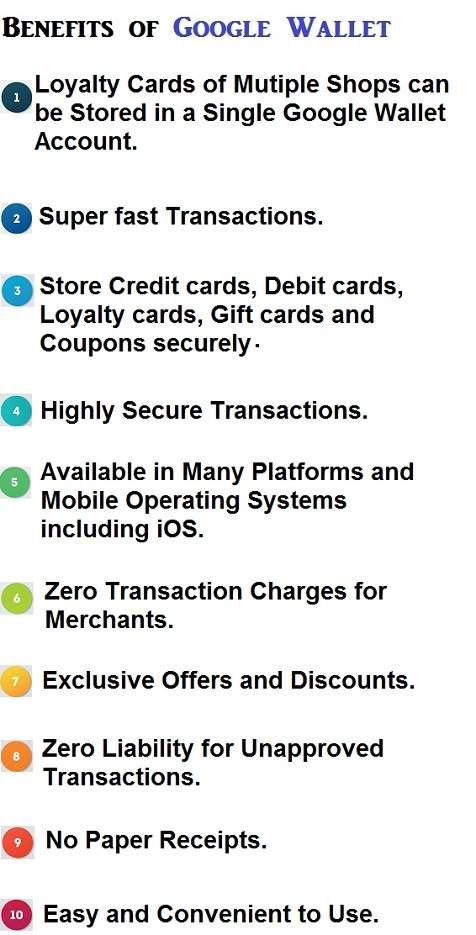 Market Share
According to recent statistics, Amazon Pay has a sizable market share compared to Google Wallet yet it is the most underestimated payment provider in the world.
In 2019, Amazon came in second after PayPal in the category of the most preferred payment method.
Google Wallet came in fourth with 7% preference record from the US.
Amazon has attracted few Major shareholders and other numerous sites to its payment platform.
It has a global partner program that allows easy integration of other providers.
As an online retailer, Amazon as an entity has grown globally with over 350 million paying subscribers and more than 80 million active Amazon Pay users from different sites.
Marketers expect Amazon to invest heavily in digital payments especially by improving online deliveries.
Also, expanding into new territories (countries) has increased their market share by a higher margin.
On top of that, they incorporated software companies as a way to reach the retailers and merchants.
With the help of new innovations, both brands have a long way to go. While Google Wallet benefits from massive traffic, Amazon Pay thrives from years of good reputation and a potential to expand.
Each has unique abilities to come out on top but competition is stiff.
A majority of people are tired of debit cards and credit cards.
Fear of being robbed has increases the demand for digital payment; however, many potential users lack confidence when online security threatens their savings and assets.
So far, Google has survived major hacking incidences but has a long way in improving infrastructure.
Amazon Pay is already supported by a strong IT structure that ensures programs run without delay.
Although Google is trusted by most people, both brands exist to offer similar services using different tactics but their goal remains the same; to come out on top.