The internet has brought information so close to people,and this has resulted inamazing convenience.
Whatever you think of doing, you can be guided by the internet and achieve it.
The success rate of some things come from the internet,and as you are reading this, millions of people are on the internet searching for different content.
There is content suitable for everyone on the internet including kids.
Schools are using computers nowadays,and they are connected to the internet.
This means the children are exposed to everything available on the internet through search engines.
They can search for anything they want,and since they are kids, they might wander off and stumble on some adult content on the search results.
This is one of the biggest reasons why parents, teachers,and guardians filter adult content.
These settings enable the kids to do a safe search on the internet without the fear of adult content.
If you have activated safe search in your search engines, we are going to look at how you can deactivate it on different search engines.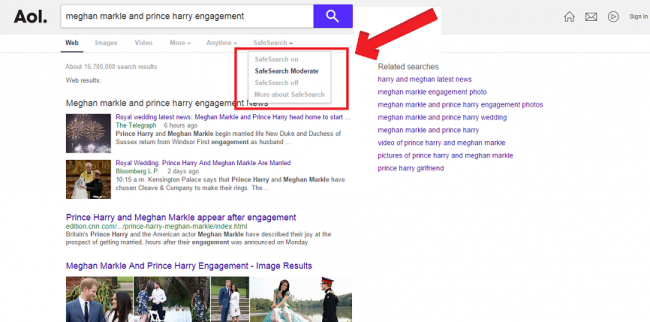 AOL
No safe search filter is 100% effective,but that doesn't mean that enabling safe search is in vain.
It helps filter adult content from your search results,and it works.
To turn off safe search on AOL:
• Open AOL.com and search for something in the Search box
• On the Search results page, click on Safe Search displayed right below the Search Box.
• In Safe Search section, choose the option you would prefer. Please refer to the above image for more clarity.
In this case, if Safe Search had been enabled, the current setting is strict which filters adult images and videos from your search results. The option doesn't display any results if you search for adult query terms.
• Select the "Off" option to disable safe search. This option displays adult content on your search results if you search for a keyword containing adult terms
• Click ok to save
Bing
Bing gives you the opportunity to enjoy safe and private internet searching with it's privacy settings.
If you had activated safe search on Bing, you could still deactivate these settings by following these simple steps.
• Open a web browser and go to Bing and search for anything.
• If you have a Microsoft account, sign in
• On the search results page, click on the "3 horizontal lines" button to open the preferences page.
• Go to the general tab and make a selection under Safe Search
• If you had already activated Safe Search, the strict option is selected,but if not, then the moderate button is checked.
– To entirely deactivate safe search, click the Off button and it allows adult content in your search results.
• Scroll down on that page and click on Save.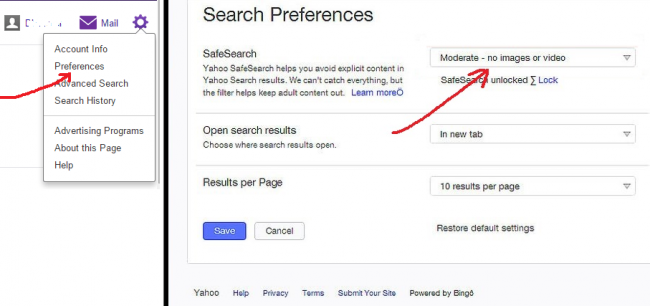 Yahoo
Before the advent of Google, Yahoo was the most dominant search engine.
If you had activated safe search on Yahoo and you need to disable it, here are the steps:
• Open,sign into Yahoo.com and search for something random.
• Click on settings button represented by a cog icon at the top right corner of the search results page.
• Click Preferences
• Scroll to the SafeSearch section. On the drop-down menu, there are three options, moderate, Strict and Off. If the safe search was enabled, the selected option is strict. To disable it, go ahead and select Off.
• Scroll down to the bottom of the page and click Save.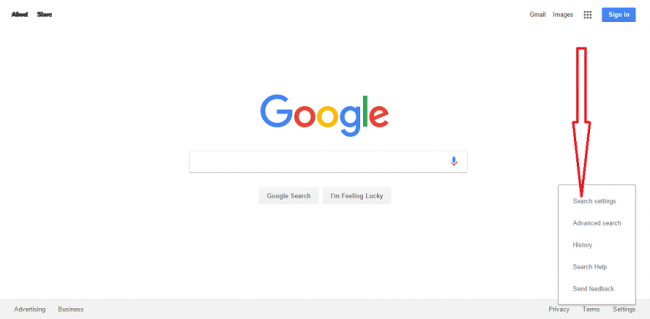 Google
Being one of the most popular search engines, it's easy to estimate it's the first one you had to activate safe search on.
So now you have enforced safe search,and for one reason or the other, you need to deactivate it.
Here are the steps:
• Open Google preferences page from your browser. Have cookies enabled on your browser to save these preferences when you exit.
• On the search settings, scroll to the safe search filters section.
• You will see the Turn in SafeSearch box,and all you have to do is uncheck it.
– It's this easy if safe search is not locked on your computer. If it's locked, you will be prompted to enter a password to unlock it then uncheck the safe search button.
• You should also check the Use private results box to see if it's checked.
– The setting is in the middle of the page,and it might not be directly related to safe search,but if it's unchecked, it ensures you get a variety of relevant images on your search results.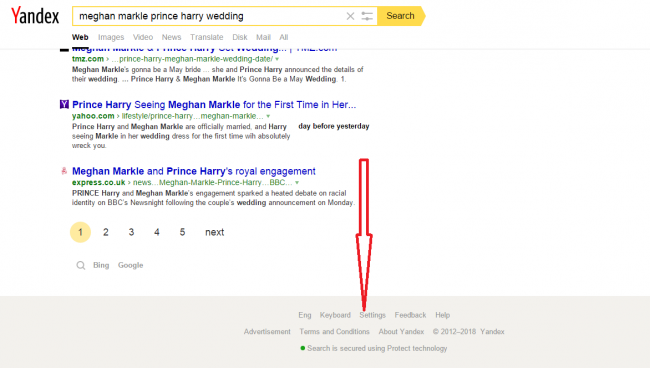 Yandex
In the Yandex search engine, protecting children from adult content is enforced using the Family Search option.
It is the best and most effective way of removing adult content on Yandex.
If you still want to Disable Safe Search…
• Open Yandex search engine and do a random search
• On the Results page, go to Settings placed right at the bottom of the Results page.
• On the Search Filter section, remove the Family Search option to deactivate safe search and select do not filter
• Save your preferences and proceed to the search results page.
If you had activated safe search on multiple browsers, you would have to do this on every one of them.
If you had enabled it on different user accounts on your PC, you will still have to deactivate on the individual accounts.