Glory days of Apple Pay is over, not because of the decimating COVID-19 crisis, but rather the drastic drop in the sale of iPhones in the last few years.
From 2017 to 2019 Apple sold 618 million smart phone units, whereas Samsung sold 905 million mobile units in the same 3 year period.
Besides, everyone knows Apple Pay is the slowest of all the contactless payment providers, because of it's operating system and the authentication procedure.
While it still has more than 225 million global users, it cannot deny the inevitable, which is, the phenomenal growth of Google Pay is Asia and Australia, as well as Samsung Pay's MST (Magnetic Secure Transmission) technology, which is years ahead of both Apple Pay and Google Pay.
On the contrary, 1 in 3 mobile transactions made in India, is through Google Pay, which is considered as a loss making entity in the US, UK and Canada.
It is predicted that, by the end of 2022, Google Pay and Amazon Pay put together, will have a 60% market share in the Indian mobile Point Of Sale segment.
Unlike Samsung Pay or Apple Pay, Google Pay is not restricted to a specific smart phone or a smart watch, which is one of the main reasons for it's exceptional performance in India, where an iPhone or a Galaxy S20, is beyond the reach of a common man.
But still, one can't help but wonder if G Pay had let go of the 'early start' advantage that it had, when it was launched in 2011, 3 years before Apple Pay came into fruition.
By releasing Google Wallet in 2011, Google Pay wasted 3 crucial years trying to become the mobile version of Paypal, instead of developing a contactless payment system similar to Android Pay.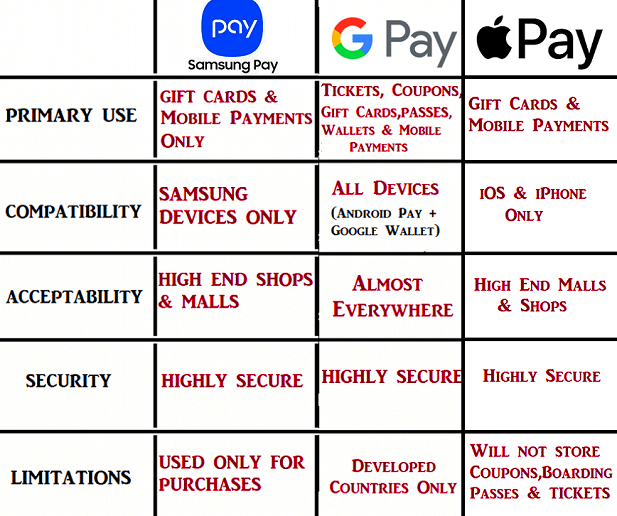 Not only did Paypal sue Google for stealing it's trade secrets along with senior programmers, but Google soon realized, android users were extremely disappointed with the Google Wallet's capabilities.
Apple Pay, on the other hand, truly understood the consumer sentiment, launched Apple Pay in iPhone 6 (September 2014), to an overwhelming response from Apple's fanboys.
A visibly shaken Google, hastily released Android Pay within a month of Samsung Pay's release in September 2015 and has been on shaky waters since then.
After three long years, the winds of change finally blew in G Pay's direction, when it entered the South East Asian markets in August 2018.
Compatibility
When it comes to device compatibility, not many digital wallets can compete with Google Pay's versatility, flexibility and adaptability.
Not only it is compatible with both Android and iOS smartphones, as well as smart watches, it is the only mobile wallet to be accepted as a form of payment in Google's Play Store.
On the flip side, when it comes to card terminal compatibility, Samsung Pay is miles ahead of both Apple Pay and Google Pay.
Even a 20 year old antiquated chip and Pin machine accepts Samsung Pay without any issues, but an ultra modern contactless terminal would reject G Pay or Apple Pay simply because it takes too much time, otherwise called as 'transaction timed out'.
While Samsung credits it's superior technology to MST (Magnetic Secure Transmission), which uses a magnetic signal to communicate with the card terminal,whenever a compatible Samsung smartphone is kept near the wave pay readers, it only works with Samsung mobiles released on or after 2016.
Such as Galaxy A5, A7, Note 5, S6, S7, S8 and the recently launched S20 series.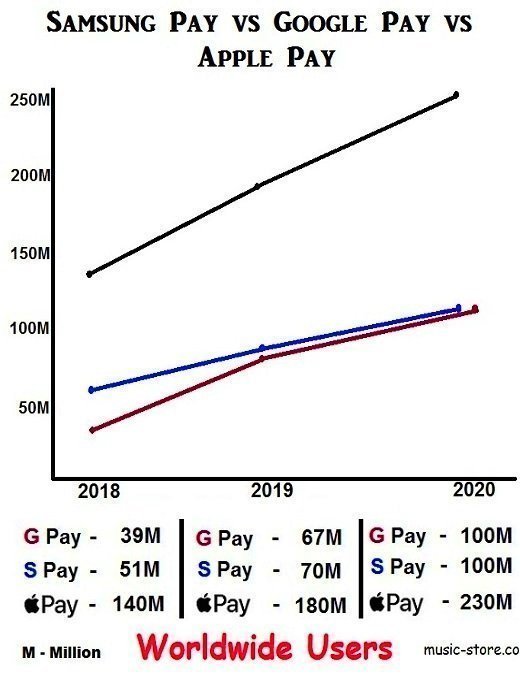 However, it is quite baffling that Apple cannot do the same to it's iPhones, even after 6 years of Samsung's MST technology.
Which raises serious questions on Samsung's official explanation for the MST technique, where it says, certain Samsung smartphones have a built in metallic coil wound in a loop, creating a magnetic field whenever electricity passes through it.
Electricity is generated whenever the user touches or taps the card terminal, there by communicating with the most ancient of swiping machines.
If this is so easy, why can't Apple do this, in spite of spending billions on iPhone research and development?
As we all know, Apple Pay is extremely slow in processing transactions, sometimes taking as long as 10 seconds more than Samsung Pay or Google Pay.
So, Samsung is most definitely hiding a top secret tech for it's MST mechanics, which it doesn't want to reveal to the public or competitors.
Will the same MST technique work, if we use Google Pay on a Samsung smartphone, instead of Samsung Pay?
Yes, it will indeed work, as the MST tech is not dependent on any app or mobile wallet but an integral part (hardware) of select Samsung smartphones.
Security
Mobile wallet users have to deal with multiple levels of threats, from the sophisticated online hackers to the the crude, unrefined real life smartphone snatchers.
While the first category is mostly thwarted by the mobile wallets themselves, nothing much can be done about the second category, especially if it's a stake out, a snitch or you simply lose your mobile in the subway.
Just because someone losses their mobile, doesn't mean their digital wallet or credit cards are compromised, if an android mobile is lost, one has to log into android.com/find with their Google account credentials, then select any of the following 1, Remotely Find 2, Lock or 3, Erase.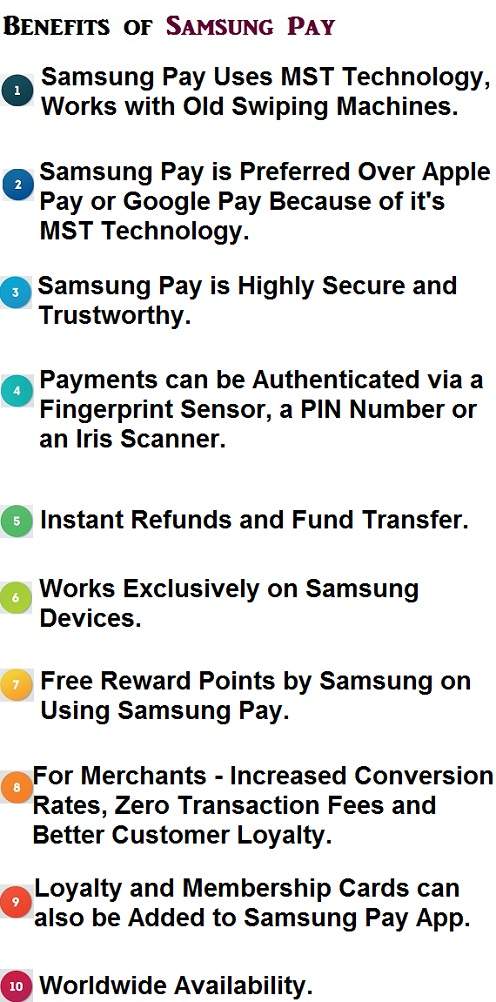 If it's an iPhone, log into iCloud.com or Find My Iphone app, preferably from a iOS supported device, select Find iPhone and locate it on the app, if you can't find it, you can always Mark As Lost, which will remotely lock your device and finally, if your worried about your credit cards falling into the wrong hands, you can always select Erase Your Device.
Using a mobile wallet for an in-store purchase is much safer than swiping a credit card, simply because buying a Skimming Device online is much easier than ordering prescription medicines online.
Once your card details are skimmed, your 'cloned card' will be generated in a jiffy.
Although all the three mobile wallets are totally 'skim proof' and follow the standard tokenization procedure of a transaction, Apple Pay takes a few extra seconds, because one has to authenticate twice, once when you unlock your smartphone and then again, when you are making the payment, you need authorize the transaction using the secret pin, fingerprint (touch id) or Face ID.
Besides, even the ultra modern contactless terminals are known to have issues with iPhone's iOS operating system.
Apple doesn't mind loosing a few customers over the time consuming authenticating and tokenizing procedure, as it treats security and privacy details of every iPhone user with utmost seriousness.
Meanwhile Samsung smartphones also authenticate your payments twice using an iris scanner (eye ball scanning), secret pin or the usual fingerprint technique.
But still, Samsung Pay is almost 10 seconds faster than Apple Pay because of it's android platform.
Google Pay never annoys you with the double authentication procedure, saves your precious time, by processing a payment with a simple display of your unlocked mobile.
Technology
Most mobile wallets use a combination of RFID (Radio Frequency Identification) and NFC (Near Field Communication) technology to process an in-store contactless purchase.
If you are able to make a payment by just holding your card close to the card terminal, that means you have used the Radio Frequency Identification technique to process your transaction.
Instead, if you tapped the terminal, you had used the Near Field Communication payment gateway.
While Google Pay and Apple Pay both rely on RFID and NFC techniques, Samsung Pay goes a step further, incorporating MST cybernetics, which by far is the 'coolest' mobile wallet technology till date.
While NFC payment gateway is the backbone of offline transactions across the Europe and Australia, it is the least favorite of American shoppers, who prefer plastic because of it's added benefits, such as loyalty and reward points.
Which makes Samsung Pay the most accepted mobile wallet, because of it's ability to work with any terminal, be it the age old magnetic swiping machine or the sleek wave pay gadgets of today.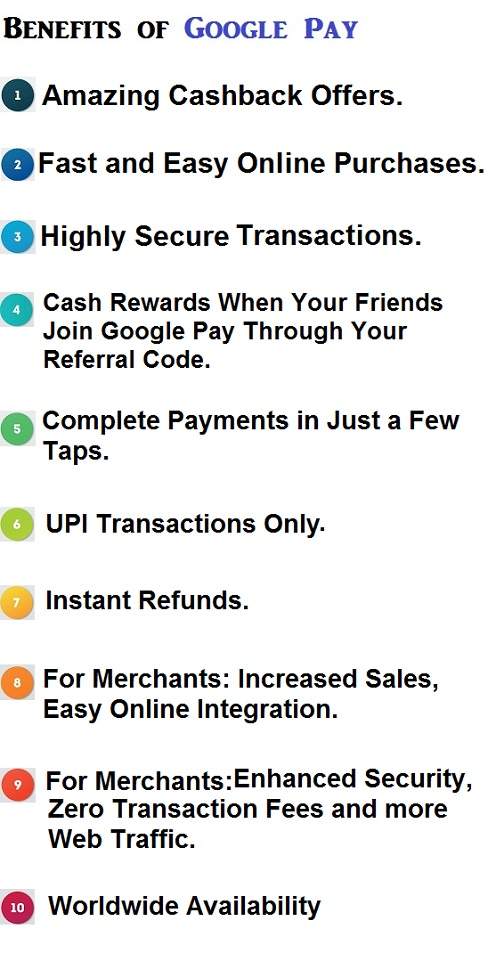 Meanwhile in South East Asia, NFC based payment gateways are still in their inception and even if they are fully developed, it won't make much of a difference, since more than 60% of South East Asian population, such as in India, Srilanka or Nepal are below the poverty line.
Buying an iPhone or a Samsung S20 Ultra for these unfortunate souls, will cost a lifetime's earnings or savings.
But buying a basic smartphone won't cost more than $30 and that's were Google Pay's technological and marketing brilliance comes into play.
Google Pay was an unknown entity when it entered the Indian markets back in 2018, fast forward to 2020, 1 in every 3 mobile wallet or UPI (Unified
Payments Interface) transaction made in India, is through Google Pay.
It is expected that by the end of 2021, 70% of mPOS (mobile Point of Sale) transactions in India will be made through Google Pay or Amazon Pay.
Users
Apple Pay's user base is directly proportional to it's iPhone sales, while it still has more than 230 million global customers, more than 80% of these customers, became Apple Pay users between 2015 to 2019.
To make matters worse, Apple's 2020 smartphone, iPhone 12 is already a big let down, since it won't have an adapter, charging cable or earbuds inside the box and you have to buy them all separately.
Which means, the downward trend of iPhone sales or Apple Pay users is more likely to continue for the next few years.
Samsung Pay may not be as popular as G Pay in South East Asia, but enjoys a celebrity status in Far East Asia, especially in it's native South Korea, where you can withdraw cash at ATMs, by simply tapping the teller machine with your Galaxy smartphone.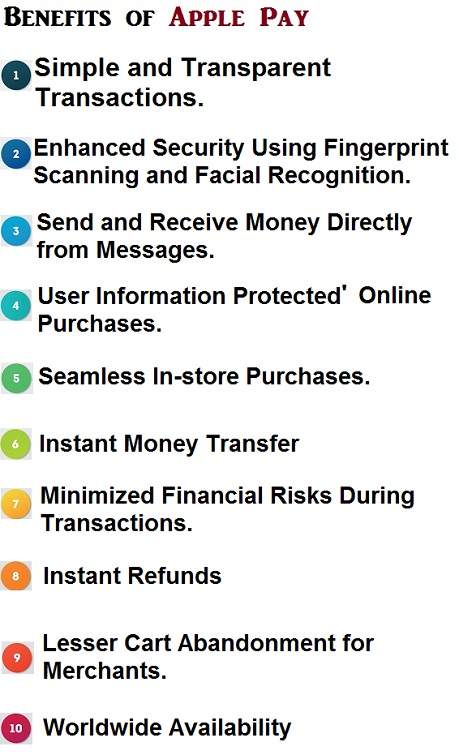 In Central Asian countries such as China, one can use Samsung Pay to buy public transport tickets in metros such as Wuhan, Shanghai and Beijing.
While Samsung Pay can be used for QR code payments in India, such as UPI payments, it does not have much of a future in this Asian country, as Samsung mobile are deemed expensive.
Cheaper variants such as Realme or Oppo offer similar or better functionalities, at a steeply reduced pricing, when compared to a Galaxy S20 or S20+.
The sad truth is, many android users in India prefer to use Google Pay on their Samsung mobiles instead of Samsung Pay, because of it's user friendly interface, rewards & referral programs and of course, overall national usage.
But still, Samsung Pay has more than 100 million global users, thanks to South Korea, USA and China.
And the biggest surprise of them all is Google Pay, it had 39 million global users in 2018, and after entering India the same year, it reached 100 million users by June 2020, in less than 2 years.
A country like India, with a population 1.4 billion people, can very well provide the Alphabet Inc, with much needed confidence, to take on American A2A RTP (Account to Account Real Time Payment) providers such as Zelle, PopMoney and Venmo, without any fear or apprehension.