Considering both these payment gateways are products of Google, people find it challenging to tear them apart.
Google Wallet (GW) entered mobile payments vertical in 2011 and stayed active until 2014, when Android Pay took over.
The former had enough time to establish an online payment platform, before Google decided to create Android Pay, as a branch that had evolved over the course of  two or more years.
However,  Google Wallet was merged with Android Pay in late 2017, giving birth to Google Pay in January 2018.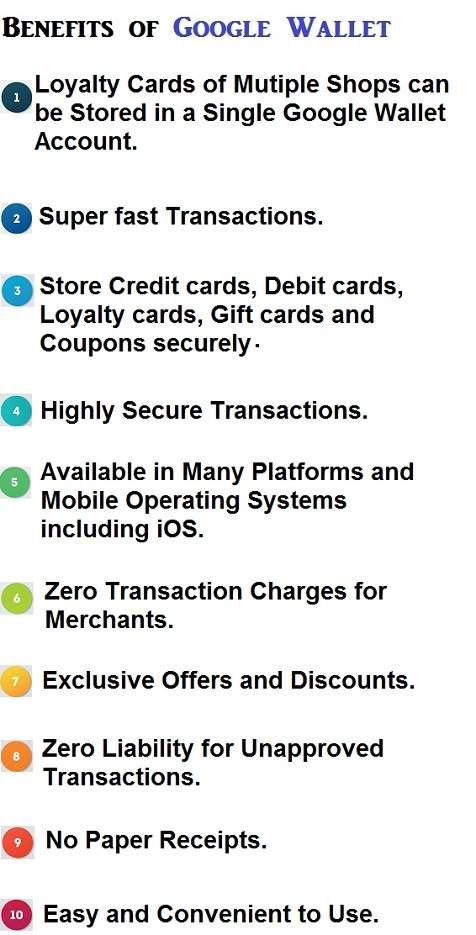 Google Wallet
According to Google, the app is a peer-to-peer payment system that enables users to send and receive money through a mobile phone or a computer.
The account created, is linked to a bank account of one's choosing through a debit card whose information is processed and a virtual card is created; however, personal details are not displayed to vendors.
Any Device running Android 4.0 as well as the iOS 7.0 and above, the GW app will operate efficiently on your smartphone.
The Google Wallet virtual card provided, allows the user to withdraw money from ATMs with no extra fee and it is the perfect card for digital transactions including buying a burger while still in the office.
However, the app was discontinued in 2016 to pave way for Android Pay.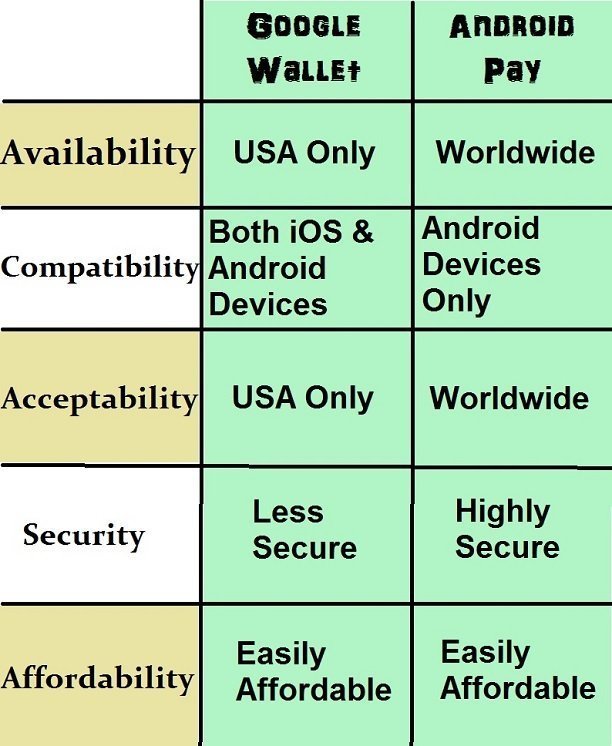 Android Pay
The app was created to power up it's predecessor, Google Wallet.
The tap-to-pay payment system allows mobile users to transact using devices that are enhanced with a Near Field Communication (NFC) chip which transmits information and enables transfer of funds from one account to another.
Unlike Google Wallet, Android Pay takes advantage of the fingerprint ID to maximize security.
To add another card in the wallet, one simply takes a picture of the card or enters the information manually.
Forget carrying wallets and swiping credit cards, just tap and pay with Android Pay.
There is a slight difference observed when setting up an account on both apps.
Once the download is complete, the procedure for setting up an account differs as discussed below;
Google Wallet Set-Up
If you have a Google account, the process is simple and less exhausting.
1. Download Google Wallet app and open it.
2. Click the menu icon and proceed to payment methods.
3. Tap the Add Payment Method option and either manually enter your details or take a photo of the card and finally save your information.
You can update or erase a card using the respective icons present under the menu tab.
Similarly, one can add or update their bank account.
But since the process is case-sensitive, you need to your bank's assistance to retrieve routing numbers.
Android Pay Set-Up
Ensure that your phone supports NFC and HCE (Host Card Emulation) before downloading the Android Pay application.
With your NFC turned on and the app open, set up a PIN, screen lock, password or a pattern to prevent other people from accessing your account.
To add, update or delete a card, all you need is to tap, select and save; Google will take care of the rest.
Technical Differences Between Google Wallet and Android Pay
Since the two systems were developed during different periods of technological advancements, it is apparent that Android Pay is more advanced than Google Wallet.
The former utilizes the Host Card Emulation feature to tokenize the system.
The 16 digit token number is used only once and it is generated in the Google cloud network.
While one is required to set up a PIN or password for the wallet account, Android Pay requires one to just unlock their phones and place it against the coke machine and your order processes instantly.
With GW one can hold a wallet balance and use a dummy plastic card to purchase items at different stores and online retails, but it is limited to the United States only.
Even before Android Pay was born, Google was still doing the same thing until the tokenization system came to the market.
No one understands why the brand chose to separate the two instead of improving GW, but no amount of speculation would deny the results.
Maybe in the future GW will work alongside AP, but for now, one can update their payment app to AP.
It's features are easy to use and it is secure to use for bulk transactions.
The expectations Google was set to claim from Google Wallet may not be all lost; however, users still debate on which app to use.
Suffice to say, GW is more online oriented while AP has established grounds either online or offline.