Amazon Fire TV Stick and Google Chromecast Ultra are portable streaming devices.
Most people find it a bit difficult to choose which streaming device is right for them.
Every year different streaming devices are fighting for the spot on your entertainment shelf connected to your TV.
There are a handful of other powerful and cheap small sized devices out there that can efficiently deliver content.
Which one is the best of the two? Let us put them head to head and find out.
• Design
A lot has changed between these two streaming devices over the past few years in design.
Instead of having simple USB sticks that slot into the HDMI port of your TV, they have a different shape now.
Chromecast: it started out with a USB like stick,but after a few developments it now looks like a hockey puck.
It has a circular device with an HDMI cable that protrudes out from it.
The device just hangs from its cable next to the TV instead of just jutting out of the HDMI port.
This is a classy little design that Google is not planning on upending with the Chromecast Ultra.
Amazon Fire TV: The Amazon Fire TV streaming device has an updated look.
The 2017 design has gotten rid of the USB-like look and has adopted a more similar look to the Chromecast Ultra dongle but with a different shape.
It used to nave the USB like look and with 1.5 x 5.9 x 0.7-inches. The Fire TV stick also had a remote,but it has fewer buttons and sleek.
It is much smaller than the ordinary USB devices but has a wire from the device.
Today, a lot in its design has changed and you simply stick it in your TV just like an ordinary USB device and you are ready to go.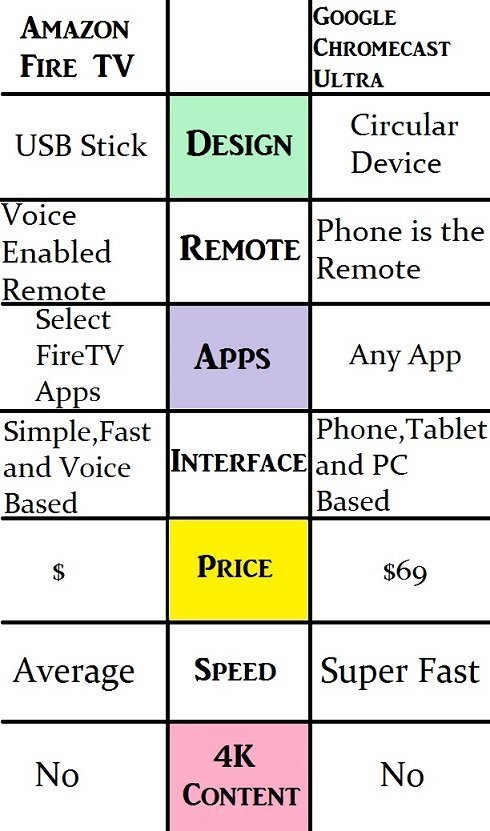 • Remote
Chromecast: it doesn't have a remote but mostly because it doesn't need one.
Chromecast, unlike the other streaming devices, only requires your computer or smartphone to stream content and that makes the phone or computer the remote.
This is a cool concept that cuts down on functionality but also makes the whole process of streaming easier.
Since the phone is acting as the remote over your home network, there is a lag between you pressing the button and it actually taking place.
This is not a deal breaker but makes the device feel a lot less snappy.
Amazon Fire TV:The Amazon Fire TV stick has a remote,but it is a bit simpler.
For those who prefer using a remote control, then the Amazon Fire TV should be your option.
The remote has more straightforward button selection and only offers playback controls, a voice button, a navigation controller, and user interface controls.
The addition of voice controls at times makes up for the simplicity of the device.
It allows you to control the device by just pressing a single button quickly.
• Apps
Chromecast: There is something different and unique about Chromecast's approach with their streaming device.
If you use Google Chrome on the computer, you can stream content from any website.
This is possible because you can mirror a Chrome tab such that even if the service you are streaming with doesn't have support for Google Casting, you will still be able to enjoy the service content on your TV.
Amazon Fire TV Stick:The Fire Stick is more favorable if you are one of those people who choose to stick to the major services like Netflix and Hulu.
With these, you won't have any issues if you are using the Amazon Fire TV Stick.
It offers plenty of support for the bigger streaming players.
The real winner here is Chromecast when it comes to apps since most of the services are starting to support Google Cast.
• Interface
Chromecast: There is not much to discuss regarding interface when it comes to Chromecast.
It doesn't have any interface apart from a smartphone app and a small button that is in Google Chrome.
You will be using the smartphone to control it and it is the best for people who don't want to mess around with a messy User Interface.
Amazon Fire TV: Amazon has been getting better at refining its interface,but it's not there yet.
It's user interface is speedy to get around,but it can be a little confusing sometimes.
The voice search button on the remote is a fantastic and fast way to find content nut it only covers a small fraction of the total number of the apps available for the device.
Other differences between the two devices include specs, where Google Chrome emerges as the winner even if some of the specs are not exactly known.
Price is also another difference,but the price difference is not so much such that the other factors are the ones which will help determine which of the two devices you will buy.