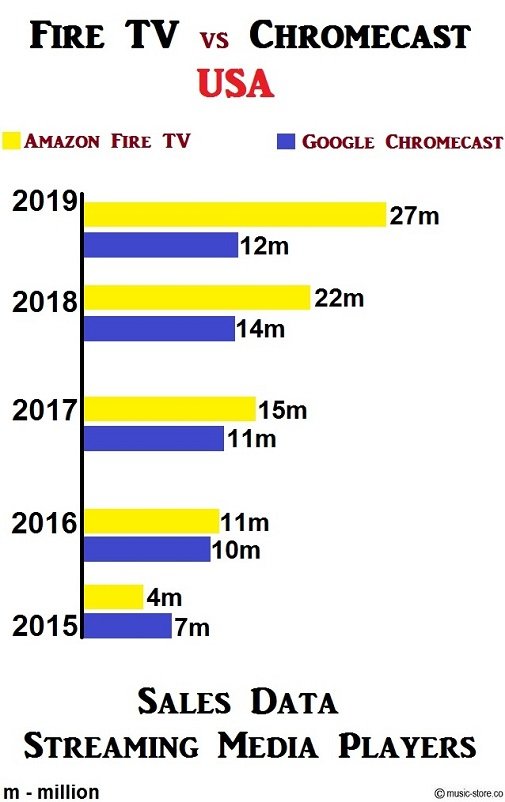 Before diving into what makes Amazon Fire TV differ from Google Chromecast, let's understand what the two gadgets do and why you need them.
Online video streaming service providers like Hulu and Netflix have Amazon and Google to thank because users can now enjoy watching movies on large TV screens via their home networks.
Instead of using your PC, tablet or smartphone to view the latest Hollywood release, plug it right into your 45-inch television screen using Amazon Fire or Chromecast.
Though the two digital media players offer similar services, there are notable differences which are discussed below.
Availability
Amazon Fire TV (first generation) came into the digital markets in 2014 accompanied by a voice-activated Bluetooth device.
It was first available in the U.S., U.K., Japan, and Germany.
On the same year, Amazon developed a Fire TV Stick which was much smaller and remotely operated.
In 2015, the gadget received a system upgrade with high processor speed and 4K UHD support.
India was next in line to receive the digital player's services in 2016.
Also, the Amazon Fire TV Stick came with Alexa remote that has a voice search.
The company announced an upcoming third-generation Fire TV in September 2017.
Unlike Fire TV, Google Chromecast is available in more than ten countries including Brazil, Canada, Mexico, France, Portugal, and the U.K. among others.
Its development began in 2013, but opened its application services to media streaming video providers on February 3, 2014.
The first generation Chromecast model was compatible with few video apps until Google upgraded it to the second generation that not only works with Androids but also with HDTV sets.
Make and Design of the Devices
The Fire TV Stick has a rectangular body that has a micro USB port and no visible buttons.
It's also accompanied by HDMI extension that's plugged into the screen for to project content.
Contrary to Amazon's gadget, the 2nd-generation Chromecast comes with a circular design and one button to enable users reset the device.
Remote Control
The Amazon Fire TV Stick has a voice enhanced remote control with all buttons except for the volume.
Navigation is a little tricky because typing is limited to the onscreen keyboard;
However, one can download the Fire TV remote app on their mobile devices and make searching easier.
The exciting part is that the voice search feature recognizes Indian accents and names.
But it also provides content within Amazon's catalog.
On the other hand, Chromecast 2 has no remote control. Navigation is done through your smartphone as long as you maintain the Wi-Fi range.
You can continue using the phone without interrupting video streaming on your TV.
Price and The Cost of Streaming
Without including the cost of subscriptions to different streaming services, Amazon Fire TV Stick is expensive compared to Chromecast.
The former goes for $99 while the latter sells for $35.
The gap grows smaller when you include membership charges to access and watch videos online.
Those with the one year Amazon prime plan have nothing to worry about while using the Fire TV Stick.
Data Monitoring
With Fire TV Stick, you can monitor data usage by setting a limit while watching videos.
If for instance you have a 70GB bandwidth on your Wi-Fi connection, set the limit to 50GB to avoid complete data consumption.
On the other hand, Chromecast lacks a data monitoring feature.
Fortunately, Androids have apps that monitor the overall data usage and if you have access to a router that supports data utilization, use it.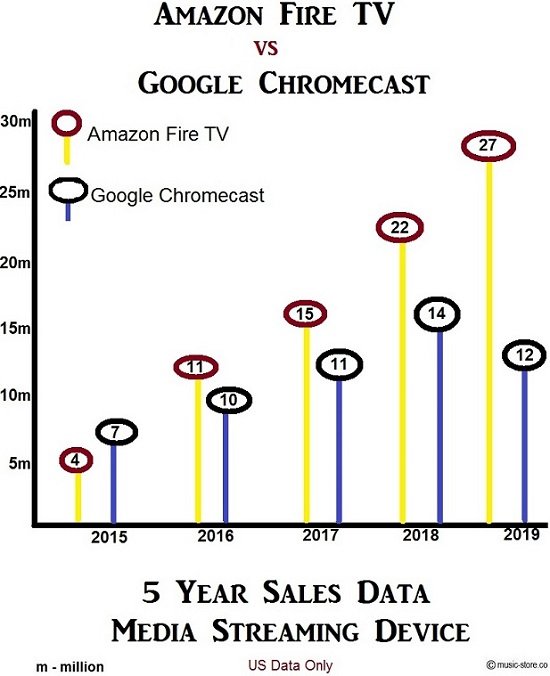 User Interface (UI)
Both devices have a user-friendly interface; however, when you plug in and fire up the Amazon Fire TV Stick, rows of content appear instantly.
With Chromecast, videos are listed in the Google Home app.
Once you locate Netflix or Hulu, tap the cast icon and choose the device you want to watch with.
According to appearance, the Fire TV Stick is more colorful than Chromecast.
For years, cable companies have had users pay hundreds of dollars each month for entertainment. Well, those days are over.
With the right streaming gadget and an active internet connection, one can enjoy watching TV throughout at a smaller price.
Most people recommend Amazon if you prefer streaming on YouTube, Amazon Prime, or Netflix.
Besides, the brand has great deals to offer its users including free data.
Chromecast is favorable when you want to view local content, mirror your screen, or make your TV smart.
It could also reduce your phone's battery lifespan since its dependent on your mobile device.
Since competition is stiff, the two companies are working on improving their own gadgets.
Unfortunately, more companies gunning for the ultimate goal;
A higher market share-which will be achieved through developing a product that customers can afford and access worldwide.