On any given month more than 198 million people across the globe shop at Amazon, which is more than 3 times the population of United Kingdom.
Amazon not only owns half of the American eCommerce retail market, it has also shipped more than 8 billion packages world wide at the end of December 2019, which is twice the amount of combined shipments of eBay, Walmart and Apple put together.
Every third online purchase made in the United States comes from either the Amazon portal or the Amazon app.
You might assume that cancelling or returning a Product from this behemoth is a piece of cake, indeed it is, unless you eat the whole cake by yourself.
Of course, you can cancel or return a few items, now and then for genuine reasons such as damaged, incorrect package, date expired or pre used.
But if you are going to make it a hobby, Amazon will ban your account without any warning or alert.
One should never take their Amazon account for granted and must exercise prudence before making a purchase.
As a discerning shopper, one must be totally aware that cancelling a product before it ships is the easiest way to claim a refund and returning or replacing a product after it ships will not only put your account in an unwanted spotlight but will take you a step closer to receiving a permanent ban.
How to Cancel an Order through Amazon's Website –
Cancelling a prepaid or a COD order through the Amazon website is a bit circumvent than doing the same through it's App.
Unless your smart phone is out of your reach, it is highly advised to not log into your Amazon account from random locations.
You not only run into the risk of losing your Amazon account and it's precious purchase history, hackers can also easily access your sensitive financial data from the Saved Cards section, scrap all the forbidden information, make purchases worth $1000s before you could discover them.
Hacked Amazon.com accounts are the most sought after items in the deep web markets purely because of their Saved Cards section.
While Amazon has been following the Two-Step Verification process for years, many customers never took it as seriously as safeguarding their Google or Spotify accounts.
We at music-store.co humbly request our readers to activate Amazon.com's Two-Step Verification process, if you have not done the same already.
You can only cancel your Amazon purchase before it ships, after shipping you can either return or exchange it.
Follow the steps given below to cancel your Amazon account.
1, Log into Amazon.com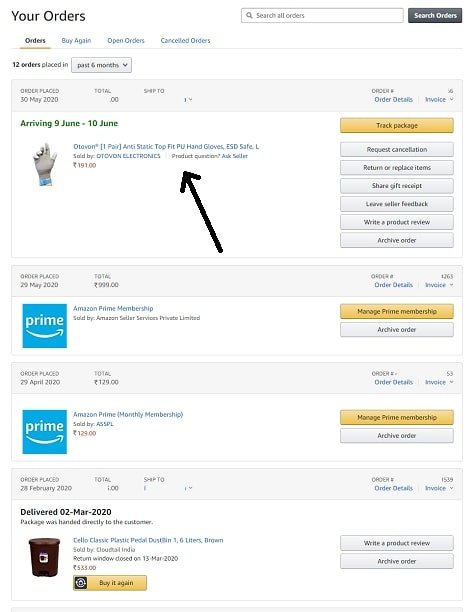 2, Click on 'Returns & Orders' at the top right corner, all your active and past Orders will be displayed.
3, Again click on 'Cancel items' for the specific Order that want you to Cancel.
4, If your Order Status says 'Preparing for dispatch' , then Amazon will let you know that, Order Cancellation cannot be confirmed as your package might have already been shipped from the Warehouse.
5, But if you still want to proceed with the Cancellation process, Amazon will ask you for the prime reason for your cancellation.
Here, you will see choices including.. Order created by mistake, Shipping price too high, Item might be delayed, Found a cheaper option, Need to change Shipping Address etc.
6, All these choices are purely optional, you can either ignore them or select one and proceed to the final step.
7, You need to click on 'Request Cancellation' and you are done.
Amazon will send you an automated email, the very next second your Cancellation is confirmed, letting you know that your refund will be processed and issued in the next 2 – 4 working days.
Depending on your payment method, your refund will be credited accordingly.Usually UPI refunds are almost instant, Internet Banking may take 2 to 4 hours, Credit and Debit cards may take 3 to 5 business days.
How to Cancel a Purchased Order through the Amazon App –
As explained above, using Amazon's app to make a purchase is highly recommended, than using it's portal.
For once, you don't have to login every time to make a purchase, track a package , view hottest deals in your location or check your Amazon Pay balance.
Not only is the Amazon app more secure than it's website but it is also the most lucrative, you get App Only deals very frequently and many times Lightning Deals are also reserved exclusively for the app users.
Besides, the quickly disappearing Amazon Pantry and Amazon Fresh products can be ordered with ease and pace using the app.
If you thought making a purchase through Amazon's app is more convenient, then cancelling the same is a breeze.
Given below are a few easy steps to cancel an Amazon order through it's App
1, Open your Amazon App
2, Click on the three horizontal lines at the top left corner of your app.
3, Select 'Your Orders' from the bottom half of your display.
4, You will be shown a list of your active and past orders for the year.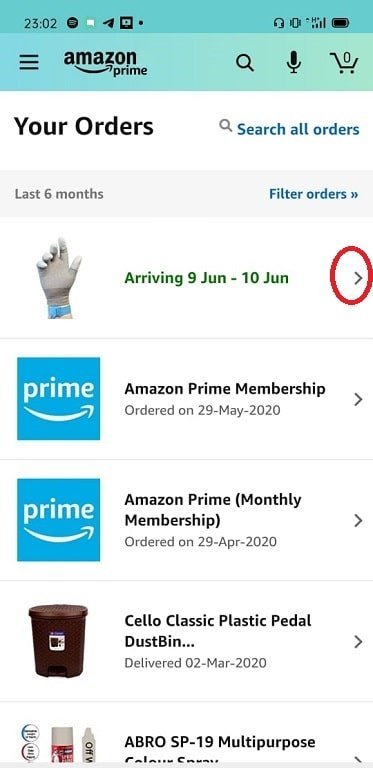 5, Tap on a product that you want to cancel.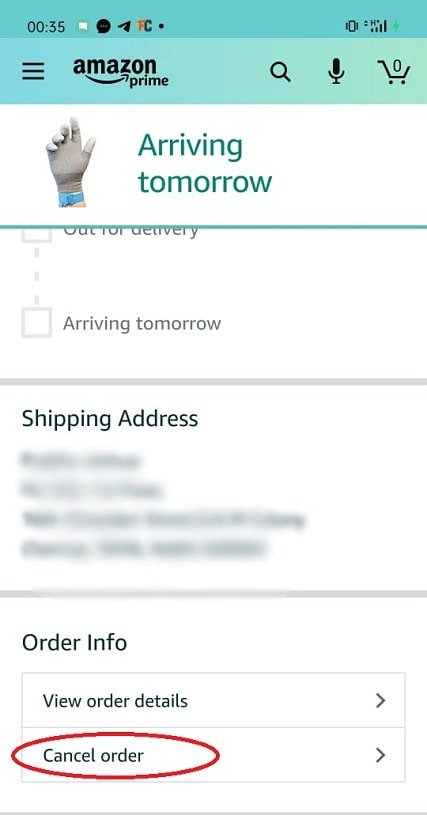 6, Click on 'Cancel Order' .
7, If you want to let Amazon know the reason for cancellation, please do this here, if not, leave it alone.
8, And finally tap on 'Cancel checked items' and you are done.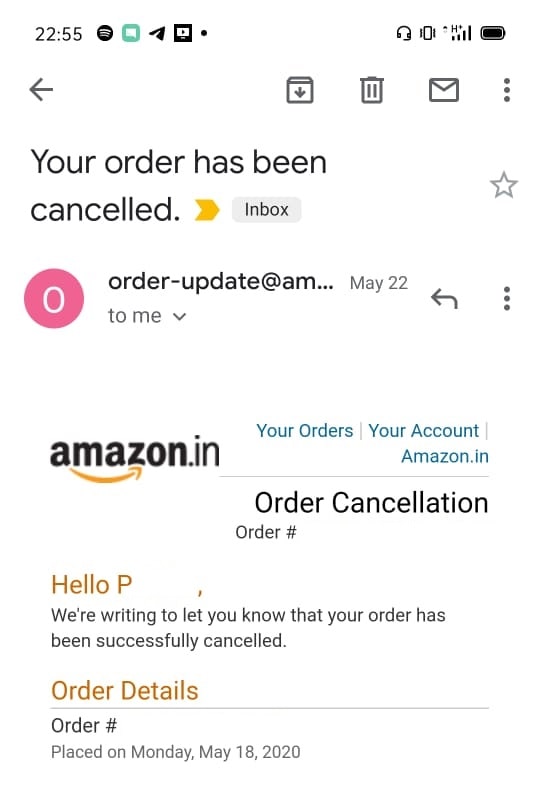 Amazon will send you an email, as soon as you are done cancelling a purchase.
If your trying to cancel an item that has been shipped, you will get an Request Cancellation option instead of the usual Cancel order option.
And if you see the Request Cancellation option, your item is being returned back to the seller instead of being cancelled instantly, which means there will be a delay in processing the refund.
Request Cancellation refunds will be processed only after the package returns to the Seller, whereas Cancel Order refunds start processing immediately.
If your package gets lost during the return journey, you will still get a refund if you are covered by Amazon's A to z Guaranteed Refund policy.
You can use this option for a period of 90 days starting from the day your parcel was shipped.
They do have some terms and conditions, for more information check Amazon's A to z Guaranteed Refund policy.
How to Return an Item through Amazon's Website?
Returning or replacing a package through Amazon's portal may not be as simple as cancelling a product, but the process is still extremely primitive, automated and much better when compared with it's competitors.
Not every product can be returned to Amazon, in fact Amazon has a huge list of items that cannot be returned.
These items include anything from downloaded premium games, Amazon videos, inflammable goods, live insects including poisonous spiders, gift cards, mobile recharges, adventure park tickets including water, theme and safari parks, prepaid gaming cards, fresh flowers and of course digital music downloads from Amazon Music Unlimited and Amazon mp3.
If you are trying to return any of the above items, Amazon will let you know, that item is not eligible for return.
Only those orders that are Fulfilled by Amazon are considered for a total refund, the seller must also clearly mention in the shipping label that the order is eligible for free returns.
Refund for those items that are shipped by a third party, are not always guaranteed, as there are many deceptive sellers trying to con the customers at every given opportunity.
Fulfilled by Amazon products come with a maximum of 30 days return window, after which returns are not accepted.
Follow these simple steps to Return a product back to Amazon –
1, Log into your Amazon.com account.
2, Click on 'Returns & Orders' at the top right corner.
3, Choose an item to return from the list of active and past orders.
4 , Select a reason for cancelling your order and click 'Continue'.
Amazon will let you know that the package is being returned back to them.
Once your package reaches Amazon's warehouse, they will start processing your refund.
How to Return a Package through Amazon App?
Returning a package through the Amazon app is not only hassle free but also saves your vulnerable Amazon account from countless number of hackers trying to force an entry, every single second.
Fingerprint lock enabled Amazon apps are almost impossible to hack and is even safer than Amazon's very own Two-Step Verification process.
If you are trying to return a package through Amazon app, kindly follow the steps given below –
1, Open your Amazon app.
2, Tap on the three horizontal bars at the top left corner of your mobile display.
3, Again tap on 'My Orders' from the drop down menu.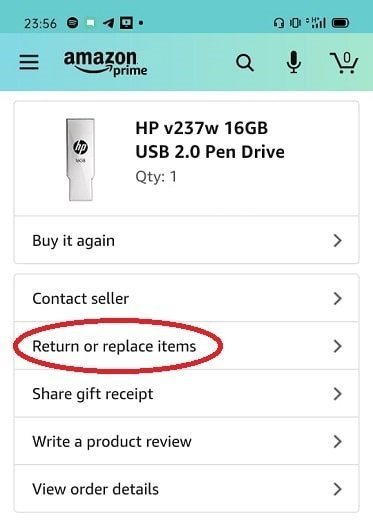 4, Click on the order you want to return.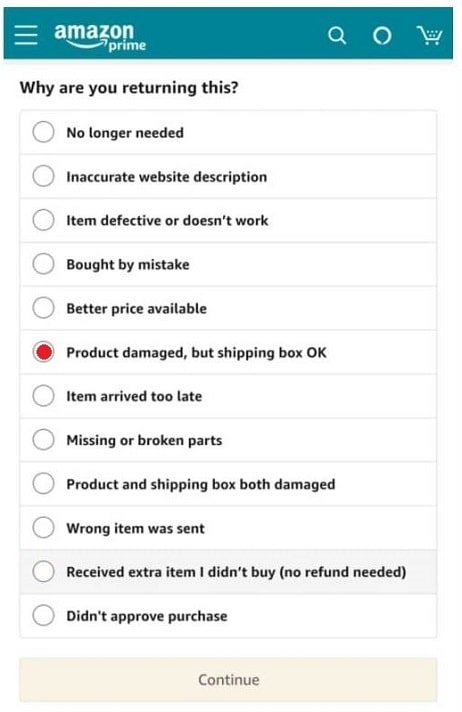 5, Provide an authentic reason for returning your order.
6, And finally click on 'Continue'.
If your return procedure is successful, Amazon will send you an email confirming the same.
Sometimes, Amazon sends it's own executives to collect the return package, in that case, as soon as he gets hold of the package and marks it as received, your refund will be processed, the very next instant.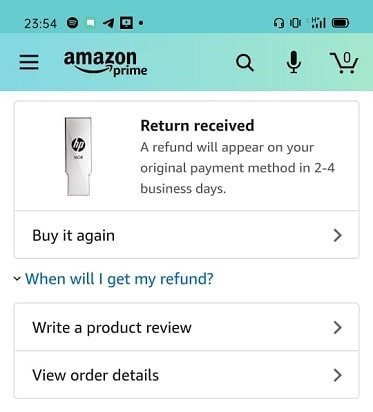 If Amazon does not send an executive, you can hand over the package to Amazon approved offline shops and stores like Kohl's stores in the US.
They usually accept your package without any questions and mark the package as received on most occasions.
Sometimes Amazon waits for the delivery agent to return the package to it's warehouse executive or the seller, and once the warehouse in-charge or the seller marks the package as received, the refund process will be initiated.
Amazon will also send you an email as soon as the delivery agent collects the return package and marks it as received.