In today's world, everything is moving on air including music streaming services.
Music streaming has come a long way since it's invention in Napster days, but it is still a challenge for parents to find music streaming services suitable for kids.
However, that seems to be changing over time.
With big players such as Spotify, Pandora, Amazon Unlimited and Apple competing for listeners, music streaming is becoming even better.
Here are five best music streaming services with the parental control choices and kids-safe channels.
Spotify
Being the very first streaming service, Spotify shook the music industry giant Apple Music's flagship portal iTunes, when the later was forced to change their business model from downloading to streaming music.
Such was the impact created by Spotify, that they are still the largest online music streaming service in the world, well after a decade after their inception.
Before the arrival of Spotify, Apple Inc's iTunes music store totally dominated the online music industry.
With it's exorbitant pricing for albums and individual tracks, many popular musicians (including Taylor Swift) decided to remove their catalog of songs from the iTunes store.
Since it's launch in October 2008, Spotify now has more than 250 million subscribers worldwide, from a handful of subscribers, a decade ago.
What Does Spotify Have for Kids?
With a huge library of more than 50 million songs, streaming in HD quality audio, Spotify has one of the largest catalogs of kid's music and is the second most popular streaming service among the children.
Spotify is one of the very few streaming services that allows children to share their songs and playlists, from their own account without the need to log into a parent or guardian's account.
Unfortunately Spotify does not have it's own artificial intelligence powered virtual assistant like Amazon's Alexa, Apple's Siri or the Google Assistant, which are very popular among the kids.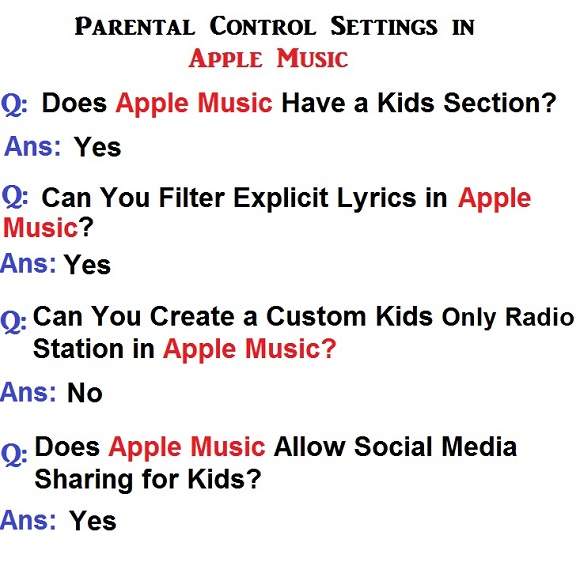 Apple Music
Apple Music offers more than 50 million songs, the ability to hand-select your playlist and listen to your playlist offline.
Apple Music streaming services also offer 24/7 radio station plus the ability to engage with different artists through Connect.
Apple Music has the best Parental control as parents can restrict access to podcasts, music, and videos with explicit content in their preferences.
Parents have the ability to filter explicit lyrics and block them completely from their kids.
What's in Apple Music for Kids?
Apple Music has the "For Me" discovery exercise that allows parents to go through it and once you have completed the exercise, they get experts recommended on curated playlists, artists, albums and genres based on what you prefer.
Kids can post their favorite songs or playlist on social media, email or messages and connect to iTunes library. They can also download music for offline listening.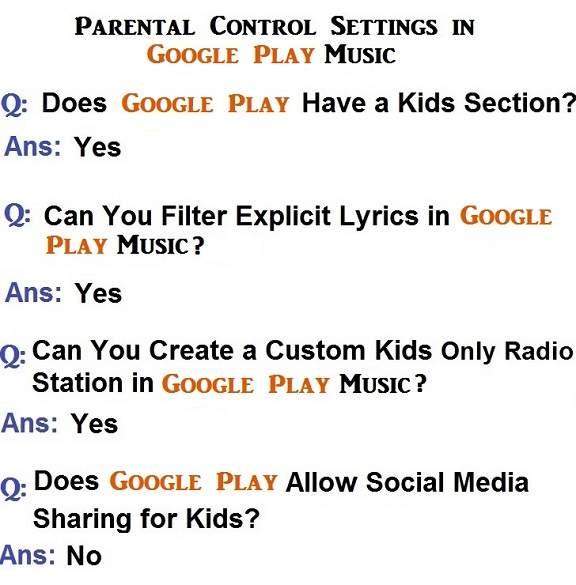 Google Play Music all Access
Google Play Music is the one stop music streaming shop for music shopping and music storage.
Users can upload more than 50,000 songs from their libraries at any given time.
While Google Play Music has parental control, you can only block explicit songs on the radio feature but not on the on-demand streaming.
What's in Google Play Music All for Access for children?
While Google Play Music All access music discovery is not as strong compared to competitors, Google Play Music has a large section devoted to children's music.
You can play your selection or opt out of the radio services when the kids are around.
You can also keep track of what the kids are listening to by blocking or filtering explicit lyrics from the radio feature.
Pandora
Pandora has no family to speak negatively about it's music streaming services. With tons of feature, million songs, artist sections and dedicated kids channel.
Pandora is the best choice for parents who love music but want to block explicit contents from the kids.
A pioneer in web-based music, Pandora gives parents ultimate personalization, letting them do, whatever they want to do with their account, including customizing their feed and song suggestions.
Parental control can be on the entire account, not just a specific station.
What's in Pandora for kids?
While Pandora has a small, but unique music selection, it has great features for families.
You just need to pick an already created station or create your station and the music runs for hours.
The family genre on Pandora has stations such as family musicals, children's indie, and PG comedy.
You can set your profile to public or private.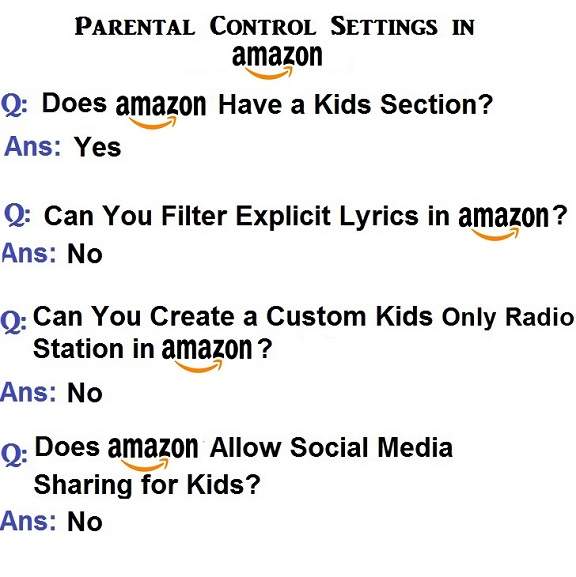 Amazon Music Unlimited
Before the advent of Spotify, iTunes Music Store literally dominated the online music industry with Amazon being the only other player.
Amazon MP3, as it was called, was hardly ever a competition to iTunes music, as most of the songs from popular artists were released exclusively on the iTunes store.
Amazon MP3 could only release them a week or two after the initial release on iTunes music.
But Amazon did have one big advantage, it was the largest online retail service provider in the world, reaching every nook and corner of the US.
And this would eventually prove to be highly profitable, when it launched Amazon Music Unlimited in September 2007.
Amazon converted most if it's existing customers either into an Amazon Prime subscriber or an Amazon Music Unlimited subscriber.
Amazon Music Unlimited for Kids
Apart from the huge catalog of 50 million plus songs, Amazon Music Unlimited has it's very own kids section which is updated every few hours.
Amazon's artificial intelligence powered virtual assistant Alexa is very popular among the kids and many kids named Alexa as their best friend
Unfortunately kids cannot share their favorite songs with their friends, from this platform.
But still Amazon's Alexa created a huge impact among the parents, that many parents prefer to leave their kids alone with Alexa (as a supervisor) instead of hiring a baby sitter.
Amazon Music Unlimited which was miles behind Spotify (from 2007 to 2014) in terms of the number of subscribers and active users, was not only able to encroach subscribers from Spotify and Apple Music through Alexa, but had also become an integral part of every American family, thanks again to Alexa.
With it's ability to play songs even at slow internet speeds, answer ridiculous, insane questions from children, it is no wonder that Amazon's Alexa is the single most important contributing factor in the huge success of Amazon Music Unlimited among the kids, as well as grown ups.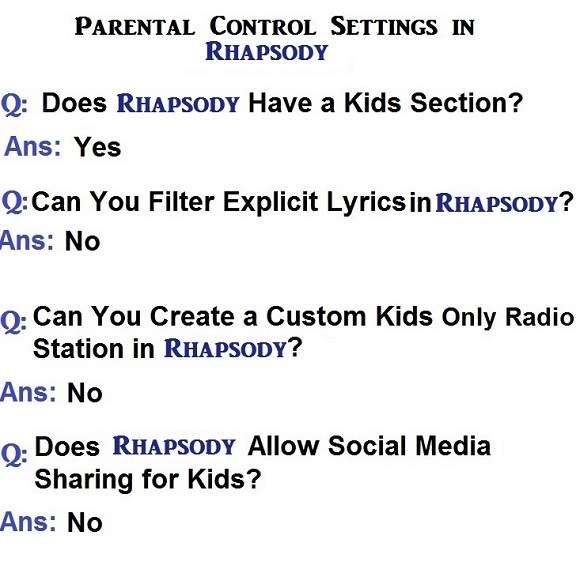 Rhapsody
Rhapsody has a parental control advantage that best music streaming services like Spotify and Amazon Music Unlimited do have.
Rhapsody gives access to over 10 million songs and has impressive navigation feature that works effortlessly.
They have a month trial period, but you are required to pay upfront before you finish creating your account.
Overall Rhapsody offers good services, competitive rates starting from 10 dollars a month.
It focuses on providing users with a personalized music experience.
What's in Rhapsody for kids?
Rhapsody has a child section called Rhapsody Kids available to it's subscribers.
While Rhapsody Kids can be more of a new feature than a product, it is easier for parents to find a decent selection of tracks for kids.
There are Disney, SpongeBob Squarepants, Casper Babypants, Kids Bop Kids and much more.
The Rhapsody Kids itself offers 80,000 albums, 16, 000 artists and over a million songs.
The music streaming service is going after parent by launching Kids' section aimed at kids alone.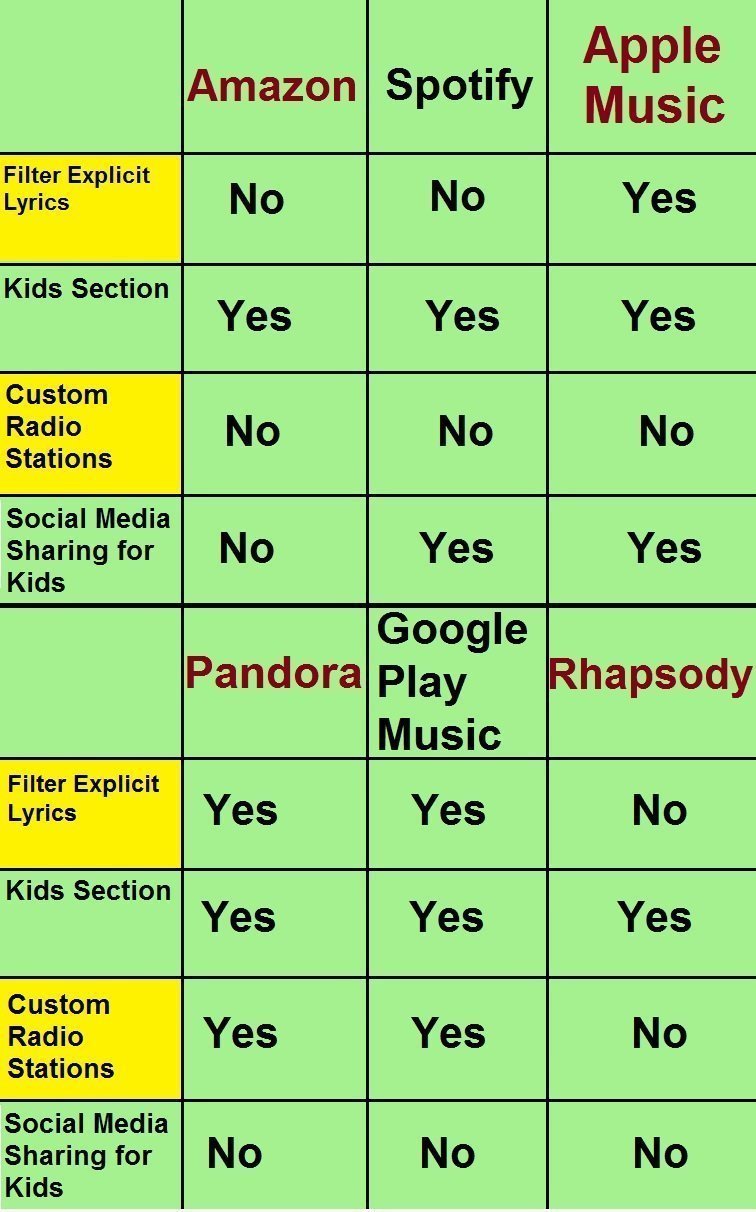 Conclusion
Overall, though people love Amazon Music Unlimited and Spotify because of their wide selection of songs and other features.
They are not the best music streaming services if you are looking to protect your child from explicit lyrics.
You do not want to pay fees for services that you have no control over.
If you would like to stream music from Android phone.
You should probably go with Google play all access, but all the other three options offer great services with complete parental controls.
Music streaming is now becoming even more family-friendly because they have added parental controls that help parent control what their children are viewing.
Many services now offer kid-safe channels including education channels and controls to block explicit lyrics and limit social sharing.