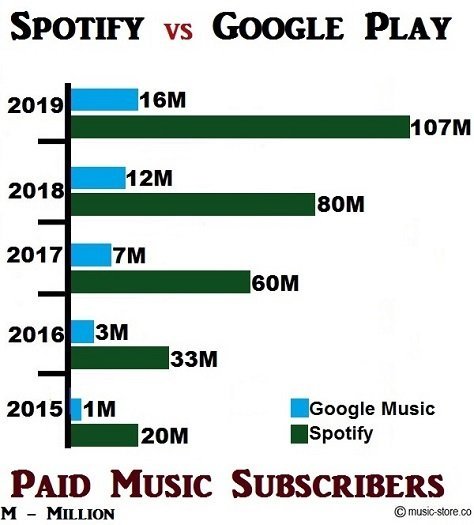 Finding the best music streaming service is never an easy task, but it can be done with ease if you compare their library size, free services offered, accessibility, navigation, paid subscribers and of course, sound quality.
Spotify and Google Play Music are no strangers to music streaming, both of them started their US operations in 2011, which makes playing field all the more even.
10 years later, one has emerged as a clear winner, while the other is forced to shut down and re-brand itself as a new entity.
With 286 million subscribers Spotify is literally dominating the streaming industry in the 2020s, like iTunes did in 2000s.
Google Play Music on the other hand is quietly shutting down, requesting it's users to export their playlist to YouTube Music.
Spotify's streaming model differs from Google Play Music by far. You can listen to music for free if you don't mind occasional adverts now and then.
With Google Play Music, you can listen only to individual albums or tracks you have bought, and pricing is competitive particularly when many albums are under $5 or the album of the week goes for just 99 cents.
Spotify has three tiers; a free tier that's ad-supported offering song selection, skipping tracks and saving limited music for offline listening.
The premium tier goes for $9.99, and you get unlimited access to Spotify catalog, support your favorite artists, and be able to save tracks for offline listening.
And finally the family tier that goes for $14.99 and a discount if five members of your family get accounts with Spotify.
Google Play has a similar subscription but the free tier has limitations on how you use the service, and you have to listen to occasional adverts. Also, it does not offer student or family plan.
Apps
Both can be used on the web as well as through mobile apps, but Spotify has a desktop application that can be downloaded for the Mac or PC and use them with or without a subscription.
However, Spotify will let you use listen to songs on shuffle if you are using the free plan.
Quantity and New Releases
Spotify has more than 50 million songs to stream and each day the company adds around 20,000 songs to their catalog.
Keep in mind that a majority of this music has never been listened to and though Google has less, quantity is not everything.
Offline and Backup
Google Play gives you the ability to upload your existing music, backup, and listen to around 50,000 tracks appearing alongside your streaming content.
Also, you can download content to listen offline by pinning it within the app which is similar to Spotify.
But there are a few limitations like downloading up to 3,333 tracks to each device as well as staying offline for up to 30 days only.
Radio and Recommendations
Though both of them offer content recommendations and radio stations based on the songs and artists you listen to, Google Play makes this service available if you pay monthly for Google Play All Access.
The instant mix is a feature on Google Play that is same as a radio station but creates a playlist from your listening history and shows you what is coming next so you can skip forward.
Play Music uses the same algorithm as YouTube's to create the 'instant mix'.
If you are a YouTube user you must have known about this feature, where YouTube compiles a playlist of songs that you have listened to.
And plays them automatically (auto play on), when you click on any of your favorite songs.
Third Party Devices
Bear in mind that Spotify and Google are compatible with speaker systems and other devices like Sonos, Apple TV, Google Chrome Cast, Roku Players, Smart TVs among others.
However, compatibility varies- Spotify on Sonos requires a premium subscription.
Social
Compared to Google Play, Spotify has a better integration with social networks where you can post what you are listening to, see what your friends are enjoying on their end.
Follow projects that artists are doing so you may not miss on new releases, and keep track of your streaming habits with popular feeds and updates.
Library
With over 50 million tracks in it's library, Spotify hosts a majority of songs that are popular right now. For Google Play, their tracks are a little bit less than for Spotify.
Features
Spotify has phenomenal Discover Weekly playlist and the best social sharing where every week, you get more than 30 new tracks to listen with Discover Weekly.
Recently, they have released new ways of creating unique playlists that will aid you in discovering cool music.
On the other hand, Google Play Music comes with YouTube Red where you can access original YouTube content, no ads or regular videos, and other awesome features.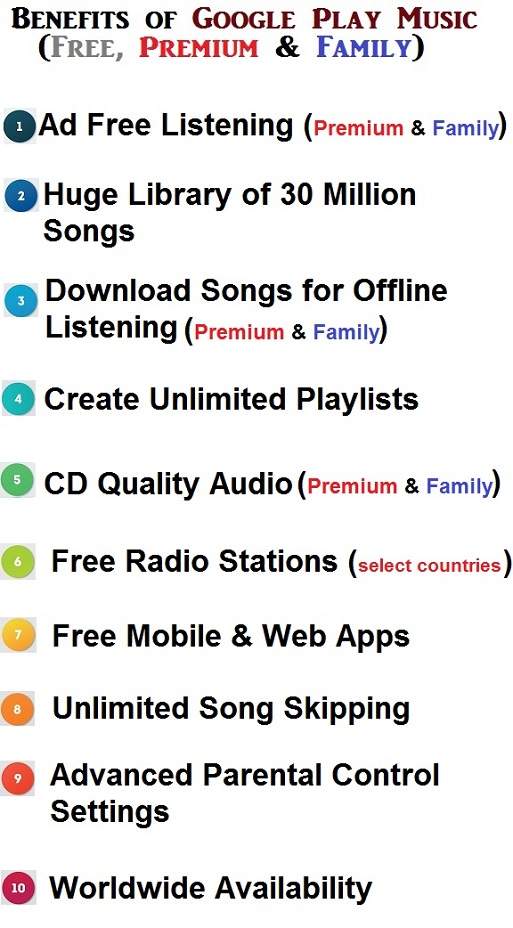 Songs Upload
With Spotify, you can upload songs from your computer to your account and are stored there, unlike Google Play that stores your songs on a cloud drive.
Once you buy a new phone or get another laptop, you can retrieve your favorites from the cloud drive that remain intact even on your absence.
There is no easy way to decide on the best for streaming music because they have unique features users find attractive.
Remember that every person has their taste and a preference such that, the bright colored design Google play has will not appeal to those who prefer a darker one.
The subscription plans might be expensive, but the quality of music one attains the worth every penny they spend which is why users will prefer quality than quantity.
An issue that Spotify should look into since their catalog is said to be more extended compared to Google play music.
Paid Subscribers – Spotify vs Google Play
Established in 2006, Spotify had a head start in online music streaming, while Google was still offering thousands of premium music videos absolutely free on YouTube.
Long before YouTube Music was launched, Spotify was quietly gathering subscribers with the help of YouTube, as fans would listen/watch a song first on YouTube and then download or stream it from Spotify for a premium price.
Without mincing words, YouTube helped Spotify gain listeners and paid subscribers in the first decade of this millennium.
Google was extremely focused on the growth of it's Search Engine, Adwords and Adsense programs, that it never truly understood the power of YouTube's billion visitors a day.
Until in 2010, when it linked YouTube with Adsense, launching Google Music in 2011, offering 50,000 songs for free listening.
But only in 2015, did Google launch YouTube Music alongside YouTube Premium (Red) as an integral part of Google Music (YouTube Premium + Google Play Music), by the time which Spotify had already crossed 20 million paid listeners, thanks to YouTube.
As evident from the chart, Spotify is way head in the subscriber count, with 20 times more subscribers than Google Play in 2015.
In 2016, Google Music had 3 million subscribers, while Spotify had 33 million subscribers. In 2017, the gap widened even further, Google had 7 million paid subscribers, whereas Spotify had 60 million.
2018, was no different, Google Play Music had 12 million paid listeners, while Spotify had 80 million plus.
In 2019, Spotify became the first online streaming platform to cross 100 million paid subscribers , while Google quietly reached 16 million.
On the positive note for Google, Spotify's growth rate has slowed down for the last two years, around 25% per year.
While Google Music has grown around 45% in the last two years.
It also owns YouTube, an unexplored gold mine with billions of visitors every single day.