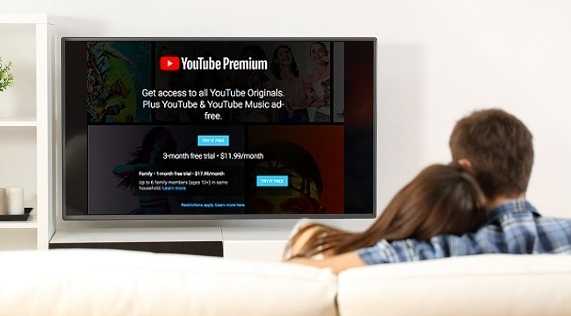 Whoever said "the best things in life are always free" probably never watched YouTube's free version.An ad before the start of a video, two or three in the middle of a video, one at the end and a few under the video.
While most of these ads can be skipped, there are some, which the greedy monster YouTube forces feeds on you.
By the the time you are done watching the video, your mind is cluttered with fragmented images of the content of the video as well as the adverts.
While this is not a big deal if you are watching a movie trailer, it could be disastrous if you are trying to learn a coding language, an online tutorial,a breaking news or a medical emergency.
For many years, YouTubers were forced to deal with this rubbish without an alternative.
It was only in 2015, after the launch of YouTube Red, did a few YouTubers got a breather by paying $11.99 per month.
Within a few month of it's launch, the popularity of YouTube Red reached tremendous heights as many affluent YT Red users were delighted with it's features and benefits.
Re-branded as YouTube Premium in 2018, Google offered a generous 6 month free trial during it's launch in the US.
As of June 2020, they still offer 6 month free trials in a select few South Asian countries such as India and Srilanka.
You can also get YT Premium for one tenth of it's original price, if you sign up from Philippines, Thailand, Vietnam, Srilanka, Indonesia or India.
Use a good VPN such as ExpressVPN, NordVPN or Surfshark and try signing up for a YT Premium account from one of these locations.
Let us look at some of the Pros of a YouTube Premium account –
1, Effortless ad free viewing experience.
2, Free access to YouTube Originals.
3, Ability to watch videos in the background or through a mini screen (video window).
4, Free access to YouTube Music and Google Play Music's premium versions.
5, Download videos at 1080 pixels for offline viewing.
6, Free access to select paid channel memberships.
7, Ability to transfer music from your YouTube app to YT Music app.
8, Work on other apps simultaneously while watching a video.
9, Search for other videos on YouTube while watching a video (picture in picture).
10, Every now and then, Google offers free goodies to YT Premium users. As of June 2020, Google is giving away a free Nest Mini to it's active YT Premium Individual and YT Premium Student members on first come, first served basis.
However, there are a lot of questions still unanswered even after the launch of YT Premium.
1, Has YouTube lost it's credibility by intentionally increasing the frequency of adverts in it's free version?
Many YT free users have been forced to watch too ads these days. A few years ago, when YouTube had some morality, it usually displays a single video ad before the start of a video.
These days every user gets a minimum of two videos at the start and more often than not, one happens to be a forced video.
And if it happens to be a music video premier from a popular artist, then there are forced videos lasting 2 minutes each.Which brings us to the next question.
2, By displaying too many ads, has YouTube adopted deceptive tactics to increase it's Premium subscriber numbers?
Unfortunately, this seems to the case even though Google will never admit it publicly.
3, What percentage of revenue from YT Premium does Google share with it's content creators?
It's been two years since YT Premium came into existence, but till date, Google has not revealed the percentage it pay's premium content creators although it takes 45% revenue from ad supported videos.
While some have reported higher earnings when compared with the ad supported format, majority of the creators feel betrayed.
4, What about the embedded adverts?
No advanced YouTube software can stop an ad if it gets embedded within a video, which defeats the very purpose of YT Premium's creation.
As embarrassing as it may for Google, it is equally annoying for a Premium user.
Many popular science channels such as Kurzgesagt – In a Nutshell, Riddle and PBS Space Time and many others always spare a few minutes for their sponsors either at the beginning of the video or at the end.
Why can't YouTube ask these content creators to stop producing videos within inbuilt ads?
5, Is YouTube apprehensive of it's own creators?
As on June 2020, Kurzgesagt – In a Nutshell has more than 12 million subscribers and this specific creator has more inbuilt ads than most creators and he claims that it's his sponsors that help him create the animated videos.
Which is a blatant lie, as he gets paid $1000s every single month from YouTube ads alone.
Why can't YouTube request him to stop creating videos with annoying inbuilt ads, as it is a violation of YT Premium's Terms of Service?
They won't because Kurzgesagt has 12 million subscribers, but if you and I do the same with a few thousand subscribers, YouTube will shut us down without any mercy or sympathy citing Terms of Service.
Be it a Search Engine query or a YouTube channel, Google is well known for their double standards and preferential treatment given to popular and influential YT content creators or website owners.
No Anti trust law is going to stop this voracious monster, as long as the US lawmakers get their fair share of loot from this corporate cartel.
However, an overwhelming majority of users have given the YouTube Premium app, an undeniable thumb of approval in the Play store, with more than 100 million downloads and a 4.3/5 rating from a million users, there is no denying that this beast is highly commended by the netizens.